Everything you need to know if you want to make Spartan Spear at home — super easy tutorial, however nailing the throw is on you!
To date, I've only have 3 obstacle course races under my belt, but I'm trying to nab a coin for the Spartan World Championship . . .maybe that's a lofty goal, but I think it's in my reach, especially if I can optimize my performance with a fast run. However, the races I've done, like 2015 Spartan Beast Dallas and 2015 Spartan Spring Houston have been so flooded and muddy that I've had the wind knocked out of my running wheelhouse. Oh, yeah – but that spear throw is also standing in the way. I am 0 for 3 on the Spartan Spear Throw obstacle, that's no surprise considering in I am 1 for 40 in the accuracy baseball pitch at an annual 12-event fitness competition I do (although, I do hold the female course record in the mile – whoot, whoot). (Editor update: I DID earn the championship coin and ran in the 2017 Spartan World Championships in Lake Tahoe, nailing BOTH the spear throws on the course).
So, I gotta practice. Practice, practice, practice, so I nail the obstacle and don't have to take the burpee penalty. With my crazy, busy life, I don't have time to go to any sort of obstacle course training gym – so I'm bringing some of the obstacle to my plain vanilla, suburban back yard.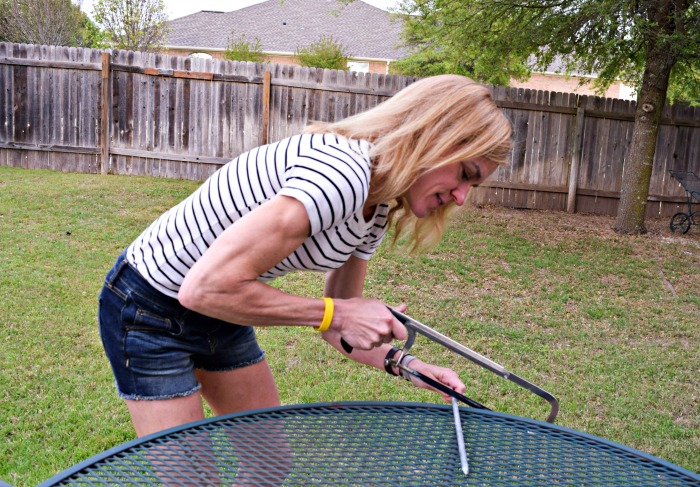 If I can make Spartan Spear in less than 10 minutes, you can too. Girl power! Here's the supply list – it's amazingly short and available at home improvement stores for less than $10 :
1 60" replacement ash rake handle with ferrule (metal cuff on end) – $8.50
1 12-inch galvanized spike or nail – $0.70
Duct tape or masking tape – pennies
Hacksaw
Glue, optional
Decorative Duct Tape, optional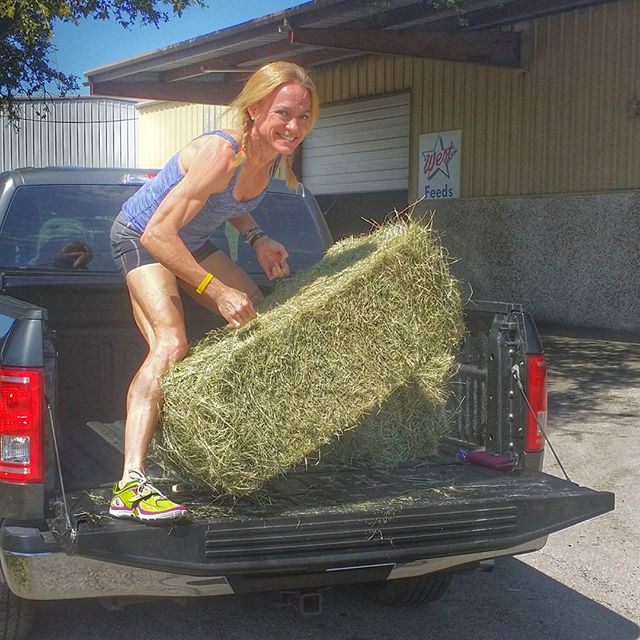 After you make Spartan Spear, you will also want to get a few bales of hay from a feed supply store, out here it's about $12 per bale. I've seen it quite a bit cheaper on Craigslist, if you're willing to drive out to the boonies for your haul.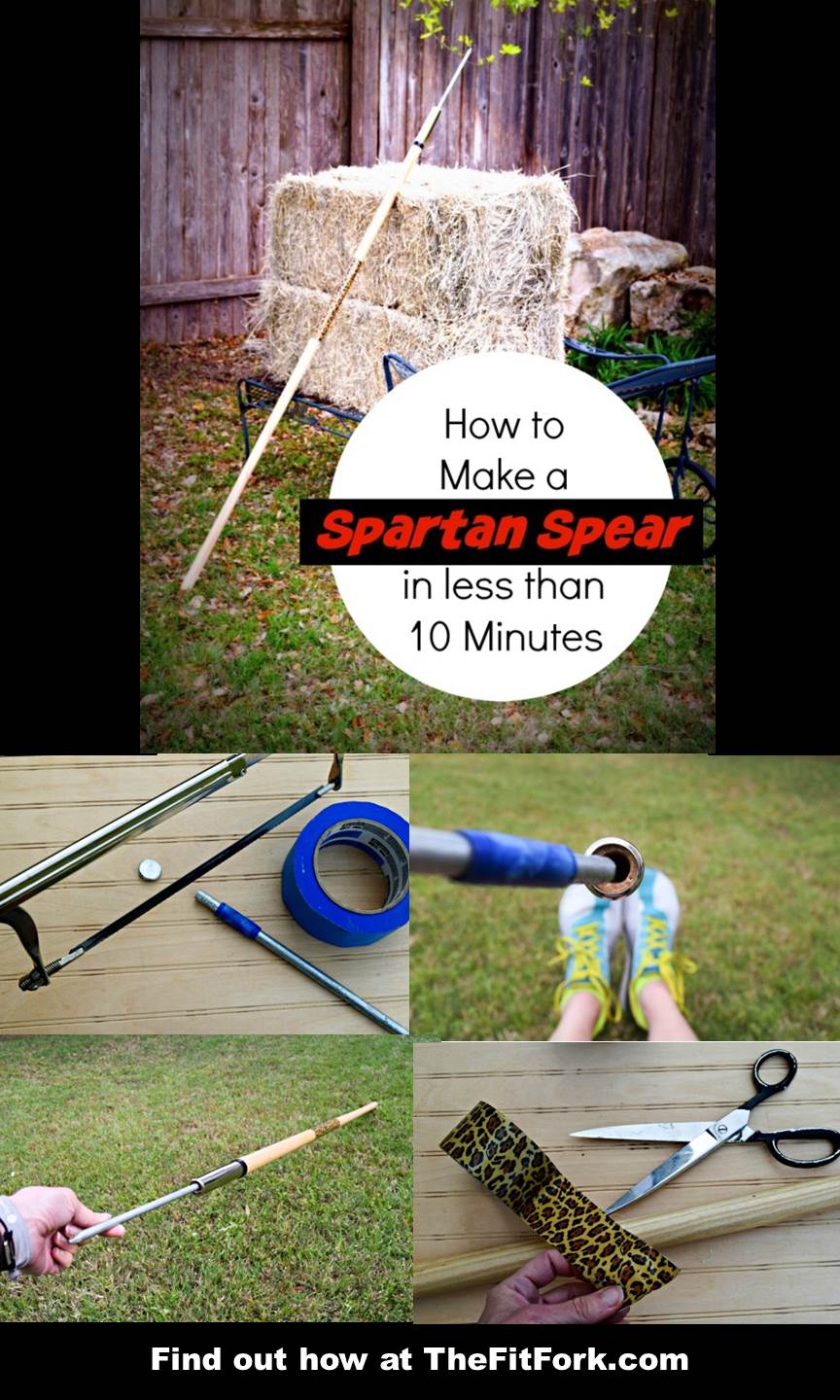 So, how do you make a Spartan Spear? Easy-peasy! Follow these steps:
Use hack saw to remove head off nail. You have to put some elbow grease into this, let's see what you've got!
Wrap a few rotations of duct tape or masking tape around bottom of nail where head was sawed off. This thickens it up so that it will fit snugly into the ferrule.
If you choose, pour a bit of glue into ferrule and stick in nail head to secure. Let dry. However, I prefer to just wrap tape so that I can remove the nail tip if I want to transport my spear in the car (would hate to get impaled if I slammed on the breaks).
Wrap decorative duct or grip tape around center of handle to indicate where to hold (or to just look fancy), if desired.
And, just how do you do this? Sheez, I don't know . . .that's why I'm practicing Spartan spear throw. I do have some tips though from my limited experience:
Quickly scan for a spear without a bent tip, and no blood or vomit on the handle.
Make sure tether is hanging on opposite side of fence from you to prevent tangling up around your legs.
Step into the spear launch and throw hard with a slight upward trajectory.
Show good sportsmanship when completing your 30 burpees and congratulate the successful competitors at this obstacle who are kicking up mud in your face. Okay, hopefully not this!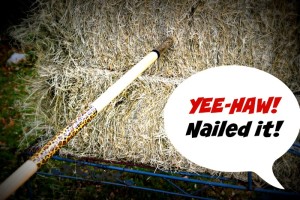 The Spartan Race Obstacle Guide says you have "One attempt to throw the spear and have it stick into the spearman (wood or hay). The spear can't be touching the ground." This means it can't stick in the hay and then fall out or brush by the hay and land on the ground. Failure to perform on your single try is 30 burpees – yay!
Also, if you head over to the Spartan Store there is other great workout gear that can help you get ready for race day. I like the Spartan in a Bucket Kit — lots of stuff needed to improve strength and skills. Code SCOUT10 gets you 10% off your Spartan Store cart.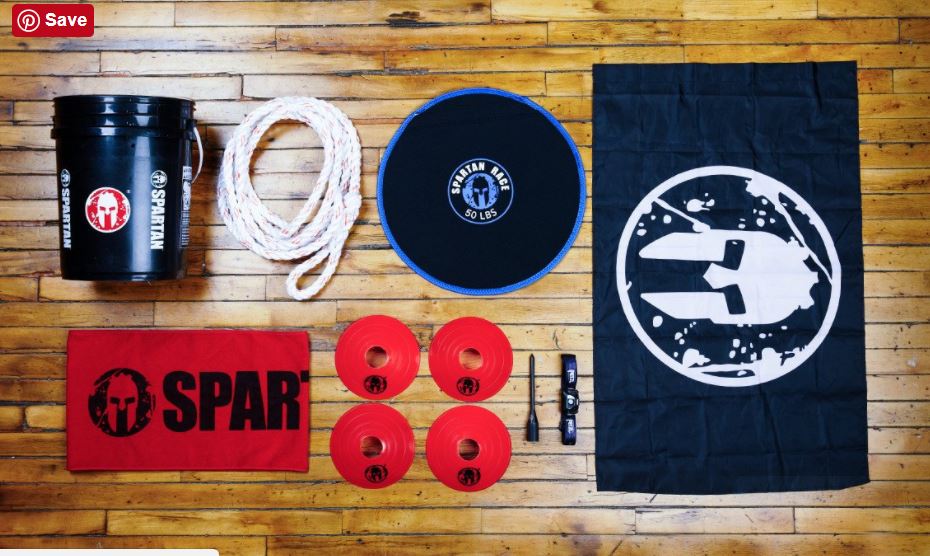 If you want to run a Spartan Race – from Sprint, Super, Beast or some of the ultra endurance events like the Hurricane Heat, Hurricane Heat 12 hour, Ultra Beast, use the code FINISH10 at checkout for 10% off your registration. And, don't forget to make Spartan spear . . and practice!
So, how's YOUR aim? Good at throwing stuff like spears, footballs, baseballs . . . or maybe just throwing fits of frustration when you miss, like me?! Have you ever run an obstacle course race? If so, what was the biggest challenge for YOU? Please share in the comments – XOXO, Jennifer