Want to know how to make meal time easier, more nutritious and with nearly unlimited potential for variety?  Meal prep a huge pot of quinoa, the healthy seed. Rather than a big batch of quinoa with seasonings, sauces or veggies already mixed in. Making plain quinoa is like a blank canvas for recipe inspiration as it strikes you, rather than being stuck with a dozen of the same exact pre-made meals in the freezer.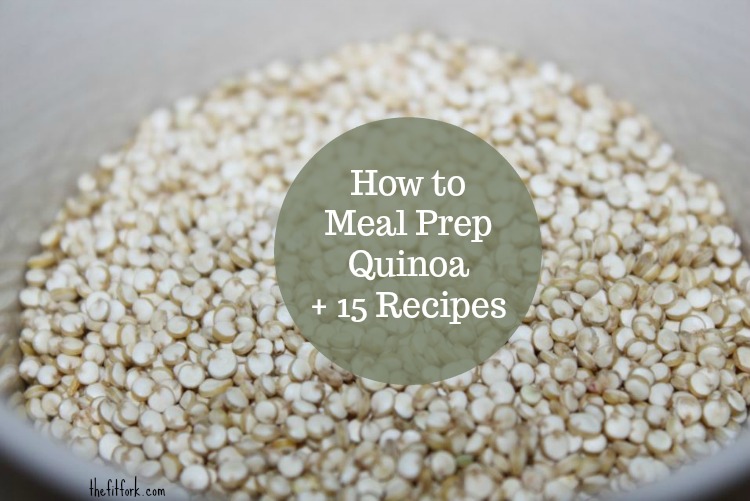 And yes, cooked quinoa can be frozen for timesaving use later! This is a dinner hack you need to add to your arsenal STAT! Read on the get all the "how to" and serving suggestions!
So, if you've never made quinoa (where white, black, red or melt-color) it's the easiest thing ever. Double check your specific package instructions, but typically to cook straight up quinoa (NOT mixes that have been pre-seasoned) start by rinsing the quinoa off in a fine mesh sieve or by swishing around in a bowl of water and draining. This helps to remove bitterness from saponin, a naturally occurring substance that coats the quinoa seed to keep birds from eating it – isn't nature clever?! 
Next, add add two cups of water to every 1 cup of dry, rinsed quinoa and bring to a simmer for 15 t0 20 minutes. This 2:1 water to quinoa ratio will yield 3 cups cooked quinoa, which is six ½ cup portions (about 111 calories and 4g protein) For meal prepping, I like to multiply the ratio by 4 – 8 cups of water and 4 cups of dried quinoa (this is ultimately yields 24 servings). Do not try to cook it in a slow cooker, the result is mush or, at a minimum, seeds that are gooey and clumped together.
What does one doe with such a mountain of cooked quinoa, considering it will only stay fresh in the fridge for 3 to 5 days?! After the quinoa has cooled or is cold from the fridge, it can be placed in plastic zip-top freezer bags and kept in the freezer for 6 months to a year! To use, simply defrost and use in a recipe that calls for "cooked quinoa."
Get creative and mix in seasonings, sauces, beans, veggies or whatever you love! Toss on salads, stir into soups, use as a way to stretch your ground meat budget when making burgers, meatballs, and more. You can also use a bit of cooked quinoa as a partial replacement in baked goods!
Here are some ideas to get you going on this quinoa meal quest!
"Super Red" Watermelon Quinoa Salad – Made it to a meeting with executive producer of "Master Chef" with this unique recipe using red quinoa, watermelon and grated beets!
Triple Berry Quinoa Salad with Lime Vinaigrette – So summery, so good – make ahead for a picnic or potluck.
Shaved Asparagus, Pea & Radish Salad with Quinoa – Eat this fresh, fit salad on a plate, in a bowl, in a jar . . .wherever you are!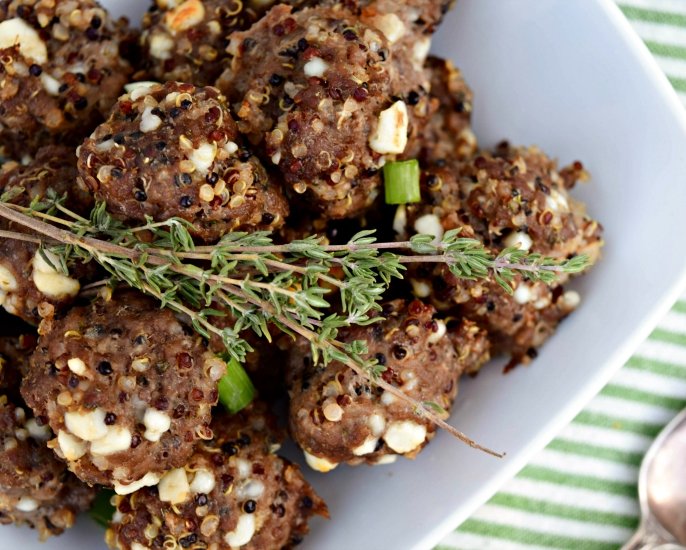 Beef, Quinoa & Feta Meatballs  – Replacing some of your ground meat with protein-rich quinoa great way to stretch the food budget!
Strawberry Cheesecake Quinoa Oat Bake – I literally dream about this protein-rich, make-ahead breakfast.
Banana Quinoa Oat Breakfast Bake with Cacao Nibs! – I love to cut this make-ahead morning casserole into squares and freeze in individual portions.
Apple Walnut Quinoa Crunch – A healthier candy alternative, similar to a nut brittle.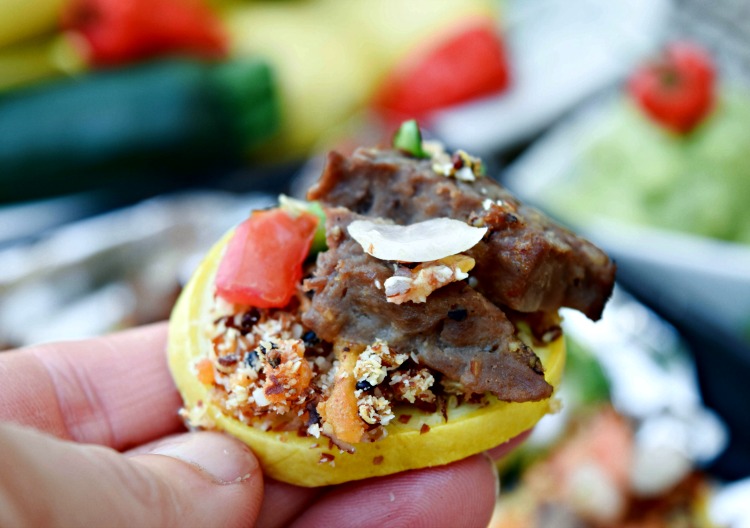 Quinoa & Steak "Sqaushos"  – Who needs tortilla chips as the base for nachos when you've got zucchini!
Pomegranate Blue Cheese and Quinoa "Caviar"  –  An elegant appetizer for holiday parties, or sprinkle atop a leafy green salad as part of your main meal.
Maple Pecan Butternut Squash Quinoa – If you could taste fall, this delicious quinoa dish is yummy any time of year served cold, room-temp or warm!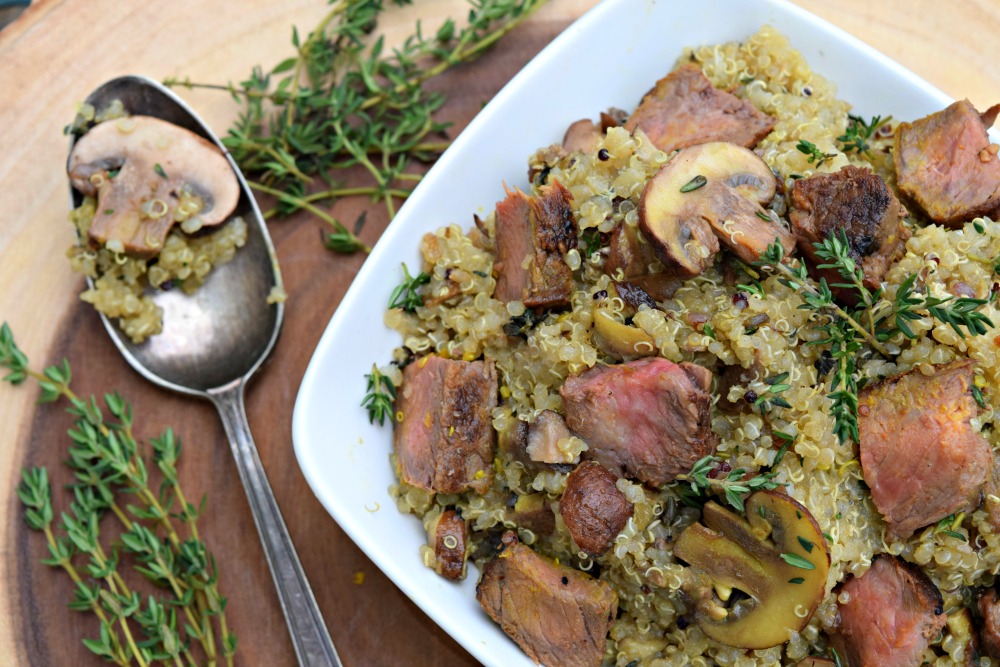 Truffle & Thyme Mushroom Quinoa – To die for as a stand-alone side dish, or take over the top by stirring in leftover steak bits.
Lemony Turmeric Quinoa-Cauliflower – A light, bright dish that makes a great accompaniment to fish or chicken.
Ranch-style Kale and Quinoa Casserole – a hearty vegetarian dish cooked up in cast iron will please even the men folk.
Lightened Cheesy Quinoa Casserole – this rich and creamy dish is lighter than its mac-and-cheese cousins thanks to quinoa and the judicious use of low-fat milk paired with just enough bold, bold aged cheddar.
Quinoa Oat Chocolate Chippers – My take on Toll House is gluten-free and packet with a nice little punch of protein that the typical cookie just can't offer.
Have you frozen cooked quinoa before? What is your favorite meal prep hack? Do you taste the bitter in quinoa (I don't even un-rinsed, so I guess I'm an odd bird – haha) — Please share in the comments, XOXO — Jennifer