Another holiday to report — did you know June is National Iced Tea Month! Oh how I love to sun brew a big container of tea and flavor it with ginger and lemon – or sometimes I'll mix my pitcher of refreshment with a fruit puree. Or, how about a tall glass of Mojito Mint Iced Tea, that's what I have for you today! Sit back on the porch and enjoy, y'all!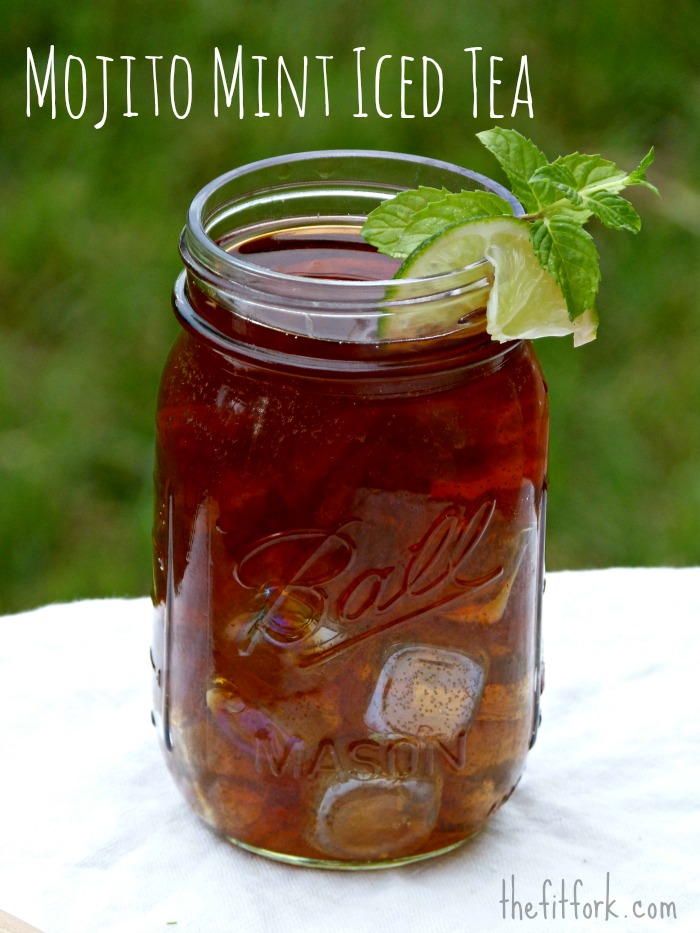 Mojito Mint Iced Tea Recipe
 2 quarts water
4 – 6 black tea bags (depending on strength preference)
2 limes
1 bunch of mint
Liquid stevia to taste
Directions: Pour water into a large glass container with lid. Add tea bags and hang tags over rim. Zest limes into tea container, taking care not to zest bitter white pith. Reserve limes, for use later. Massage and twist mint with hands to activate oils; immerse into container. Top with lid and set in sunny part of yard for 4 – 5 hours. Take tea bags out of jar and pour tea through strainer to remove zest and mint leaves. Squeeze flesh of zested limes into tea, add liquid stevia to taste – -stir and enjoy!
I'll be first to come clean that I have a major sweet tooth and can't drink my iced tea plain – yet that sweet tea that's served down here in the south is way to sugary. My compromise is to use stevia, a natural and zero-calorie extract derived from the leaves of the Stevia plant. I still get the satisfaction of "sweet" without the calories, carbs or that sickly saccharine taste that comes with many other sugar substitutes.
I've tried many brands of stevia and I really like Pure Via®, the company has a wide range of products including non-GMO stevia packets that can be sprinkled in beverages and used in recipes along with liquid stevia that comes in a handy little squirt bottle that fits in my purse – I love to sweeten my on-the-go coffees and smoothies with the vanilla – the sweetness of stevia is very concentrated, so just a few drops will do ya!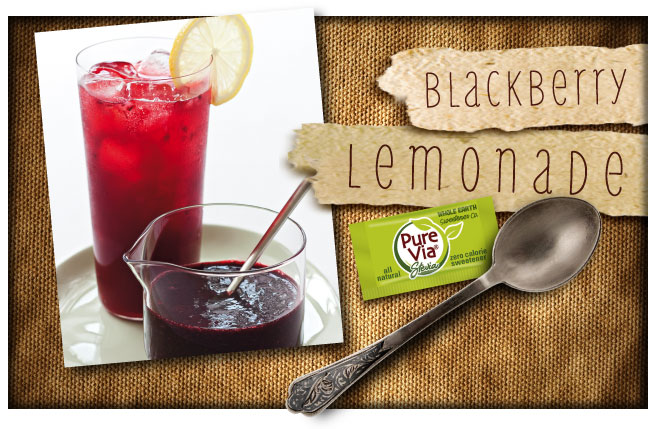 If you like to cook, bake or mix up drinks with stevia, check out Pure Via's collection of yummy recipes.  I can't wait to make this Blackberry Lemonade – as I've mentioned before, blackberry is totally the hipster berry of the year!
One of you lovely readers will soon be even sweeter — that's because I'm giving away a Pure Via®  Summer Fit Kit that includes:
Box of Pure Via® non-GMO packets
Bottle of Pure Via® stevia liquid
Bottle of Pure Via® vanilla stevia liquid
Container of instant iced tea
Pure Via mason jar & straw
Pure Via pedometer (get in your 10,000 steps!)
Pure Via SPF 15 lip balm
To enter the giveaway, please follow the instructions on the Rafflecopter app – also, please note that this review and giveaway is sponsored by Pure Via®, however the opinions are my own. Entrants must be limited to the U.S. only and only one winner per household (eg: you can't win the same prize from another blog.