It's midnight muffin-making mania! Once again, I have stayed up way to late, but this time it is for the sake of having a healthy breakfast in the morning – after all, it's still Better Breakfast Month! Two of my kids take a brown-bag breakfast to school to eat after sports practice. I often feel bad that they're missing a hot meal at home (yes, I often scramble eggs, but that's all I'm capable of at 5:45 in the morning). I feel even worse when I send them off with a meal where everything comes out of a wrapper – the protein bar, the fruit bar, the juice pouch and so on. New rule, only ONE wrapper per meal!
For this super yummy Multi-Grain Peanut Butter Banana Muffins, I tweaked a few recipes to make a new and improved muffin experience. In terms of baking concepts, I cut some of the oil and replaced it with a natural peanut butter – you could use any nut butter you like. I reduced a great deal of the white processed flour by substituting in whole wheat flour, bran cereal and flax seed.  There's a whole lot of whole-grainy goodness going on in these morning, afternoon and night muffins. Another muffin recipe of mine you should try is the Berry Cheesecake Power Muffins, it has a totally different consistency (yet amazing taste) while these muffins today have a traditional texture.
If you haven't put flax seed into baked goods before, you really should. There are three healthy benefits from sneaking a little flax seed into this muffin recipe. First, it adds extra fiber to the muffins, each tablespoon of flax seed has 8 grams of fiber. Second, flax seed is a plant-based source for omega-3, an essential fatty acid that provides and anti-inflammatory role in the body. Third, flax seed contains lignans, a compound that helps our body metabolize estrogen in a safer way. Studies have shown that consuming lignin may reduce the risk of breast and prostate cancer. Remember to use your flax seed in a ground state, that's how you reap all the nutritional benefits.
I also have two cooking tips to share for this recipe. First, I used a little in-a-pinch baking solution my grandmother taught me. A great substitution for buttermilk  (which is so good in most muffin recipe but always ends up going bad in the fridge because who really uses it for anything else), is to sour your regular milk (even low-fat milk) by adding 1 teaspoon of white vinegar to 1 cup of milk. Let it sit for a few minutes to get to the right consistency.   The other tip is new to me tonight – and that is to spray muffin papers with cooking spray before pouring in the batter. This seemed like a weird thing to do, but I gave it a try – wow, the muffins didn't stick at all inside the baking liners.
Next up in my Better Breakfast Month rotation, one of the quick and easy recipes from the gallery of Cooking Light's Grab and Go Quick Breakfast ideas.  Fig, Applesauce and Almond Loaf (below) immediately caught my eye , but there are tons of other speedy and satisfying recipes on the site that will help make mornings easier.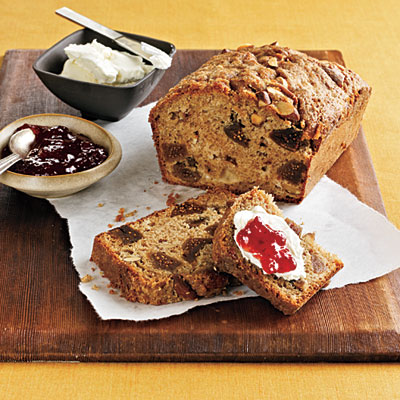 Multi-Grain Peanut Butter Banana Muffins Recipe
Non-stick cooking spray
¼ cup canola oil
¼ cup natural style peanut butter
½ cup packed brown sugar
1 egg
1 cup bran cereal
2 medium ripe bananas, mashed
1/3 cup Greek yogurt
2 teaspoons vanilla
1 cup low-fat milk
1 teaspoon vinegar
1 cup all-purpose flour
½  cup whole wheat flour
2 tablespoons ground flaxseed
2 teaspoons baking powder
1 teaspoon ground nutmeg
½ teaspoon salt
For Streusel Topping:
¼  cup whole wheat flour
¼ cup brown sugar
¼ cup rolled oats
½ teaspoon ground cinnamon
3 tablespoons canola oil
Preheat oven to 375 F degrees. Line muffin cups with paper baking cups and lightly spray with cooking spray.
In large bowl, combine oil and peanut butter together with a whisk or electric mixer. Add brown sugar, stirring until combined. Next add egg, cereal, mashed banana, Greek yogurt, and vanilla, stir until just combined (will be a bit lumpy).
In non-reactive small bowl, add milk and vinegar. Let sit for 5 minutes to sour, will look slightly curdled. Set aside.
In a separate bowl, mix together flours, baking powder, flaxseed meal, and nutmeg.   Stir this dry mixture into wet mixture alternating with soured milk. Repeat until ingredients are combined, but not over-mixed.  Pour batter into prepared muffin cups approximately two-thirds full.
In medium bowl, add streusel ingredients. Mix together until combined but crumbly. Sprinkle streusel on top of muffin batter.
Bake in 375 F degree oven for approximately 20 – 22 minutes or until top lightly browned and toothpick pulls clean when inserted into the middle.
Cool on wire rack.
Makes 20 muffins.