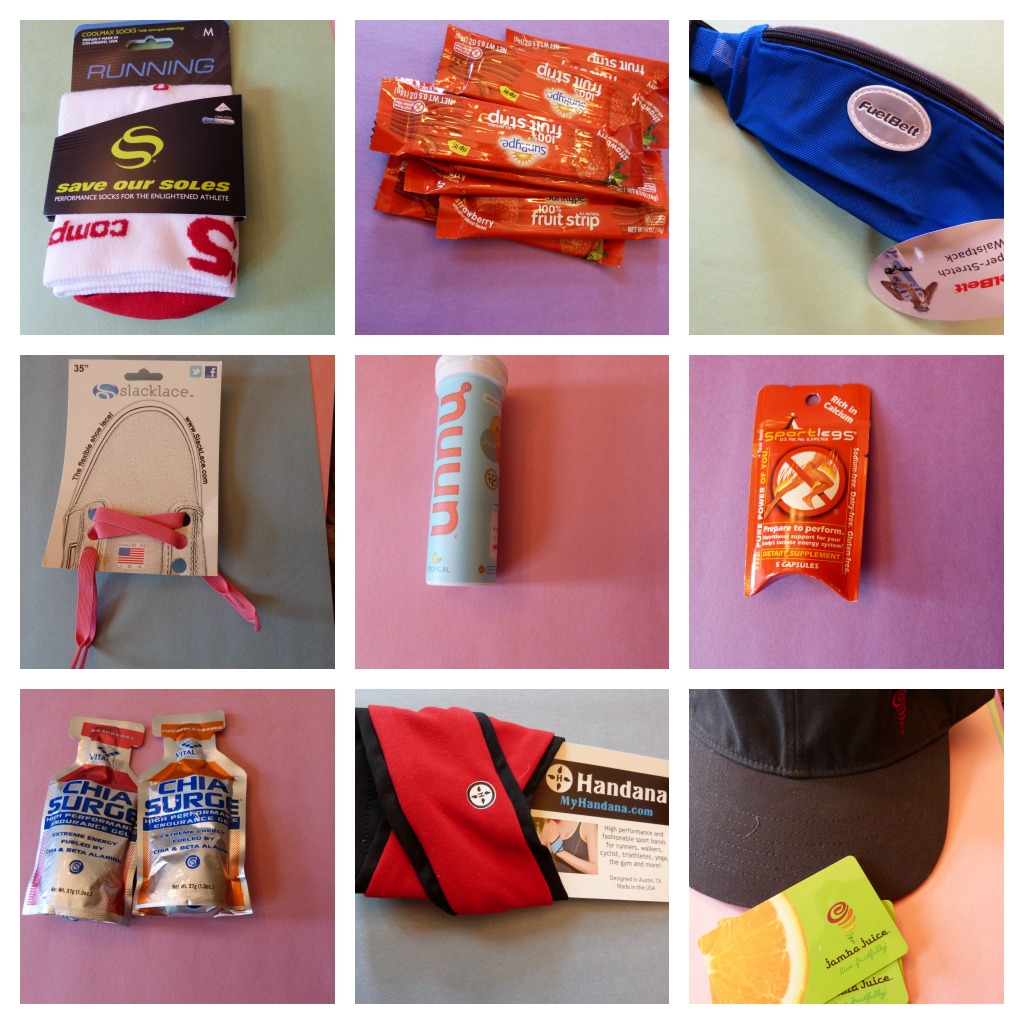 Just because the holidays are pretty much over doesn't mean gift-giving has to come to an end.  I want to jump-start all your New Year fitness resolutions with a care package of some of my favorite things.  Whether you are planning to run your first 5k in 2013 or complete your 100th marathon, these little goodies will help you get to the finish line just a little easier.  It's my New Year gift to one of you!   Enter below on the Rafflecopter form to win this assortment of sporty stuff.
Save Our Soles Performance Socks for the Enlightened Athlete: Size Medium branded with Competitor 25th Anniversary logo.  You can never have too many socks, especially SOS socks.
 Sun-Rype 100% All Natural Fruit Strips: A delicious and nutritious product made in Canada but found in the fresh produce section of your local grocery. Contains no preservatives, artificial colors, and is gluten-free and nut-free.  You get one dozen fruit strips in Strawberry.
 FuelBelt – Super-Stretch Waist Pack in Blue ready to hold your race-day necessities like a phone, keys, nutrition gels and girl stuff.
 Slacklaces – "The Flexible Shoe Lace" in Pink are an inventive way to tie up your sneakers.  Don't just lace them up old-school though; check out my old post on special techniques to lace shoes that alleviates problems like heel slip, smushed big toes, and such.
 Nuun Active Hydration Tablets – Enjoy one tube of 12 tablets in the Tropical flavor. If you haven't used Nuun before, you'll love it.  Drop one tab into a bottle of water and it fizzes up without stirring to provide you an on-the-go electrolyte drink without any sugar.
 Sports Legs:  Supplements to reduce lactic acid build-up and minimize post-race soreness (5-tablet supply which is enough for one marathon). I have used these a few times with some success, definitely less sore the next day.  The company told me they would make my legs feel 15 years younger, now if only the rest of my body follow suit.
 Chia Surge Endurance Gel – Pinapple-Orange Flavor and Raspberry Flavor from Vitalyte Sports Nutrition.  You can find these gels retail at REI Outdoor.
 Handana: It might not be hot now, but come summer, you're going to appreciate wiping your brow with this stylish and easy-to-wear high-performance sports band.  Made right here in Austin, Texas!
Jamba Juice: Run your errands or workout in this understated but oh-so-fashionable Jamba Juice cap and then treat your healthy self to a smoothie with the 3 one-dollar gift cards. It's no secret that my favorite flavor is Razzamatazz® with a whey protein boost.