It was almost cold today; the backdoor thermometer decreed it to be 93 degrees!  I guess weather is all relative, but I was sure thankful for a break from the 100+ degree streak Austin has been on forever.  The cloud cover on my mid-morning run kept me from breaking much of a sweat and while it did get toasty later in the afternoon, the lower angle of the sun cast an amber glow and longer shadows that could only mean one thing — autumn will be here someday and hopefully someday soon!
All this wishful thinking about changing seasons turned my mind to food.  Soup. Wouldn't soup be great for dinner?  Regardless of the fact that cold weather is still month(s) away, I caved to my cravings and made one of my "most favoritest" soups of all time – Hatch Green Chile Chicken Enchilada Soup.  Although I was super excited about making the soup, the actual process was bittersweet. I was reminded that Hatch green chile season, which runs from late July through early September, has pretty much come to an end.  I did have an apocalyptic-like stash (75 pounds) of these prized peppers in my freezer, but it's been dwindling by the day.
As a past Hatch Green Chile Cook-Off Winner at Central Market's #HATCHFEST, I've made some very unusual recipes for the contest including Hatch Green Chile and Chicken Cheesecake and Hatch Green Chile Banana Muffins.  My Hatch Green Chile Chicken Enchilada Soup isn't quite as crazy as these concoctions, but my husband claims it is still off-the-hook delicious. It's one of his favorites and mine too – it's super simple to make, can be prepared ahead of time for those busy nights, and stays tasty when served as leftovers – in fact, it might be even better the next day (so make a double batch)!
This is the first time that I've ever written the recipe down, so if the soup seems too thick just add more chicken stock, if it seems too thin, add more crushed tortilla chips. Also, I usually use chicken that I have grilled earlier in the week, but you can cook yours however you like. And, if you don't eat meat, just swap out the stock for vegetable stock and omit the chicken. Enjoy!
Hatch Green Chile Chicken Enchilada Soup Recipe
6 cups chicken broth
1 (15-ounce) can crushed tomatoes
2/3 cup diced Hatch green chiles (that have been roasted, seeded & peeled)
1/4 cup dried minced onion
1 teaspoon ground cumin
1 teaspoon pepper
1 cup crushed tortilla chips
1 cup pre-cooked diced chicken breast
8 ounces light sour cream
Garnish: additional tortilla chips, shredded cheese, green onions
Serves 6.
In a large covered pot, add chicken stock, tomatoes (with all the juice), green chiles, onion, cumin, pepper and tortilla chips. Bring to a boil over medium high heat and then reduce to medium and let simmer for 20 minutes, stirring occasionally.
Add chicken and cook for 2 to 3 more minutes until heated through. Remove pot from heat and stir in sour cream until thoroughly incorporated.
To serve, top with crushed chips, cheese and green onions.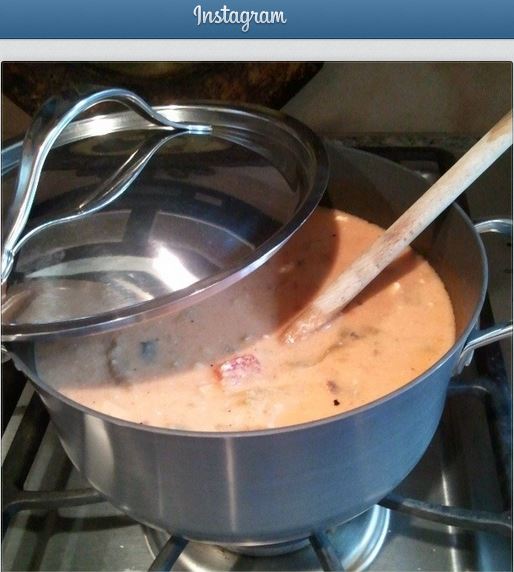 Also wanted to give a shout out to my new Anolon 4qt Covered Casserole from the Nouvelle Copper  line. Features include a double full-cap copper base that distributes heat very evenly, anodized construction that is twice as hard as stainless steel, non-stick interior and stainless steel handles. Two other thumbs up: This pot can go straight from the stove top to the oven (very convenient) and has a European-inspired design (very cool).
If you love Hatch Green Chiles as much as I do, you'll want to check out some of my other Hatch recipes:
Hatch Green Chile & Chicken Cheesecake with Avocado Drizzle
Hot  Mess Hatch Green Chile Burgers with Calabaza Squash "Buns"
Green Chile & Pork Stuffed Zuchinni