Time to hit the trail .  . . trail mix, that is! August 31st is National Trail Mix Day and I'd bet my last nut that you're as hungry to celebrate this salty-sweet day as me!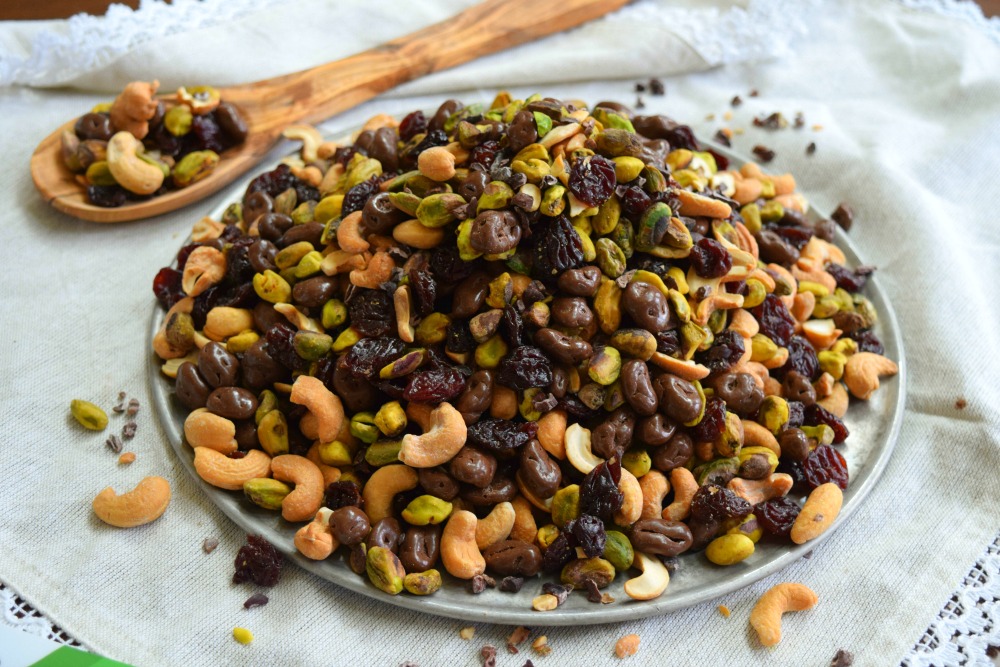 I'm sharing some past trail mix inspired recipes (think cups and bars) along with a more traditional, but oh-so-insanely good jumble of nuts, dried fruit and chocolate things that I call the Nuts About Chocolate Mountain Trail Mix.
So why do I call this Nuts About Chocolate Mountain Trail Mix? Am I nuts about chocolate? Yes. Is there a real place named Chocolate Mountain? Actually yes, the Chocolate Mountains are in the Colorado Desert of Southern California. Would I move to the Chocolate Mountains if they were made of real chocolate? Yes.  Do I eat trail mix on a mountain? Yes, skiing, hiking, after trail running. I also eat in a sea level on the beach, and in my office, and at the gym, at sporting events, and any other opportunity I get. You get the idea, I love this trail mix packed with nuts, dried fruit and chocolate goodness.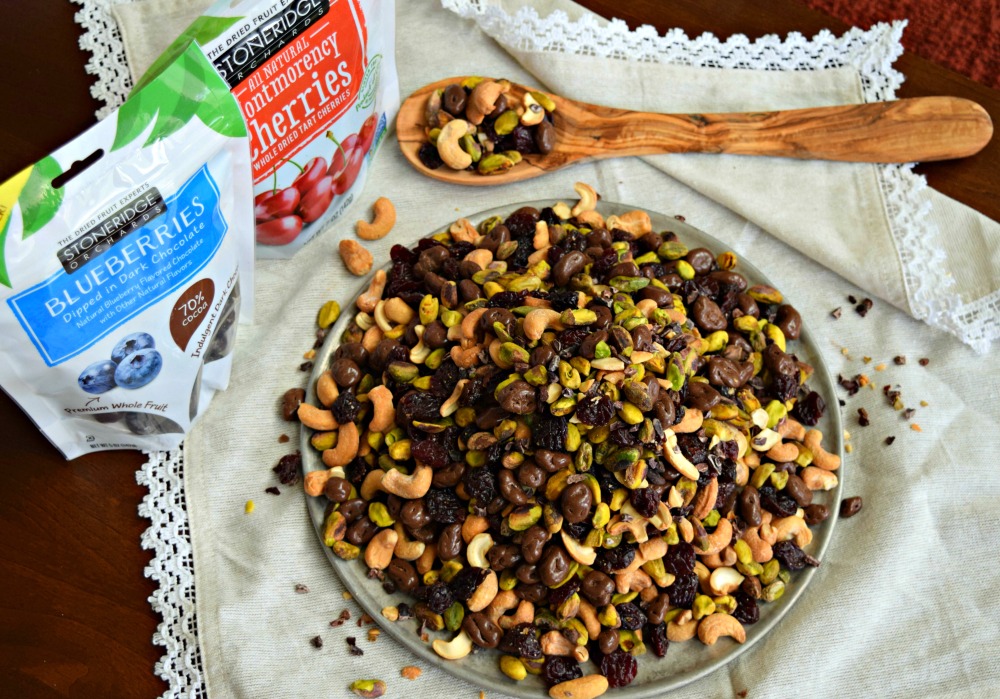 The recipe uses products from some of my go-to brands, like Now Foods (for the organic salted, roasted cashews and raw cacao nibs) and Stoneridge Orchards for their all-natural dried fruits and chocolate-covered dried fruits (in this trail mix I used their whole, dried Montmorency Tart Cherries and Dried Blueberries Dipped in Dark Chocolate).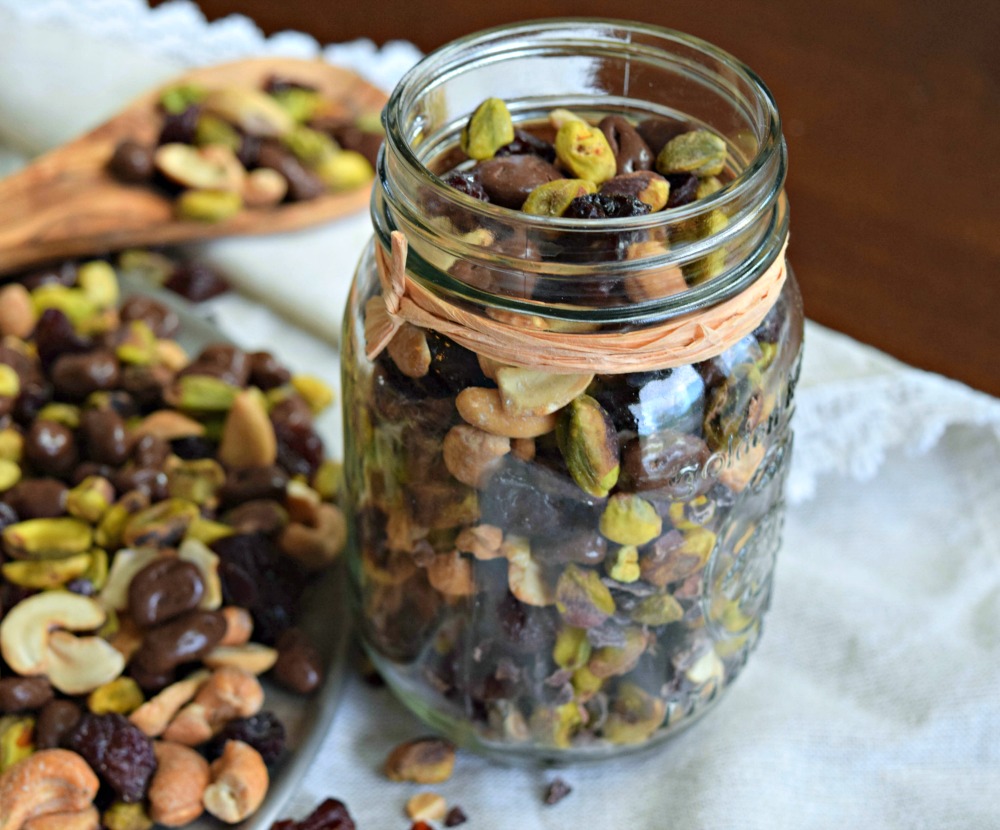 Nuts About Chocolate Mountain Trail Mix
5 ounces dark chocolate-covered dried blueberries (about ¾ cup)
5 ounces dried tart cherries (about 1 cup)
1 cup shelled raw pistachios
1 cup roasted, salted cashews
¼ cup raw cacao nibs
½ cup milk chocolate chips
Toss everything in a large bowl, store in airtight container. Makes 16 servings. Every energy dense, each serving about 195 calories with 4 grams of protein and 22 grams of total carbs, 11 grams fat.
More Ideas
Here are a couple other trail mix / snack mix ideas for your munching pleasure this time of year – you know, some late summer camping is still going on and it's at once back to school time and the start of tailgating season. Happy snacking!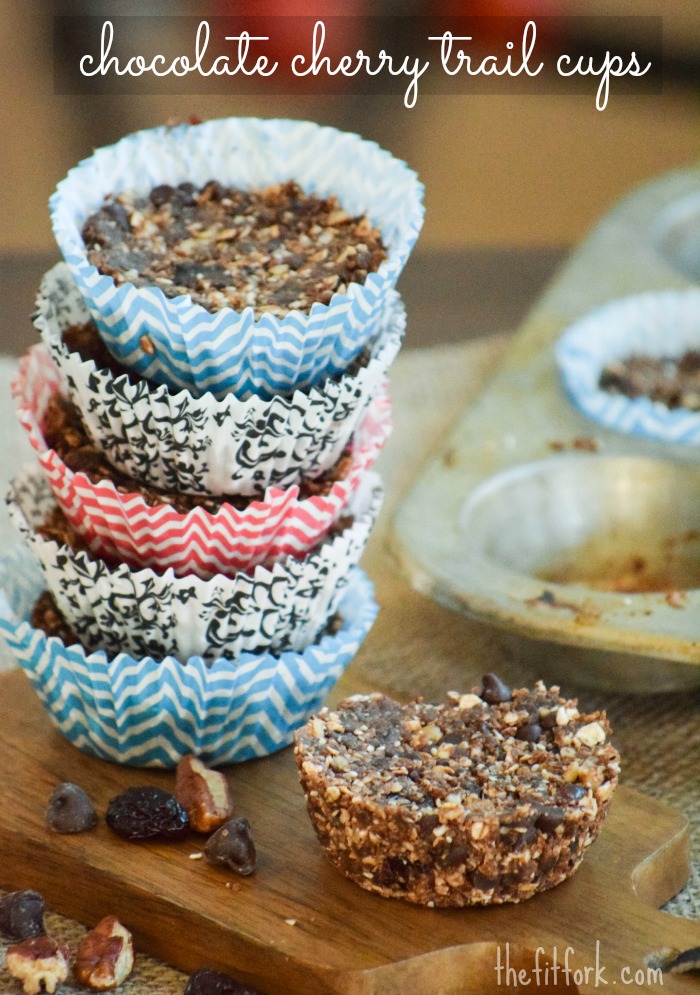 Chocolate Cherry Trail Cups – What I like about this recipe, other than the chocolate and cherries, is a bit of protein powder added to keep the hangries away longer. The convenience of having everything smooshed into one piece also means less mess in my backpack.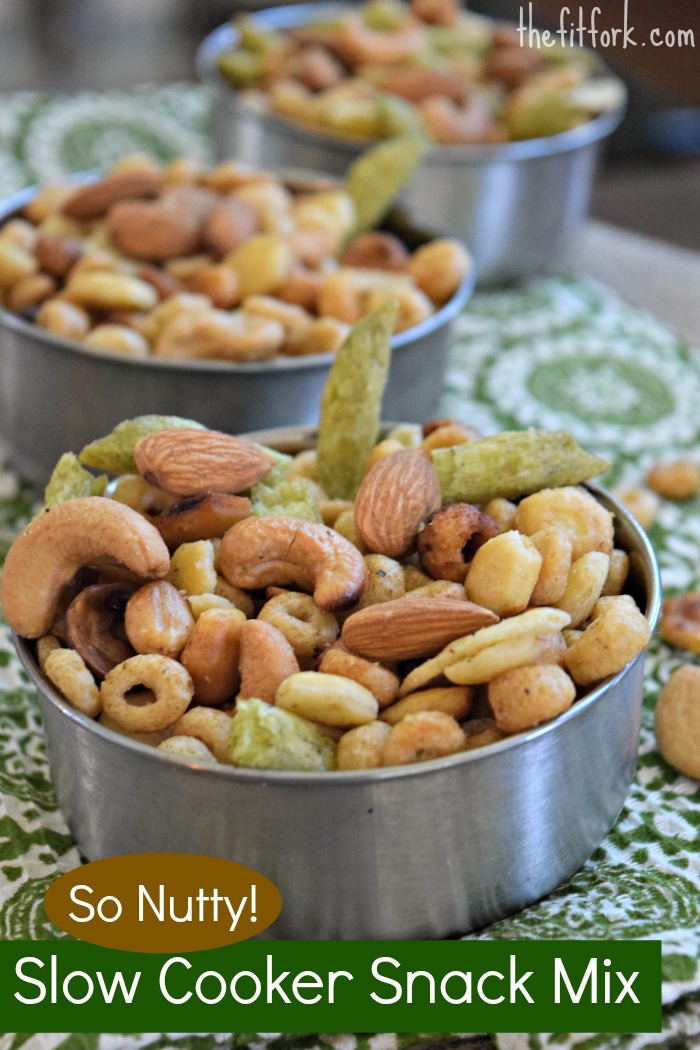 "So Nutty" Slow Cooker Snack Mix: This savory, crisp and crunchy snack is actually cooked in a crock pot – it tastes fantastic and is super simple to prepare! I'm sending a big bag full to my son who just left for college . . . . it's my way of sending him a hug from home!
So what is your favorite ingredient(s) in trail mix?  Are you a "cherry picker" who rummages through for the best stuff? If you could be a nut, which nut would you be? Let's chat in the comments – XOXO, Jennifer