The holidays aren't over just because December has come and gone. January is National Oatmeal Month and that's 31 days of whole grain goodness to celebrate.  Now, before I get all mushy about oatmeal, I have to admit that I'm not a huge fan of the stuff porridge-style — except when it is dressed up with nuts and honey and fruit. Okay, okay, I love it! I also love to use oatmeal in many of my healthy recipes, everything from granola (oh, you know there will be a granola-palooza post next week) to grinding it up and using it as a "flour" in all sorts of baking and crusting.
I recently created this super easy, super yummy recipe for Tropical Caramel Cashew Energy Bars for Litehouse Food. Dried mango and pineapple along with cashews are tossed with a hearty pile of old-fashioned oatmeal (and shelled hemp seed for extra protein) and then coated with a packaged light caramel sauce.  Baked into chewy perfection, these bars have less than 190 calories per serving, 5 grams of protein and 2 grams of dietary fiber. Easy to wrap 'em up and tuck into a lunch box or gym bag, ready to provide sensible, satisfying relief when hunger strikes.
So, what's so great about oatmeal? There have been numerous research studies that link the consumption of oatmeal with a host of positive health benefits. You can read about these perks in detail at the Whole Grains Council, but here are the bullet points:
Oats may reduce asthma in children
Oats may boost nutrition profile of gluten-free diets
Oats increase appetite-control hormones.
Oat Beta Glucans improve immune system defenses.
Oats help cut the use of laxatives.
Oats may help reduce the risk of Type 2 Diabetes.
Oats may improve insulin sensitivity.
Oats lower bad cholesterol.
Oats help control blood pressure.
Oats #3 overall, #1 for breakfast in overall satiety index.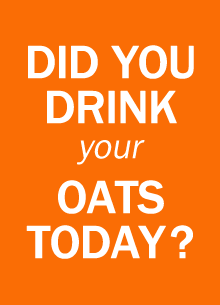 Did you also know that you can drink your oats? Yup, just throw a handful (approx. ¼ cup) into the blender when making a smoothie. In order to keep your smoothie from being lumpy and clumpy; It works best to grind the oats in the blender before you add the liquid ingredients.
However, are if you are having a crazy morning or need a post-workout snack, OatWorks Oat-Powered Natural Smoothies are a fantastic, fitness-focused and flavorful option to a home-made smoothie. The company sent me some product to try out, tell you about, and share through a giveaway (read on to the bottom for entry instructions).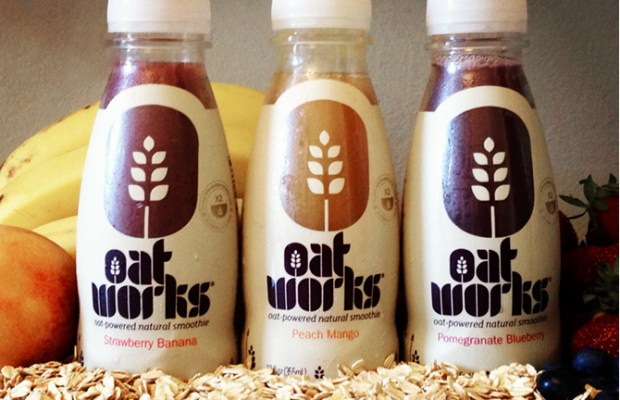 Made with natural oat fiber (the soluble fiber called beta glucan) and real fruit juices, these individually- bottled beverages are vegan friendly, gluten free, dairy free, cholesterol free, non-GMO and Kosher. There is also no added sugar, artificial sweeteners or artificial anything. So what DO these OatWorks drinks have? Well, each 12-ounce bottle of Oatworks is packed with as much soluble fiber as two bowls of oatmeal, has loads of vitamins and minerals, and is naturally sweet, smooth and delicious. You also get all those oatmeal benefits that I bullet-pointed earlier!
Choose from three not-at-all lumpy flavors —Strawberry-Banana , Pomegranate-Blueberry or Peach-Mango. If you can't find these smoothie drinks at your market, you can stock up on Amazon. Or, you may be my lucky winner who will receive 6 bottles (3 each flavor) of OatWorks Oat-Powered Natural Smoothies.
To enter, just enter through the Rafflecopter app below: