This post is sponsored by Sizzlefish, I received products to review. However, all opinions, editorial comments and recipes are my own.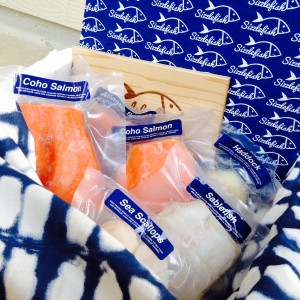 Sizzlefish recently sent me an impressive assortment of fish and seafood to incorporate into my November menus — sable fish, salmon, trout, scallops and more. Honestly, I couldn't decide which fish to fry first (speaking metaphorically, of course), so I pulled the Coho salmon out of the pre-portioned, individually-packaged pile. That's one thing I appreciated right off the bat, the fact that each serving is single-serve (less waste) and measured out to be exactly 4 ounces (no guesswork). As a connoisseur of all proteins, I know that a 4 ounce serving of beef, chicken or fish protein gives me around 25 grams of protein which is the optimal amount for my body to take on at any one feeding.
For quite some time now, I have made a conscious effort to increase the amount of protein I'm eating and pair that with as much fresh seasonal produces as I care for. However, I haven't eliminated all grain and starchy carbs from my diet, because after experimenting around with Paleo and such, I really feel like I need some quality carb fuel to keep me where I want to be as an athlete. That being said, the powers of protein have done great things for me including speeding up my recovery time, leaning me out and boosting my brain power (okay, jury still out on that one)! Everyone knows I love beef, that's no secret – but when it comes to getting enough quality Omega-3 fats, even a Texas rancher would say – go eat some fish! My husband and I eat at least two servings of Omega-3 rich fish per week and you should too! I think you'll love this fall-seasoned recipe I created this weekend – Coho Salmon with Cranberry and Jalapeno Compote.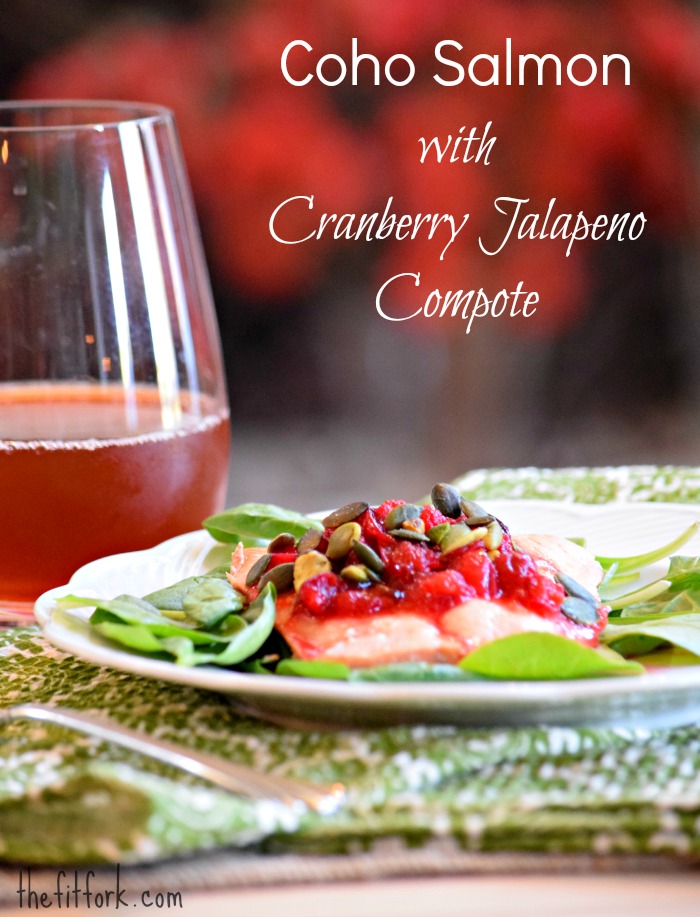 Coho Salmon with Cranberry and Jalapeno Compote Recipe (serves 2)
½ cup fresh squeezed orange juice
¾ cup fresh cranberries
1 tablespoon minced jalapeno pepper (omit if you don't like spicy)
2 tablespoons Jalapeno jelly
2 4-ounce portions of Coho Salmon (might I suggest Sizzlefish?)
½ lime, juiced
Salt and pepper, to taste
1 tablespoon pepita (pumpkin) seeds, optional
Preheat oven to 400 F degrees.
On stovetop, add orange juice, cranberries, jalapenos, and jalapeno jelly to small saucepan. Bring to boil, reduce heat and let simmer, stirring frequently, for approximately 5 -7 minutes until cranberries have popped and cooked down.
Meanwhile, place thawed salmon, skin side down, on rimmed baking sheet and drizzle with lime juice. Season with salt and pepper.
To serve, scoop a generous serving of the cranberry compote atop salmon. Sprinkle with pepita seeds, if desired.
Note – skin may be removed from salmon after cooking, but at least try to eat the darker flesh next to the skin because where A LOT of the good-for-you fats are found.
Try Sizzlefish for yourself — use discount code TRISIZ for $10 off order!
What is your favorite type of fish?