Although we're just a few days into November, soon the winter holiday season will be in full swing. Invitations to parties galore will be popping up in your inbox and you may even be hosting a soiree of your own. If you're anything like me, indulging in foods that have been forbidden to pass your lips for months upon months are now welcomed as the beloved, long-lost friends they are. It's so wonderful to see you again cheesecakes, chocolate kiss cookies, mugs of eggnog and bacon-wrapped finger foods — squeal!
But, before you dive off head first into a bowl of fully-loaded artichoke spinach dip, remember – all things in moderation! I've said it many times before and I'll say it again; I've never been a food denier. But, I do balance my splurges with healthy foods and watch my portion sizes when I know that tempting foods are coming my way.
One festive, flavorful and yet still fit dish I like to make (or bring) to parties is Pomegranate Jicama Salad with Roasted Cilantro Shrimp.  I created this colorful recipe to fulfill a request for "elegant and easy healthy holiday ideas" for the Living Litehouse blog.  This simple to assemble salad makes a showy statement when served as a light entrée. It can also be divided up among stemmed glasses and served as an appetizer, shrimp cocktail-style! If you're not up to roasting the shrimp yourself, just purchase them ready to go at the chef-prepared food section of any upscale market. Guests will be impressed with the presentation and pomegranate flavor of this shrimp salad and not feel a bit guilty about overdoing it.
Ingredients
For the shrimp:
2 pounds uncooked (12 to 15-count) shrimp
1 tablespoon olive oil
1 teaspoon kosher salt
1/2 teaspoon freshly ground black pepper
2 teaspoons minced fresh cilantro
For the salad:
1 lb jicama peeled and julienned
1 medium red onion thinly sliced
1 large pomegranate peeled and arils harvested
2 Tbsp. minced jalapeno
2 Tbsp. fresh very thinly sliced green onion
2 Tbsp. fresh minced cilantro
2/3 cup Pomegranate Blueberry Vinaigrette
¼ cup salted roasted pepitas (pumpkin seeds)
4-oz. crumbled Feta Cheese
Directions
1. Preheat the oven to 400 degrees F.
2. Peel and devein the shrimp, leaving the tails on. Place shrimp on a sheet pan with the olive oil, salt, and pepper. Stir shrimp around a little to coat them in oil and then spread in a single layer. Sprinkle with cilantro.
3. Roast for approximately 8 minutes, just until pink and firm and cooked through. Set aside to cool.
3. Meanwhile, in large bowl, add julienned jicama, sliced red onion, pomegranate arils, jalapeno, spring onion, and cilantro. Pour Pomegranate Blueberry Vinaigrette over mixture and mix gently to combine.
4. Add spring mix to serving bowl or platter. Mound jicama-pomegranate mixture in the center of lettuce; sprinkle with pepitas and feta cheese.
5. Arrange roasted shrimp around perimeter.
With this deliciously nutritious and low-cal salad, you don't have to feel guilty about taking a wild ride on the dessert cart; or, perhaps having a second slice of my Lower-Fat Caramel Apple Carrot Cake! Don't forget to visit Living Litehouse for my recipes!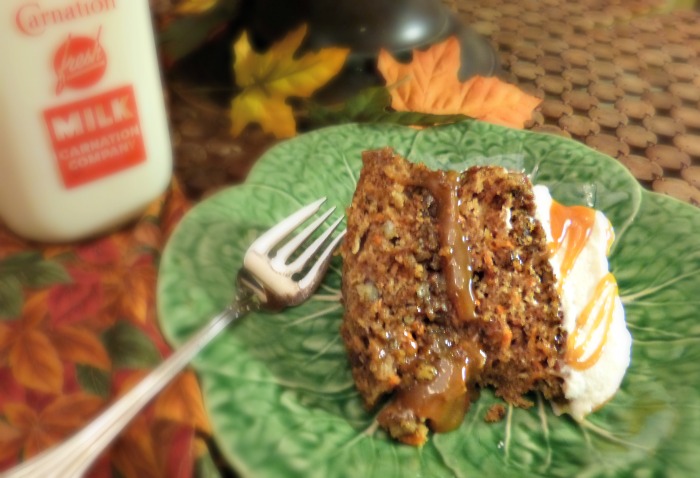 On another note, it's less than a week until I leave for Las Vegas to battle it off spatula to spatula with the other 99 contestants in the Pillsbury BakeOff.  If you missed it a few months ago, my recipe that made it through to become a finalist is an appetizer – Spicy Beef and Sweet Potato Samosas.  How cute is the official apron this year? It was created especially for the event by designer Whitney Port and I can't wait to wear it!