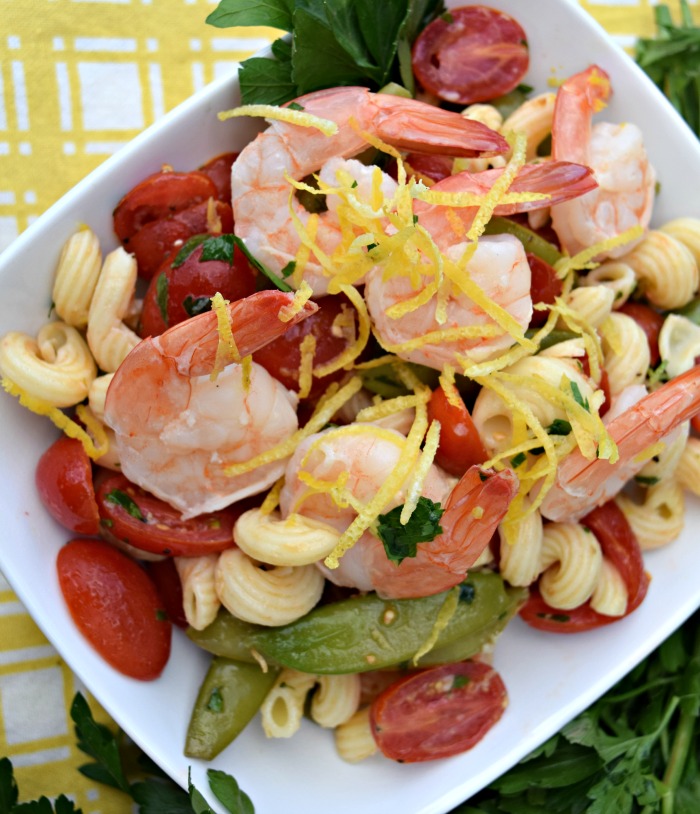 Oh my goodness, I almost let National Pasta Day go uncelebrated and in my house full of noodle-lovers, that would be an unforgiveable offense.  I've grown my three sons into their teens on some form of pasta or another – they get that gene from their dad who lived exclusively on macaroni and cheese with tuna fish until age 29 (when we got engaged).
Carbs, carbs – yes, traditional pasta has carbohydrates. Even though I eat a higher protein diet, I do enjoy a little taste of carby comfort now and then – especially when it's topped with a kaleidoscope of my favorite fresh produce.  I want to share with you my recipe for Shrimp & Sugar Snap Pasta with Lemon Gremolata — it may seem a little "out of season" considering the boom of butternut squash and pumpkin recipes this time of year but, trust me, it's a welcomed ray of sunshine for your supper (and the leftovers pack nicely for lunch). Oh, and since Austin is still in its endless summer season (which I expect to last until the beginning of November), I will just continue to enjoy wearing flip flops, summery tops and just-picked-from-the-garden pasta dishes.
I adapted this pasta salad recipe from one I've taught in classes on behalf of the Texas Beef Council. Of course, that recipe used sliced sirloin (always a good choice) but I just knew it would be good tweaked with shrimp, chicken or just extra vegetables.  Feel free to make substitutions, this recipe is super accommodating. For example, if sugar snap peas aren't in the market, substitute blanched green beans or lightly steamed baby carrots. Also, use the noodle you prefer – like gemelli, corkscrew, bow ties or penne! The light and vibrant Lemon Gremolata dressing will find its way into the nooks and crannies of the pasta and really pulls all the flavors together. Enjoy!
Shrimp & Snap Pea Pasta with Lemon Gremolata Recipe
1 lb large shrimp, tails on but peeled and deveined
2 cups fresh sugar snap peas
4 cups cooked gemelli, corkscrew or pasta
1 cup grape or cherry tomatoes, cut in halves
3 cloves garlic, minced
1 teaspoon black pepper
Freshly grated lemon peel
Chopped fresh parsley (optional)
For Gremolata Dressing:
1/4 cup fresh lemon juice
2 tablespoons olive oil
2 tablespoons chopped fresh parsley
2 cloves garlic, minced
2 teaspoons freshly grated lemon peel
1/4 teaspoon salt
1/8 teaspoon black pepper
Bring water to boil in large saucepan. Add peas; cook 2 to 3 minutes until crisp-tender. Drain; rinse under cold water. Combine peas, pasta and tomatoes in large bowl. Set aside.
Whisk Gremolata Dressing ingredients in small bowl until well blended. Toss 2 tablespoons dressing with pasta mixture. Set aside.
Add olive oil to medium skillet and bring to medium-high heat. Add shrimp and garlic to skillet and cook for 3 – 4 minutes, stirring constantly, until pink. Season with pepper.
Remove shrimp from skillet and add to pasta mixture. Add remaining dressing to pasta mixture; toss to coat evenly. Garnish with additional lemon peel and parsley, if desired.
Serves 4.