More than 90 percent of adults snack between meals and that's a good thing, if done right! Most dieticians recommend eating a couple healthy snacks per day, given overall good food choices are being made. Selecting protein rich snacks can help improve satiety and promote weight loss or maintenance. But for athletes, protein-rich snacks also have an effect on workout recovery and future performance -protein is the fuel that supports muscle repair and growth and provides long-lasting energy throughout the day.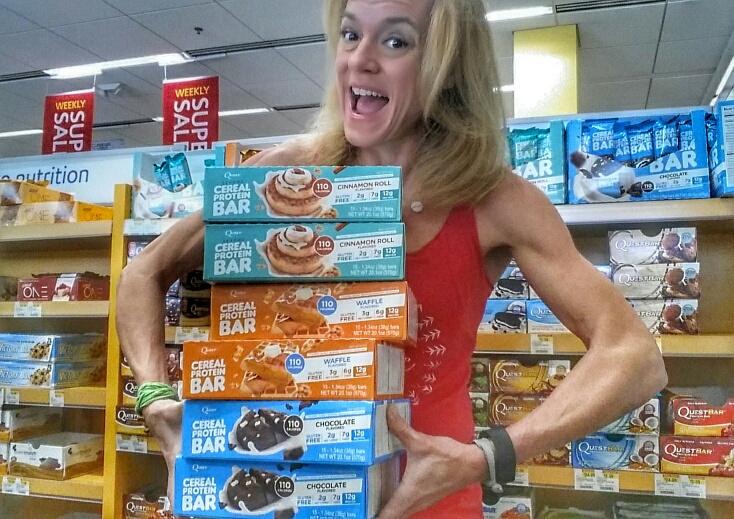 Because of protein's role in these areas, it's the only macro this number avoiding girl counts. Time and time again you've heard me say I aim for 25 to 30 grams at every meal and also the same amount within 30 minutes of an intense workout or long run. However, for snacks after a light workout, in the middle of a regular day, or just because "I'm hungry," I take the protein consumption down a bit at snack time – 12 to 14 grams per snack is perfect for me. My new favorite protein snack is the Quest Beyond Cereal Bars that I got at Vitamin Shoppe.  Read on to find out more about high-protein snacks and these yummy new bars from Quest.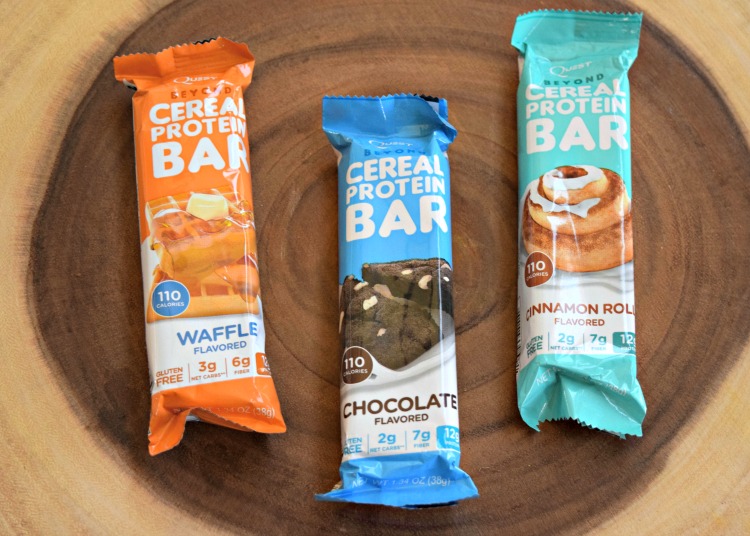 While there are plenty of protein snack options around that are great for athletes, many, such as low-fat dairy or hard-boiled eggs, need to be refrigerated and are not practical for gym life. Protein bars are a great way to work more protein into the diet and the Beyond Cereal Bars from Quest offer the sweet, comforting crunch of a traditional cereal bar (ugh, like those high sugar ones with only 1 gram protein I used to feed my kids), but with a higher-protein, lower-carb nutritional profile.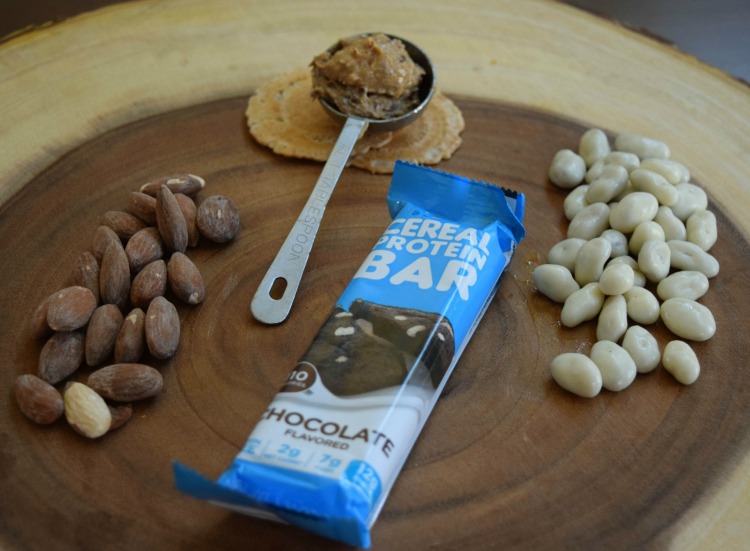 Once I started really looking at the protein in my "protein" snacks, I realized many of my grab-and-go selections where not really as protein-packed as I had assumed. For example, for a 110-calorie portion of the following foods:
Scant ¼ cup Greek-yogurt-covered raisins had only 1 gram of protein,
1 tablespoon peanut butter and 2 thin crackers has only 4 grams protein
14 dry-roasted almonds had only 4 grams of protein
But, a Quest Beyond Protein Cereal Bar, for the same 110 calories, contains 12g protein, only 2-3g net carbs, 6-7g fiber and 8g of a new naturally-occurring sweetener called Allulose.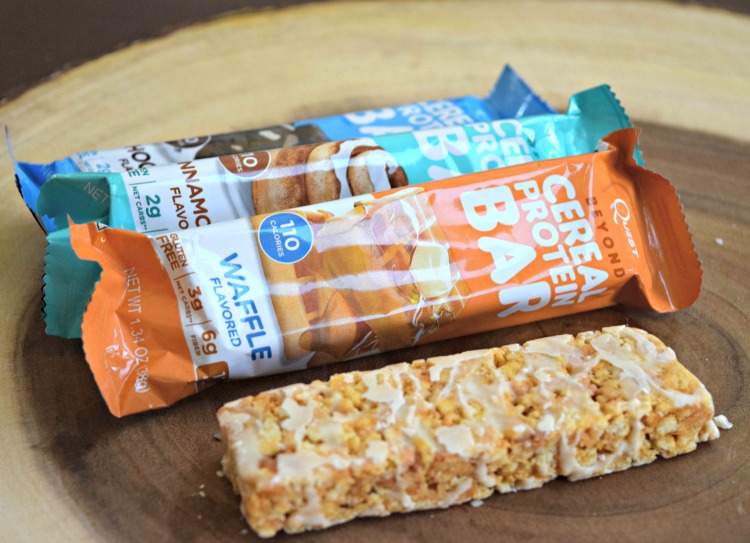 So, you may be wondering how are these bars so sweet and still low carb?  Beyond Cereal Bars are sweetened with Allulose, a new sweetener that is found in small quantities in nature in foods like maple syrup, figs and raisins. The taste and bakery texture of these bars had me fooled for traditional sugar – but with 1/10th the calories of traditional sugar it's a more sensible snack that has a place in my fit-focused diet.  Understanding the Nutrition Label on products that use Allulose is a little confusing because the FDA requires the sugar alternative to be listed by gram weight under "sugars" even though it has 90 percent fewer calories that most other sugars.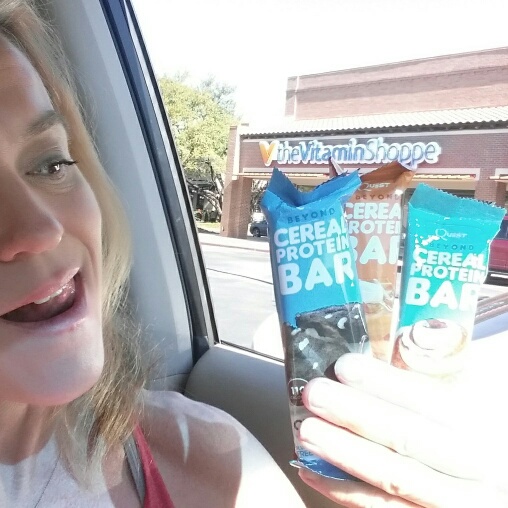 These protein cereal bars are the perfect snack after a light workout, for a quick breakfast, or when you need a little something sweet to nosh between meals and don't have the appetite or muscle repair needs for the 20g protein in a full Quest bar. Quest Beyond Cereal Bars come in three scrumptions flavors – Chocolate, Waffle and Cinnamon Roll. EVERYONE loves the flavors!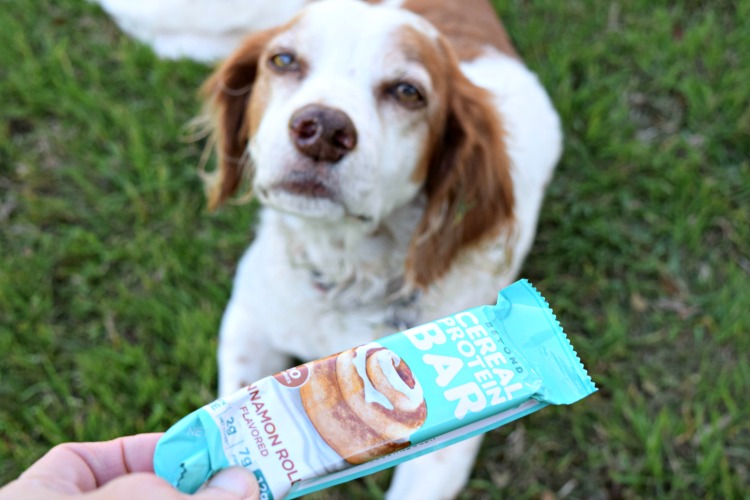 Click here to try Quest Beyond Cereal Bars now at Vitamin Shoppe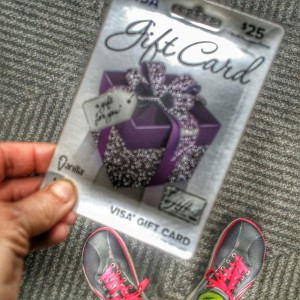 I'm also personally hosting a $25 Visa Gift Card giveaway so that you can head over to your local Vitamin Shoppe or GNC to purchase these yummy new protein cereal bars from Quest (or spend however you wish). To enter, follow the simple Rafflecopter instructions.