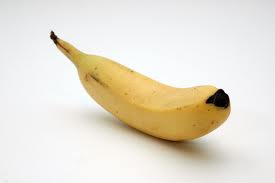 What to eat for breakfast, that's a sorely overlooked yet oh-so important detail in my overall race-day strategy. Even though it's super portable, a banana isn't usually enough. If I grab a bagel or something bready, I know I going to have a carb crash before the start-line gun goes off. If I munch on a protein bar, sometimes it hits my stomach like a brick. Eat nothing and I'll be whimpering at the notorious "wall" way earlier than anticipated. What to do?!
"How about my pancakes?" suggested my friend Stephanie from St. Louis, a runner, CrossFit coach and Paleo diet devotee. Now, before you freak out, these are not the syrupy, sugar-laden hotcakes that have been a staple of many a Sunday brunch. These pancakes strike a beautiful balance between the natural carbohydrates found in fruit and the long-lasting protein supplied by eggs and nut butters – throw in a little ground flaxseed, known to improve the metabolism of fats (especially helpful with endurance sports), and you'll be fueled for a good long way!
If getting out the door, let alone actual cooking, is an issue when the 4am or 5am race-day alarm clock goes off, you can make these Paleo Pancakes the night before and pop them in the microwave to reheat. Make sure to check out Stephanie's other collection of really yummy Paleo-friendly recipes (think caveman-style cooking updated for today) at 1-2-3 Cook – Paleo Style
Pre-Race Paleo Pancakes
2 medium bananas, mashed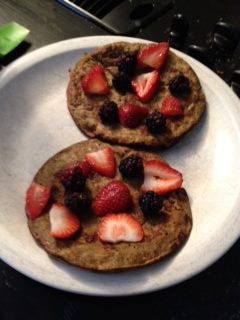 2 large eggs
1/4 cup almond or sunflower butter
2 tablespoons ground flaxseed
Non-stick baking spray
Garnish: assortment of fresh berries
In a medium bowl, work peeled bananas with back of fork until mushy. Mix in eggs until well-combined; next stir in nut butter and flaxseed until incorporated into batter. Spray small skillet with non-stick backing spray and spoon in 1/3 of batter. Cook over medium heat, covered with lid, until top is bubbly and sides begin to pull away from pan. Flip and cook 1-2 more minutes. Repeat with remaining batter. Top with fresh berries. Makes 3 pancakes.