Imagine nervously waiting at the start line of the most important race of your life, a run that would be the final test of more than a year of dedicated, intensive training and one where you have put the reputation of your family, faith and country on the line. Now imagine that instead of carefully monitoring your diet and eating "clean" for maximum performance leading up to and on the big day, you are fueled on cheesecake and will be running in the nude.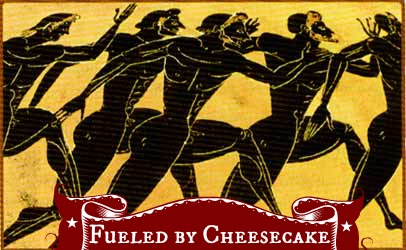 As crazy as it sounds, historical records reveal that cheesecake was served to athletes participating in the first Olympic Games in Greece back in 776 BC. However, the ladies didn't have to worry whether or not a slice of this decadent dessert would give them a glycogen-depleting bonk or big ole naked bodonkadonk come race day – female athletes weren't allowed to compete, nor were married women even allowed to spectate.
But, let me stop my digression on discrimination here and get back to the cheesecake nutrition plan. I can't imagine that a slice of cheesecake, such as we enjoy here in the 21st century, could be the best way to finish off a pre-race meal.  A single slice of Peanut Butter Cup Fudge Ripple Cheesecake from the Cheesecake Factory tops out at over 1,300 calories and 40 grams of fat per serving; even a low-carb, Splenda-sweetened slice of Original Cheesecake from the same restaurant has 570 calories.  Sheez, instead of the aforementioned cheesecake offender, you could eat more than HALF of my Whey Cool Strawberry Protein Pie.
But, don't get me wrong, I love cheesecake. I just don't eat it everyday and when I do indulge, I share a slice with a partner in crime. Since National Cheesecake Day is July 30th I wanted to honor this icon of the dessert cart in a more nutritious way.  I found a description by the rhetorician and grammarian Athenaeus on how cheesecake was prepared back in ancient Greek times. While it looked like the recipe was actually filled with healthy carbs and protein, the lack of measurements left me puzzled.
 "Take cheese and pound it till smooth and pasty; put cheese in a brazen sieve; add honey and spring wheat flour. Heat in one mass, cool, and serve."
Instead, I came up with a cheesecake-inspired recipe with a healthy spin; a nutritious little nosh that could be enjoyed before running a race without any negative consequences on my gut or butt. Since I'm usually running and racing in the morning, a muffin was the perfect solution. Sized just right to take on the go, my recipe for Berry Cheesecake Power Muffins offers more than 8 grams of protein and less than two grams of fat – all for about 100 calories per muffin. 
Berry Cheesecake Power Muffins Recipe
 2 cups rolled oats, ground in a blender
1 cup fat free cottage cheese
1/4 cup unsweetened apple sauce
1/4 cup sugar-free maple syrup
1 cup egg whites
1 tsp vanilla extract
1 tbsp Stevia
1 tsp baking powder
1/2 tsp baking soda
1/4 tsp salt
Remaining ingredients:
1/2 cup fresh blueberries
½ cup fresh strawberries, chopped
½ cup fat free cream cheese
1/2 tbsp Stevia
Preheat oven to 350 F degrees.
Grind up oats in blender using pulse button. In pitcher of blender, add ingredients for muffin batter –cottage cheese, applesauce, syrup, egg whites, vanilla extract, Stevia, baking soda, baking powder and salt.  Blend in blender until smooth and divide mixture up equally in a 12-muffin tray fitted with muffin liners (or coated with baking spray).
In a separate bowl, mix together cream cheese and 1/2 tablespoon of Stevia. Sprinkle blueberries and chopped strawberries on top of muffins; then dollop cream cheese on the center top of each muffin. The fruit and cream cheese will sink down to the middle during baking.
In 350 F degree oven, bake muffins for 20 – 22 minutes or until lightly browned.
Let cool before removing from muffin tins.
Makes 12 muffins.
Nutritional info: per muffin: Calories: 103, Total fat: 1.9g, Total carbs: 12.1g, Sugar: 2.7g, Protein: 8.3g