I know a thing or two about how lean protein plays an important role in a healthy lifestyle. I blog about it here all the time and I even take my show on the road every now and then to demonstrate how to make the most awesomely delicious and healthy recipes using lean proteins.  But, last week I spent a couple days with the Texas Beef Council (TBC) learning even more about lean protein and how it can be optimally incorporated into a diet that supports the active regimen of an athlete. Fittingly, the event was called Living Well and took place at the gorgeous Travaasa Experiential Resort near Lake Travis (in Austin) and at TBC headquarters not far away.
We toured the resorts organic farm where they grow much of the fruits, vegetables, herbs and eggs used in the restaurant – there are even chickens laying eggs that end up on your breakfast plate!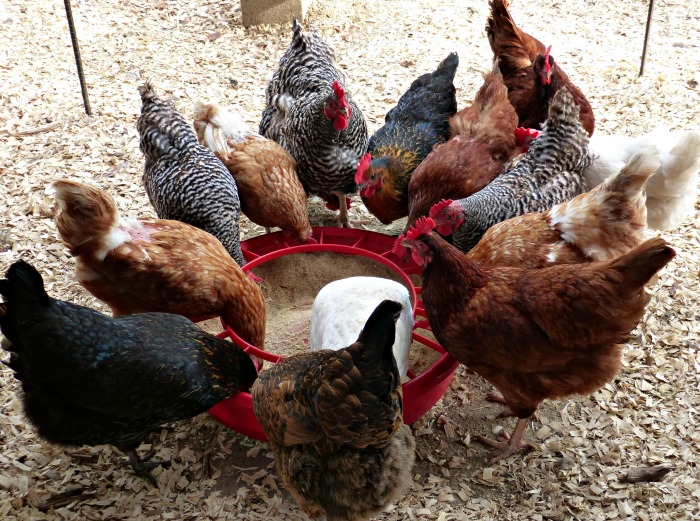 We were treated to a delicious farm-to-fork style dinner complete with wine pairings specifically chosen and described by a sommelier.  While the wine was lost on me (not a huge fan), the delicious food made a memorable impression and showed just how creative one can be cooking with lean beef and fresh, seasonal produce.  Here is a small sampling of our meal which included Beef Carpaccio with Roasted Oyster Mushrooms, Beef Short Rib Zucchini "Cannelloni" filled with Butternut Squash, Goat Cheese and Charred Tomato Sauce, Grilled Marinated Vegetables and Seasonal Salad. Oh, and Chocolate Chipotle Cake with Berries for dessert.
Here are the important take-away points about protein and nutrition I want to share with you:
Caloric Cost of Plant Protein: The caloric cost of plant protein is very high compared to lean beef. For example, a 3 oz. serving of lean beef has about 150 calories and 25 grams of protein. By comparison, I'd have to eat 540 calories of peanut butter (while I LOVE it) or 382 calories of black beans to total 25 grams protein.  It's not that you shouldn't have plant proteins in your diet (variety is the spice of life, right?!), it's often much more effective to eat a more nutrient-dense serving of lean meat.
Protein Satisfies Hunger & Prevents Snacking:  Higher protein meals, especially at breakfast, increase satiety (the feeling of fullness) that can keep you from snacking on unhealthy fatty and sugar foods later in the day. I can seriously vouch for this.
Behold the Protein Threshold: The "protein threshold," meaning how much protein it takes to feel satisfied is approximately 30 grams per meal regardless of your body size. This means that a larger or more active person would need more eating occasions to meet their protein needs. However, don't try to eat all your protein in one sitting, it won't be effectively used — I space mine out into about four to five 25 – 30 gram "experiences."
When to Eat Meat (or other Proteins): The timing of protein intake should start at breakfast and continue at a fairly steady state throughout the day. The average person only gets 10 grams of protein at breakfast, 17 grams at lunch and then overdoses with 65 grams in the evening.  These meals should be more like 25 – 30 grams each with protein snacks in between for larger people or athletes with muscle recovery needs. Of course, most of us know that after an intense workout, a protein to carb snack with the ratio 1:3 should be consumed within a 30 minute window for optimal muscle recovery.
Yoga + Extra Protein for Healthy Aging: A research study conducted by one of the presenters showed that muscle mass may be improved and maintained during the aging process with the combination of yoga and increased protein intake!  This researcher recommended the habitual consumption of protein in an amount approximately twice the RDA (so aim for 1.6 grams per kilo) and routine yoga practice.
Finally, we also had a wonderful culinary demonstration focusing on the taste of umami and flavors to pair with beef to maximize the umami-ness! After that, we broke off into groups to do a "Chopped" style cooking competition where we were allowed an assigned cut of lean beef (ours was ground beef) along with four other ingredients from the pantry/fridge and unlimited spices and seasonings. Whoot, I love to cook with lean beef!  So, guess which team won? Bam, that's right, mine – winner, winner, beef dinner!  Even with the most pedestrian cut of beef, ground beef, we created a vibrant and healthy recipe worthy of your healthy dinner plate. I've replicated the recipe to the best of my memory below: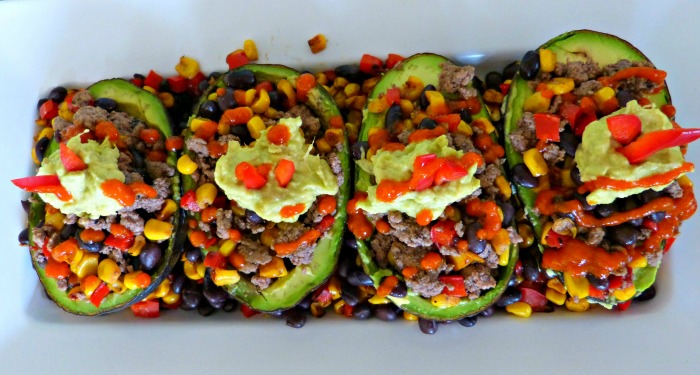 Baja Beef Avocado Bowls Recipe
 1 lb 93% or leaner ground beef
1 15-ounce can black beans, rinsed
1 tablespoon olive oil
1 large red bell pepper, diced
12 ounces frozen (or preferably fresh) corn
2 tablespoons steak seasoning of choice
2 large avocados
Salt
Sriracha sauce
In large skillet, over medium-high, brown ground beef into crumbles (temperature should reach 160 F degrees) and season with 1 tablespoon of steak seasoning. Drain off any excess fat. Transfer to large mixing bowl; set aside.
Add oil to same skillet (unwashed) and add frozen corn, red peppers and remaining steak seasoning. Sauté over medium-high to high until vegetables are beginning to "roast" and blacken slightly on the outside, approximately 10 -15 minutes.
Add ½ of sautéed vegetables to bowl with ground beef; stir to combine. Reserve remaining vegetables
Cut avocados in half lengthwise and remove seed. Using spoon, remove some of the flesh to create a bowl with the remaining flesh and exterior skin. In small bowl, smash together removed avocado flesh with salt to create guacamole; set aside.
To plate, mound ¼ of reserved vegetable mixture (without meat) onto center of plate. Top with avocado bowl. Fill avocado bowl with beef and veggie mixture, top with a dollop of guacamole and red bell pepper garnish. Drizzle with Sriracha, if desired. Repeat for remaining three avocado bowls.
Serves 4.