This post is sponsored by Now Foods. However, all content, opinions and enthusiasm are my own.
It's easy to excited about September and the promise of all things autumn – the crisper weather, the golden cast the sun makes, the rah-rah of sports teams, and, of course, comforting food in all the fall flavors . . . especially apple!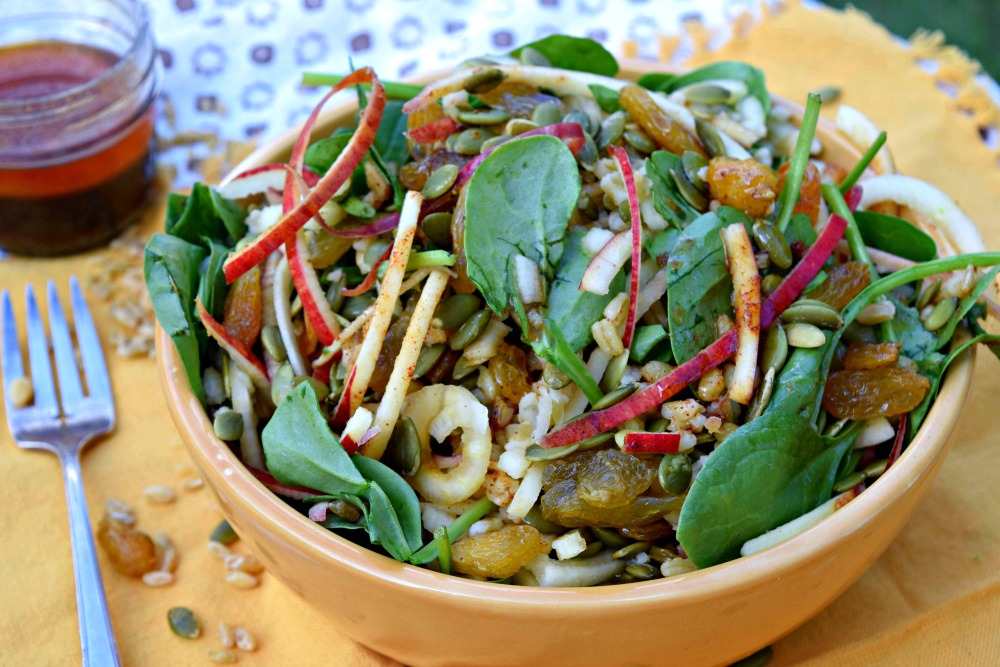 My Apple Freekah Salad with Ancho Honey Vinaigrette makes a hearty yet still healthy choice for lunch or dinner, packed with filling whole grains, pumpkin seeds, golden raisins and spinach. It's also a great choice for football tailgating, as it can be served warm or cold. Read on to get the full recipe and learn more about the benefits of apples, freekeh and pumpkin seeds.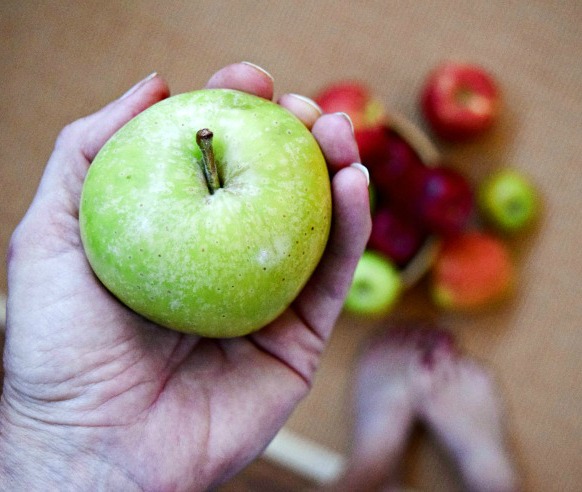 "An apple a day keeps the doctor away" is an old wives' tale that works!  This popular fruit has a bushel of benefits to keep athletes and everyone healthy and well (read my whole post on apples and athletes). Apples are low in calories yet high in fiber, certain vitamins (like C), antioxidants and phytonutrients, making them a filling and snack that helps maintain weight and optimize health. They are a tasty source of healthy complex carbs to bring quick energy to workouts and can be enjoyed "as-is" or used in recipes like my Cinnamon-Oat Stuffed Baked Apples and the freekeh salad I'm sharing today.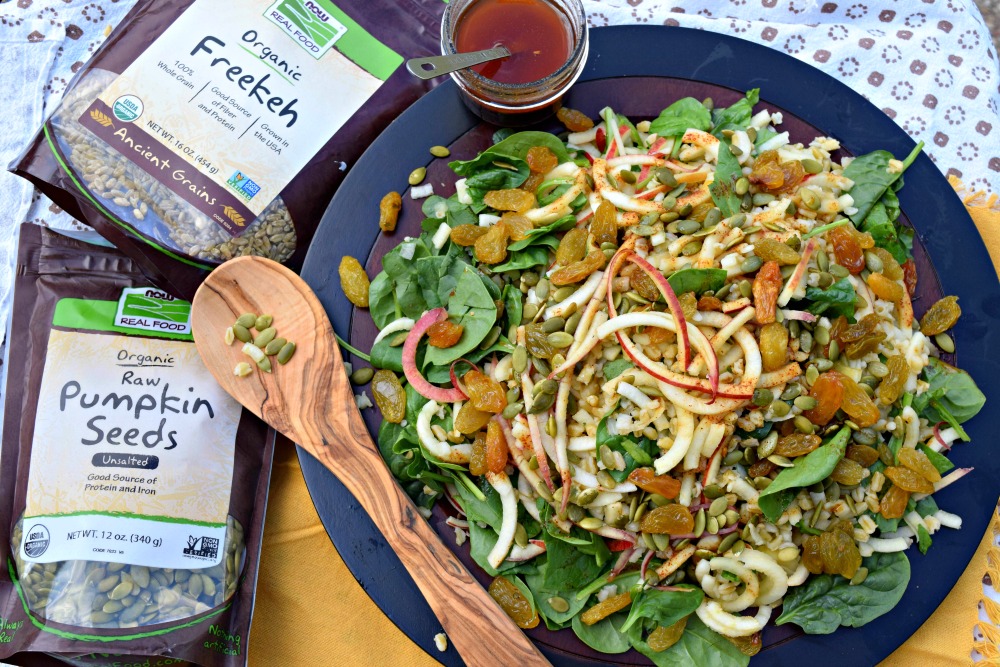 I am such a big fan of Ancient Grains, they really bust the boredom of the endless loop of rice, pasta and potatoes. While I have a zillion recipes using quinoa (link), my new favorite grain (and the foundation for this salad) is freekeh. So, what the freak is freekeh? Long popular in Middle Eastern diets, freekeh is actually wheat that has been harvested early and lightly roasted to give a slightly smoky taste.  It's low in fat and high in fiber and protein (with the latter two each having 6g per 42g serving) – this helps you stay fuller longer. Pumpkin seeds are also a great source of iron, calcium, and zinc, freekeh also does the job of a prebiotic, encouraging good bacteria to flourish in your gut.
I've also added Pumpkin seeds from Living Now® to the recipe for crunch, color and a boost of nutrition. While we call these hulled pumpkin seeds by  the Spanish name (pepitas) here in Texas, they are a great source of iron and protein, no matter the name!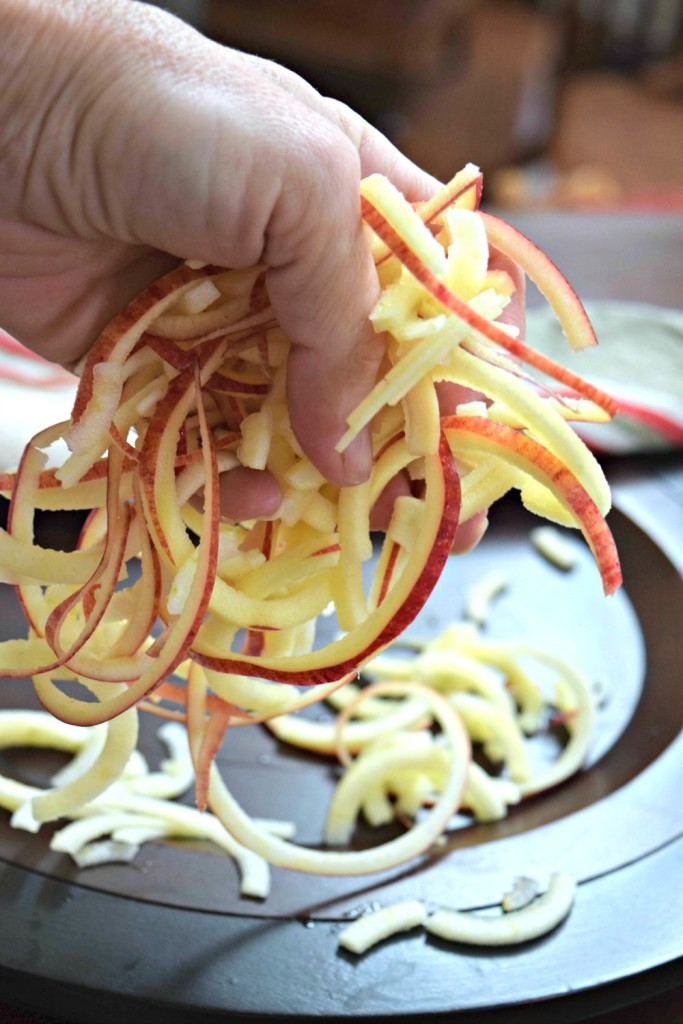 I spiralized my apples for the salad, but it's just as yummy with chopped apples – it just depends on your presentation style. If you are preparing the apples a head of time, leave the soaking in water with a tablespoon of lemon juice to prevent oxidizing. If they are going straight into the salad, the dressing will coat them and keep the flesh fresh-looking until mealtime.
After the freekeh cooks on the stove top, the apples and spinach are dumped in (off the heat) to wilt and soften just a little bit as the freekeh cools down. If you want to make this a meatier dish, toss in some diced chicken or shredded pork. The Ancho Honey Dressing whips up quickly while you wait, just add the ingredients to a small mason jar and shake!  This dressing is also delicious on green salads, fish tacos, corn on the cob and more!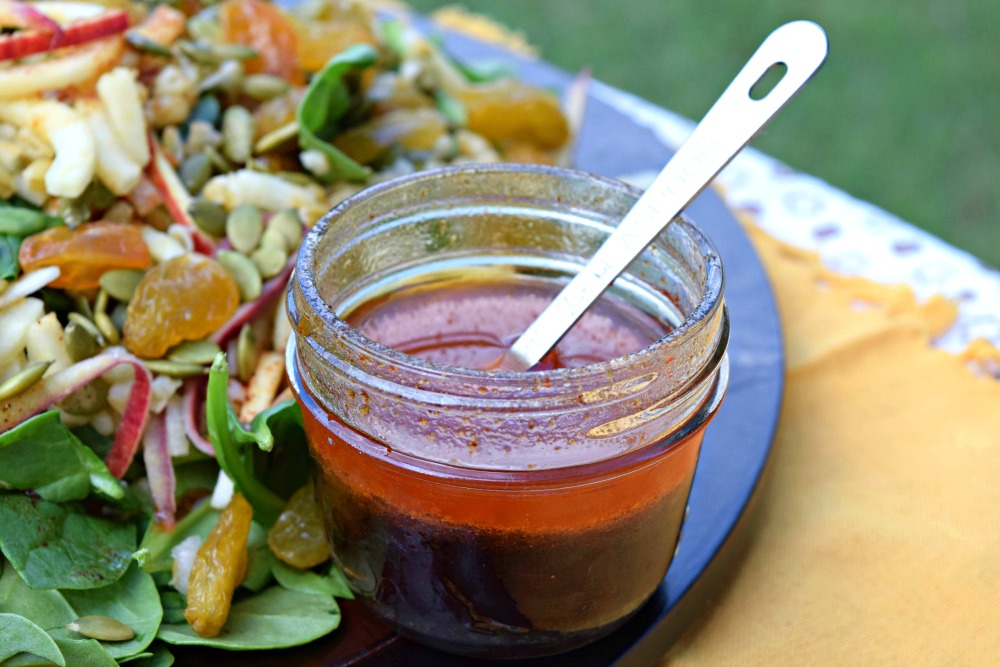 Have you ever cooked with freekeh before?  What is your favorite or go-to whole grain? Do you have a special fall salad recipe? Please share in the comments – XOXO, Jennifer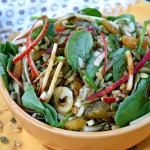 3 tablespoons honey ¼ to 1/2 teason ancho chile poweder ¼ teaspoon ground white pepper ¼ teaspoon salt ¼ teaspoon cumin ¼ teaspoon onion powder
| | | |
| --- | --- | --- |
| | | 3 tablespoons honey ¼ to 1/2 teason ancho chile poweder ¼ teaspoon ground white pepper ¼ teaspoon salt ¼ teaspoon cumin ¼ teaspoon onion powder |
Add freekah and water to medium pot, bring to boil over medium heat. Once boiling, reduce head to medium-low and simmer with lid on for up to 25 minutes, or until all water absorbed.

While freekah is cooking, chop or spiralize apples. Set aside.

Also while freekah is cooking, prepare dressing by adding all vinaigrette dressing ingredients to a small mason jar and shaking well, until combined. Set aside.

When freekah is done cooking, remove pot from heat. Add prepared apples and spinach to pot. Stir, put lid on, and let sit for 5 minutes.

Stir in pumpkin seeds and raisins. Drizzle with vinaigrette and stir gently until everything coated.

Serve from pot or transfer to platter or individual bowls.