Are you scrambling to get out the door on time when the sun rises and skipping (or stumbling) right past breakfast? Missing your morning meal is a mistake for sure – I always end up getting "hangry" mid-morning and end up molesting the vending machine. That's why I like to plan ahead just a bit to have ingredients on hand to make a quick fix like the Asparagus Egg Scramble with Feta Cheese  I'm sharing today or to prep a make-ahead meal  such as my Barn Raiser Beef & Egg Casserole (freezable in individual portions).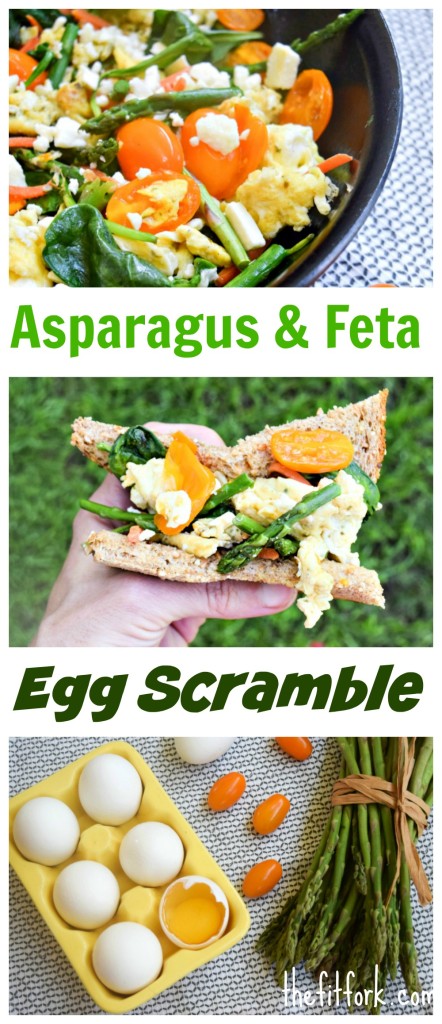 So, if you've got 10 minutes in the morning, you have a whole 600 seconds to get cracking on this Asparagus Egg Scramble with Feta Cheese. If you prep veggies the night before, you might be able to get it done more quickly!  This easy egg recipe also makes a lightning-speed dinner solution on those nights when orchestrating a complicated meal is absolutely, positively out of the question.
This is how to get the speed you need -asparagus, spinach and tomatoes sautés together on the stove top while eggs are scrambled on a nearby burner. When the two skillets are just seconds from being done, just slide out the contents from one into the next and stir!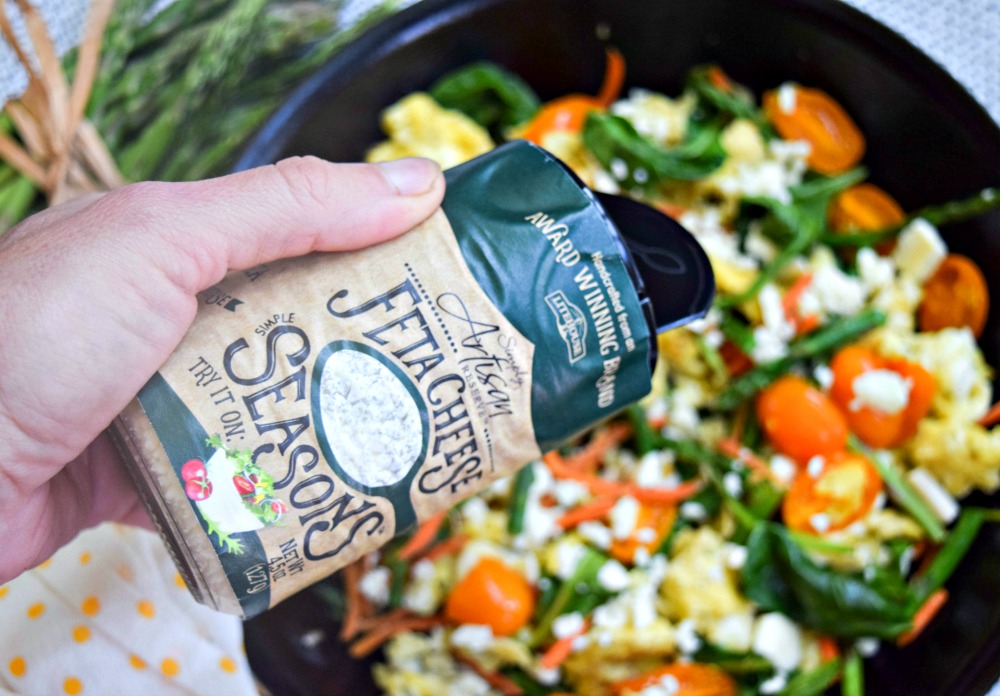 I've give this breakfast dish some salty, tangy zip thanks to the distinctive flavor of feta cheese – love using the new Simply Artisan Reserve Feta Cheese Crumbles, the container sprinkles these tiny cheese pieces just like a grated Parm. It's genius!  Look for it, along with Bue Cheese Seaons in the specialty cheese section of your local grocery store.
I'll be sharing this recipe on the Expo Floor Sunday morning, Jun 5th,  at the International Deli-Dairy-Bakery Food Show in Houston, Texas. Swing on by, if you're attending!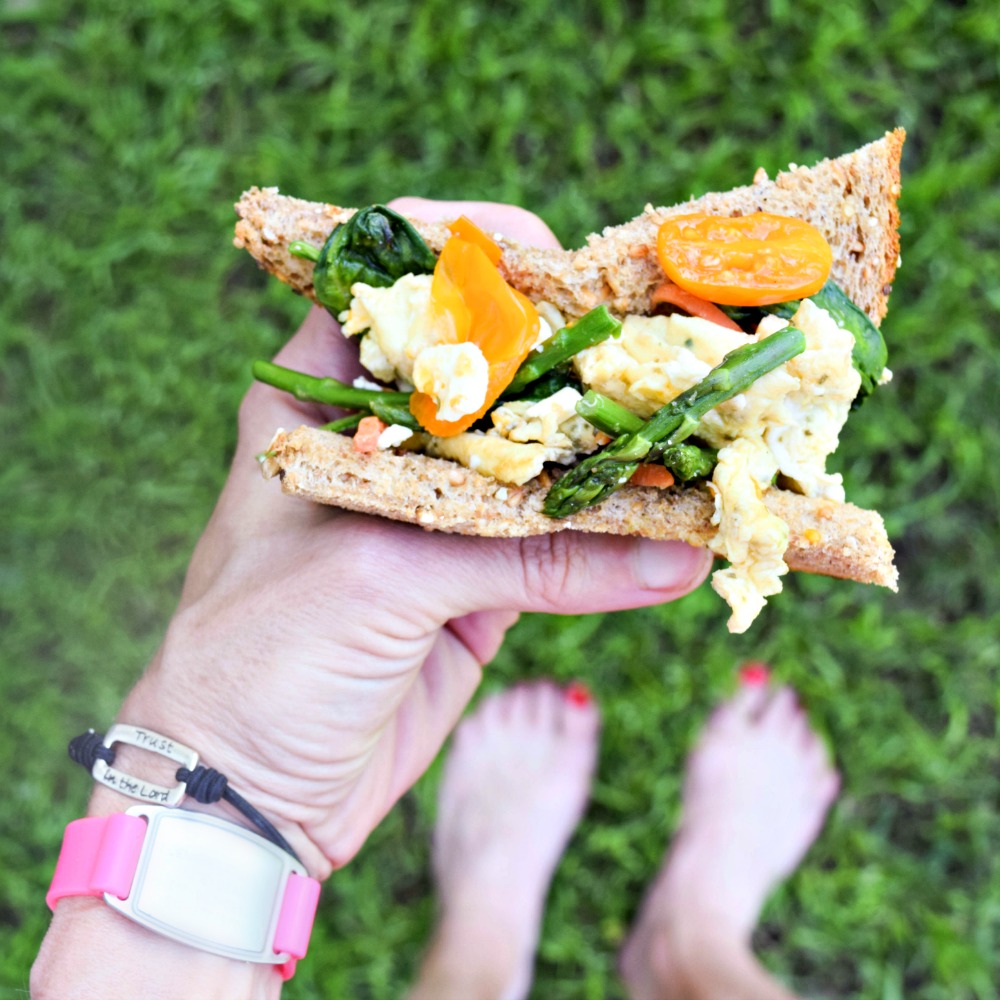 Meanwhile, make an easy feat of feasting with the Asparagus Egg Scramble with Feta Cheese recipe! Serve straight from the skillet or spoon atop toasted whole grain toast – I've even bookended between bread to eat sandwich-style when rushing out the door. Enjoy!
What is your biggest hurdle getting out the door in the morning? Eggs, how do you take them? Are you running or competing in anything this weekend? Please share in the comments — XOXO, Jennifer

In medium bowl, whisk eggs and season with salt and pepper. Set aside.

Spray 12" skillet with cooking spray and bring to medium-low heat. When hot, add eggs and stir fairly vigorously using spatula, for approximately 5 minutes.

In another 12" skillet, add olive oil and bring to medium-high heat. Add asparagus and carrots and sauté for 2 to 3 minutes. Next add spinach, tomatoes and garlic, stirring frequently and continuing to sauté for about 3 additional minutes or until spinach is wilting.

Keep eggs on medium-heat and add sautéed vegetable mixture, stirring to incorporate.

Remove from heat and sprinkle with feta cheese crumbles.

Season additionally with salt and pepper, if needed.