When that craving for salt & vinegar chips strikes, make your own – they so much better for you than store bought! My Baked Balsamic Beet Sweet Potato Chips turn crunchy in the oven, rather than being fried in hot oil -that's just some clean eating common sense.
My baked chips also avoid the super-processed way vinegar and salt are added to packaged chips (basically a vinegar powder is made and bound to a starch like maltodextrin and then coated on the finished chip). Instead, after slicing or spiralizing the roots and tubers very thinly, the "chips to be" are just tossed with a bit of quality balsamic, good EVOO and coarse sea salt. Read on the get the recipe and all the deets.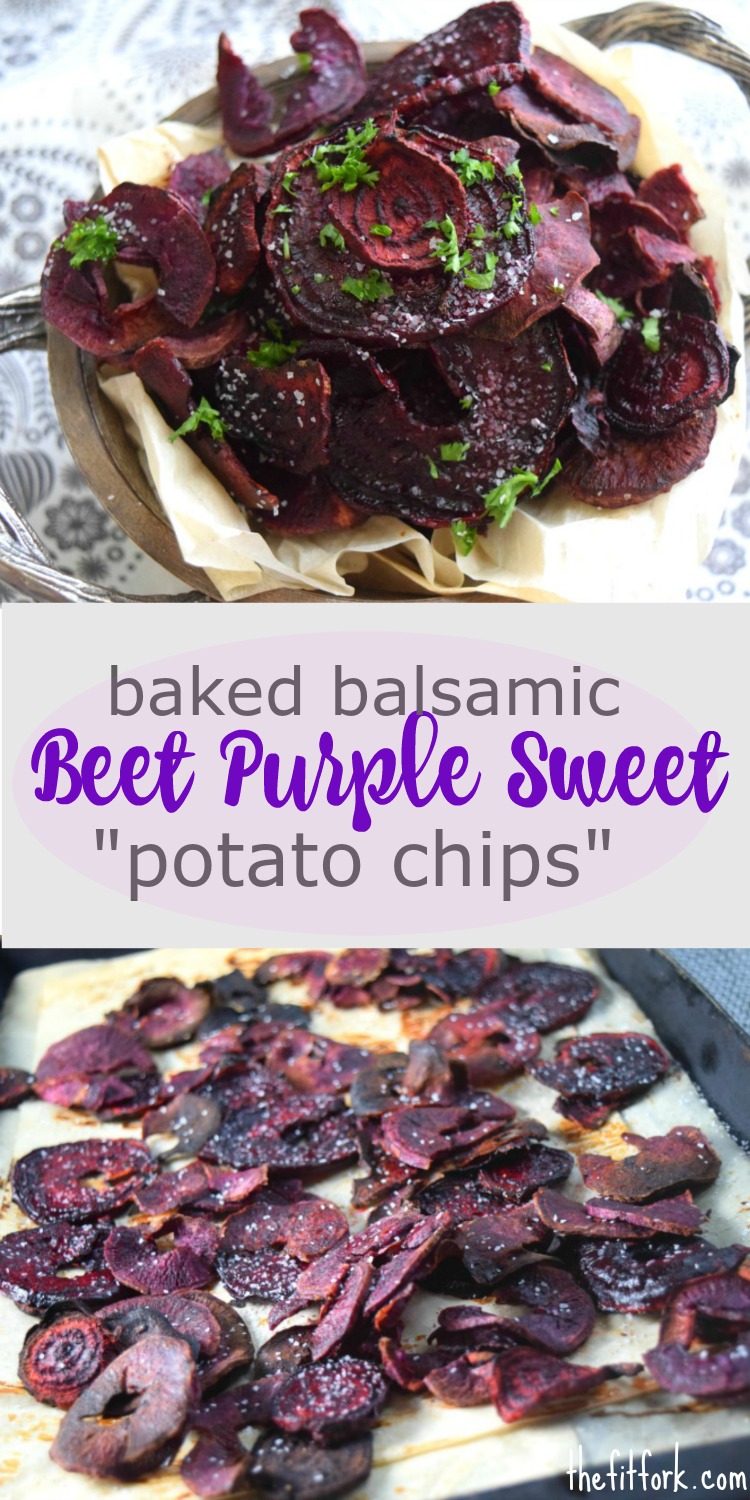 So, I used Stokes purple sweet potatoes from Frieda's Produce, they are one of my pantry staples when in season (from September thru April). Stokes is a unique sweet potato variety with purple skin and vibrant purple flesh that gets even more "purpley-er" when cooked. The are grown exclusively in California, are non-GMO and available in conventional or organic options – find them at Trader Joe's, Whole Foods, and other fine retailers (you can also order straight from Frieda's).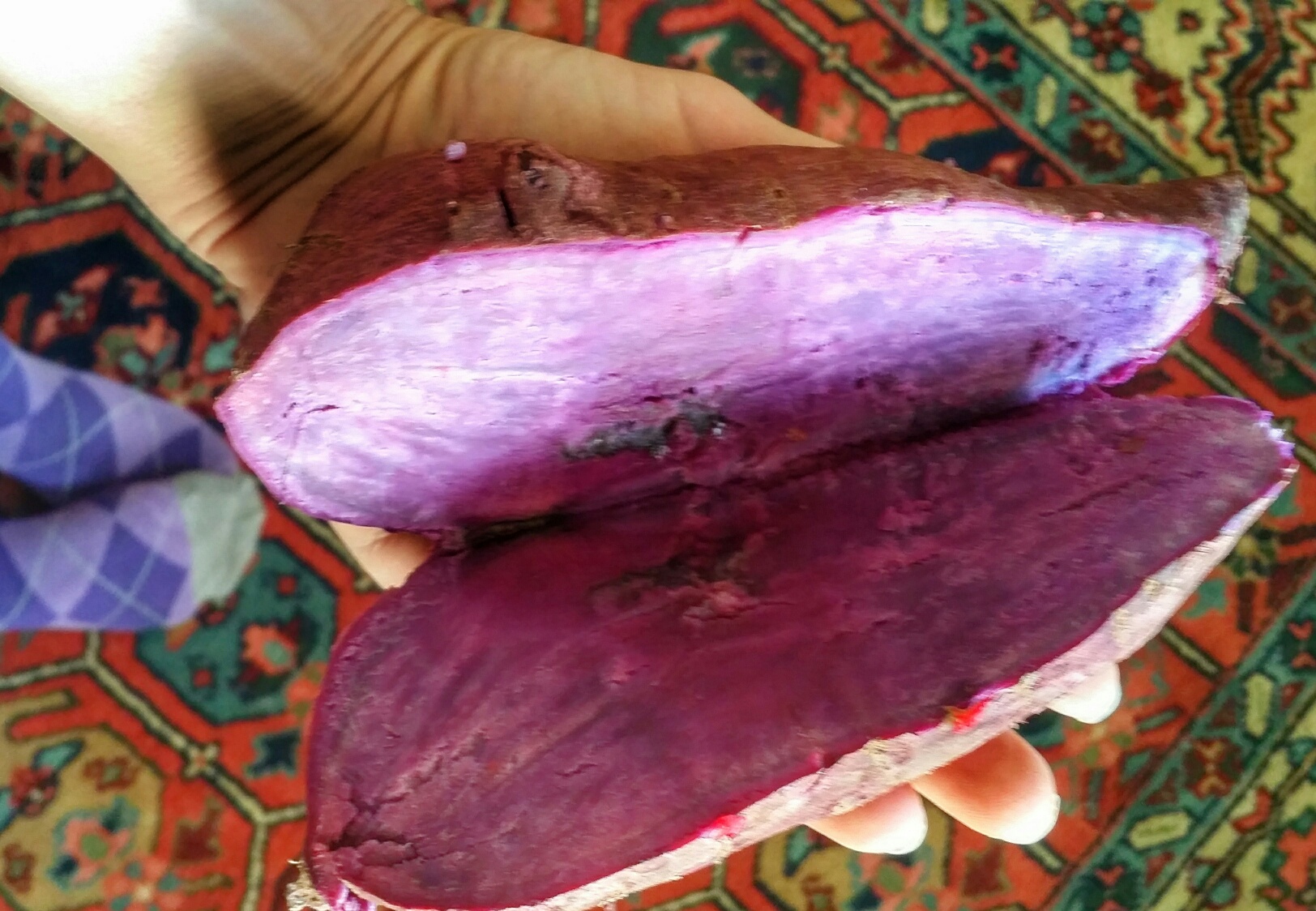 And beets, I'd say you either love them or hate them – but I'm one of those wierdos who waffles back and forth! But beets fancied up with balsamic vinegar can't be . . . err, well, beat! Plus, the beets I used for this Balsamic Beet Purple Sweet Potato Chip recipe were straight outta Central Texas, delivered up to my front door by Farmhouse Delivery! I LOVE the organic produce boxes filled with local, seasonal fruits and veggies – try the service yourself and see if you agree! Use code FITFORK at FarmhouseDelivery.com to wave the $20 membership fee and save $10 on your order.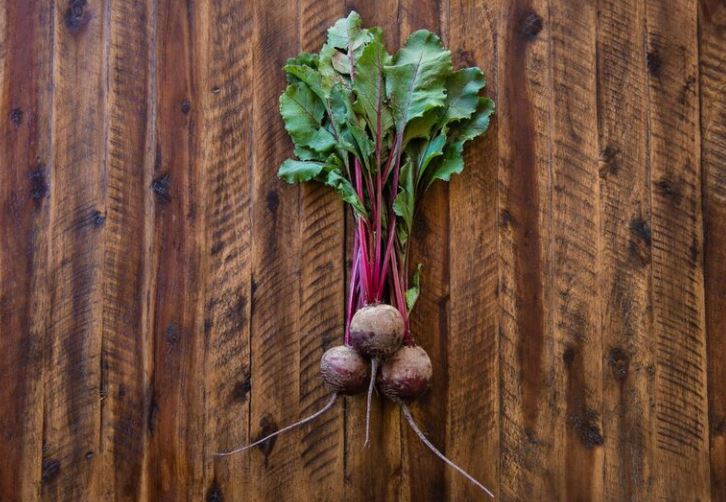 So, making this healthy snack recipe — Baked Balsamic Beet Sweet Potato Chips — is super easy. Slice up beets and sweet potatoes very thinly using a super sharp knife, mandolin or a spiralizer (I used the spiralizer that fits on my KitchenAid Mixer). Next all ya' do is toss with olive oil and balsamic vinegar, sprinkle with coarse sea salt and bake at 400 degrees for about 30 to 40 minutes, depending on how thin or thick the slices were.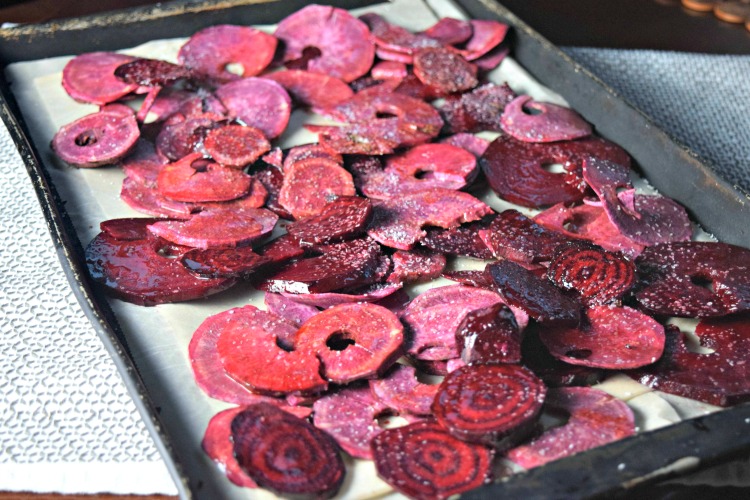 Now, we all know beets and purple sweet potatoes are definitely not junk food. They are healthy complex carbs that will help fuel your brain and body for an active lifestyle. Plus there is fiber, lots of fiber. Oh, and the phytonutrients that give these veggies their color hold near super powers – anthocyanin makes the potatoes purple and belatin makes beets red. Both have been said to play a role in lowering the incidence of certain diseases and improving overall health.
Have you ever made homemade chips? Beet embracer or avoider? Please share in the comments – XOXO, Jennifer

Use vegetable peeler or spiralizer to take skin of sweewt potato and beets.

Slice sweet potato and beets thinly with knife, mandolin or spiralizer (if latter, then break spirals up).

Toss sliced veggies with olive oil and balsamic vinegar.

Place on baking sheet lined with parchment paper. Sprinkle with salt.

Bake at 400 degrees F for 30 to 40 minutes, flipping occasionally with spatula, until crispy.

Sprinkle with herbs if desired.