This post is part of a social shopper marketing insight campaign with Pollinate Media Group®  & La Moderna but all my opinions are my own. #pmedia #MyExceptionalPasta #GoldenHarvest  http://my-disclosur.es/OBsstV
Noodle night has been a "thing" at my house ever since my boys were toddlers who dared venture only as far as plain buttered pasta. Now all three are teens (one's nearly 20) with taste buds much more adventurous and welcoming to new ingredients at our noodle nights. Since this mama is a healthy foodie, my family has come to expect my pasta recipes to be packed with as much nutrition and flavor as possible to optimize our active lifestyle. Food is fuel, but it should taste good too!
My healthy pasta recipe today is Butternut-Carrot-Coconut Cream Noodle Bowls with Molasses Steak. For most of us, pasta equates "comfort" and eating it out of a big bowl packed with fresh, flavorful and fit-focused ingredients is not only an edible hug of happiness, but also one of health! I've been one to cut carbs here and there, but I always come back to pasta when I need to fuel my long runs, intense workouts or even just jump out of a brain fog. 
La Moderna Golden Harvest is a brand I've been going back to time and time again for my pasta creations. Not only is the consistency, texture and flavor of this 100% Durum Wheat product on point, it's also a good source of protein (8 grams per serving) thanks to the special selection of high protein wheat that is harvested from desert valleys on Mexico bordering California.
The main protein source for my pasta bowl is sirloin steak that has been soaked in a mollassas marinade, grilled indoors or out, and sliced thinly into bite-sized pieces. While I've used lean top sirloin, you could also use any other steak cut that you prefer (such as strip or flat iron) or even heat up leftover roast or brisket. Spinach beefs up this recipe with even more iron in addition to my steak, it's a must-have mineral this runner girl always needs to cure her fatiuge!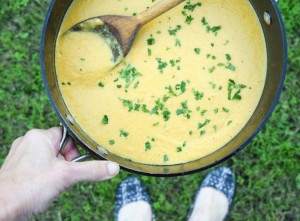 The sauce is super creamy and rich, but surprisingly healthy made of wholesome ingredients including pureed butternut squash, carrots, coconut butter and coconut milk – there is no cheese or traditional milk, so this recipe remains dairy-free. It's so creamy and rich tasting, it has the texture of an alfredo sauce, but my version it's so much more sensible for an athlete's diet. Plus, it's seasoned with turmeric and ginger which have a host of health benefits to support optimal wellness.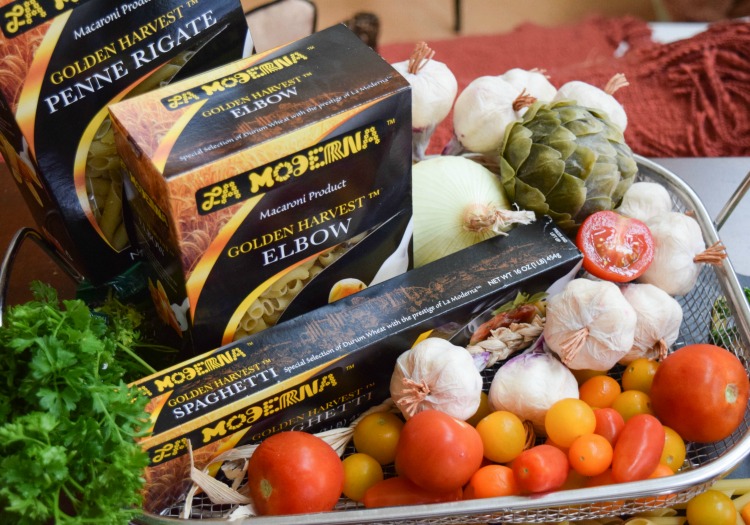 La Moderna comes in many familiar past shapes including spaghetti, elbow, rigate and rotini and you can find them at your local Walmart, that's where I shop for mine. Check out the product locator before you head out shopping! Also, learn more about the brand and stay up to date on their latest products and promotions by following their social media – La Moderna Facebook, La Moderna Twitter, La Moderna Instagram, and La Moderna Pinterest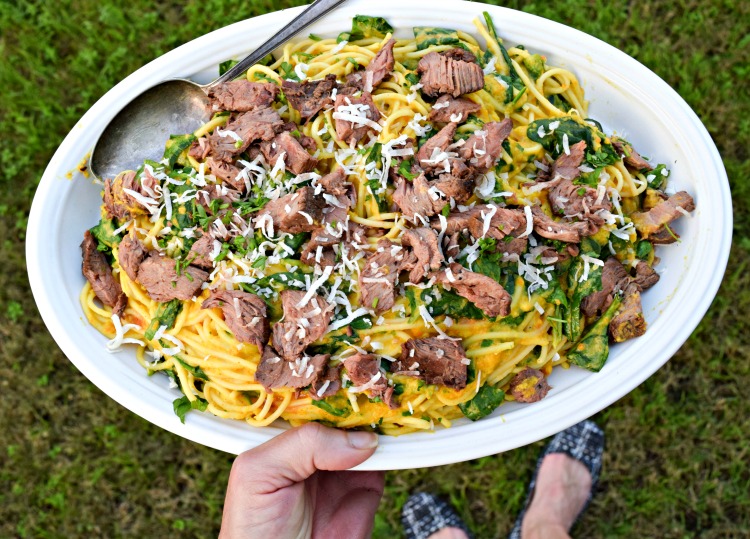 What is your favorite pasta shape? What is your favorite sauce or toppings? Do you use pasta to "carb-load" ? Please share in the comment below – XOXO, Jennifer

Beef up your noodle bowl with protein rich pasta and a rich, creamy but healthy dairy-free sauce made from butternut, coconut, carrots and turmeric.
Servings

Prep Time

4

servings

15

minutes
Servings

Prep Time

4

servings

15

minutes
Beef up your noodle bowl with protein rich pasta and a rich, creamy but healthy dairy-free sauce made from butternut, coconut, carrots and turmeric.

Servings

Prep Time

4

servings

15

minutes

Servings

Prep Time

4

servings

15

minutes
Whisk together molasses, vinegar, oil, pepper, garlic, ginger, thyme, and red pepper flakes, and pour into plastic zip-top bag containing steaks. Seal tightly and flip a few times to evenly distribute marinade. Set in refrigerator to marinate for 30 minutes to 2 hours, flipping bag occasionally. Preheat gas, charcoal grill or indoor grill pan to 400 F degrees. Remove meat and discard marinade. Season with salt and more pepper to taste. Place steaks on oiled grates and grill for approximately 7 to 9 minutes on one side, or until moisture starts to pool on the top and beef releases easily from grates with tongs. Flip once, grilling on the other side for 6 to 8 minutes or until internal temperature reaches 135 F degrees with instant-read meat thermometer inserted into the thickest part of steak Transfer plates to platter and let rest for 5 to 10 minutes before slicing against the grain, and then cutting again into bite-sized pieces.

Meanwhile, add chopped squash and carrots to microwave safe container and add ½ cup water. Loosely place lid on container or vent with plastic wrap and microwave on high for approximately 4 to 5 minutes or until vegetables softened. Drain water and set aside. In large skillet, add 2 tablespoons coconut oil and bring to medium high heat. Add diced onion and cook for several, stirring constantly, until onions translucent and turning golden brown on edges. Transfer cooked squash, carrots, and onion with garlic to blender. Add ginger, salt, pepper, and turmeric. Pour in 2 cups of coconut milk and pulse until finely pureed. If needed, add up to another ½ cup of coconut milk a splash at a time to achieve desired consistency.

Boil pasta according to manufacturer's directions on box. Drain but do not rinse. Set aside. Transfer pureed mixture back to skillet to reheat gently over medium-low heat. Stir in chopped spinach and cooked noodles, stirring until combined for about 2 to 3 minutes.

Transfer to individual bowls or serve family style on a platter. Top with sliced beef. Garnish with chopped parsley and unsweetened, shredded coconut.