Disclosure: This post is sponsored by Farmer Direct Co-op, however all opinions, content and enthusiasm are my own.
Spiralizing zucchini is trend that will never grow old, but every now and then I like to turn the tide and unleash deliciously stuffed zucchini boats for dinner. I'm not talking about the old-school stuffed squash my mama used to make with our backyard garden bumper crop, it might have been a bit mushy, bland, and hard to swallow (sorry mom). Instead, my recipe for Carnitas & Street Corn Stuffed Zucchini Boats with "Ole Frijoles" Pinto Bean Sauce is totally crave-worthy and turns supper-time with spicy south-of-the-border fiesta. 
With pre-shredded pork roast and pinto beans cooked overnight, this family favorite recipe can be made in just 30 minutes – making it perfect for a busy weeknight meal. It can also be prepped the night before and popped in the oven 20 minutes before dinner. I've used pinto beans from Farmer Direct Co-op and, at the end of this post, you can grab the zucchini recipe and also enter to win a giveaway prize pack that includes an assortment of their top-selling organic, non-GMO and fair-trade products packaged in 1lb. bags.
If you've never made pork carnitas, you're missing out. This popular Mexican dish is simply a pork shoulder roast prepared via Dutch oven or slow cooker using a mild application of spices like cumin, oregano, Chile pepper. If you're still shying away or don't have a big family to finish off the leftovers, carnitas can also typically be found pre-cooked and packaged in lesser quantity in the convenience section of the meat department. You can also substitute shredded chicken.
Pan-roasted corn sprinkled with queso fresco (crumbled Mexican cheese) and Tajin, a seasoning consisting of ground dried chilies, dehydrated lime and sea salt, will put this zippy zucchini dish at the top of your most-requested list.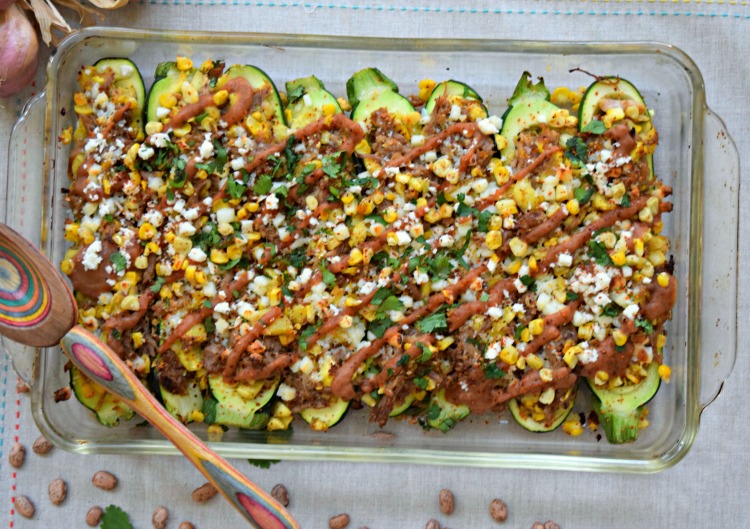 And the sauce, you're "gonna lika da sauce"! My Ole Frijoles Sauce is made with pureed pinto beans and tomatoes spiced up with chipotle chili powder. The sauce resembles a mixture between refried beans and soup, trust me it's delicious! And you can use this bean sauce on the Carnitas & Street Corn Stuffed Zucchini or in a number of other clever ways – a sauce for pasta or zoodles, on an omelet, as a dip, or atop the dough on a southwestern pizza.
So, let me let spill the remainder of the beans about the Ole Frijole Pinto Bean Sauce.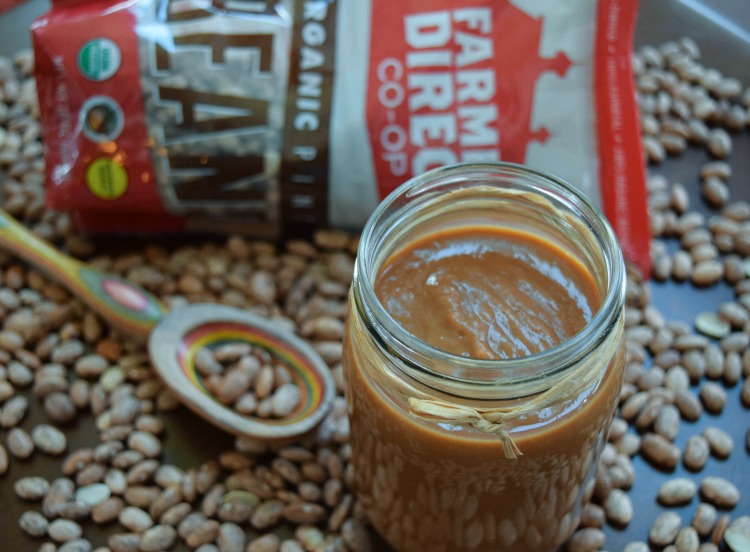 The little pintos used in the sauce are actually a powerhouse of nutrition. Virtually fat-free and loaded with fiber, pinto beans are also a great source of protein and also provide a good deal of iron, copper, magnese, potassium and folate. I like how Farmer Direct Co-op really stands behind and supports the idea of cooperatives, groups of smaller farmers, ranchers, and other agriculture enterprises who join together to pool production and other resources for a better outcome! It's an economy of scale and I'm all about helping out the little guy in this big corporate world. 

And, guess what, Farmer Direct Co-op is interested in helping out all of us! Their mission is to promote their co-op farmer's organic products while building and promoting a healthy environment and socially just food system. When you purchase from Farmer Direct Co-op, you're buying more than an oat, lentil or bean . . . you are supporting an evolution of eating focused on feeding the mind, body and soul.
Not only do they offer lb. shelf bags of Pinto Beans, French Green Lentils, Split Green Peas, Regular Rolled Oats and Quick Rolled Oats to stock up your pantry, they also offer an even wider selection of their goods (including hemp and flax seeds) in the BULK BINS at places like Whole Foods. Since you only buy what you need, shopping the bulk bins is such a great way to manage a tight food budget while helping to eliminate food waste. Plus, since these bulk items don't come in consumer packaging, there is less materials waste and fewer carbon dioxide emissions to junk up the world.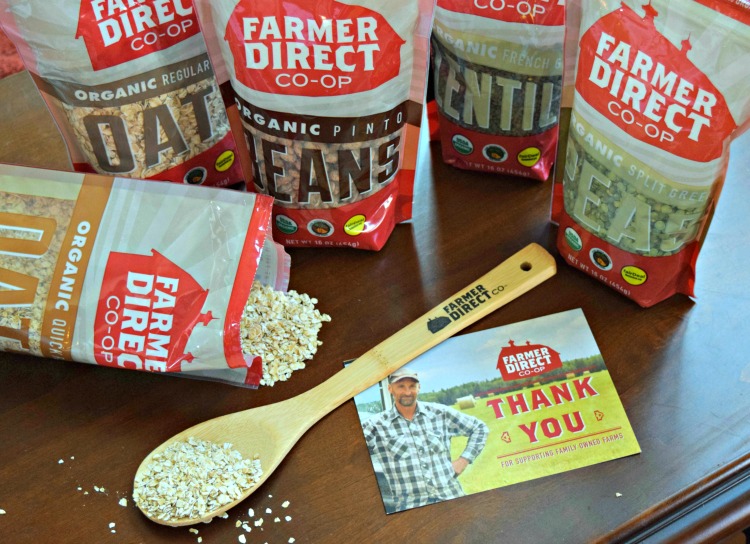 In addition to recipe I'm sharing today, you can get loads of other wholesome, healthy recipes on their blog. And, don't forget to enter my giveaway to win an assortment of top-selling 1 lb. bag products from Farmer Direct.
Pinto beans . . .do you have a unique way to eat them? Have you ever tried Tajin seasoning, what do you think?! Whatcha doing for Cinco de Mayo? Please share in the comments — XOXO, Jennifer
a Rafflecopter giveaway


Turn any weeknight dinner into a fiesta with this 30-minute recipe featuring zucchini, carnitas, and corn in a spicy bean sauce. Perfect for Cinco de Mayo celebrations too!
Servings

Prep Time

4

servings

10

minutes
Servings

Prep Time

4

servings

10

minutes
Turn any weeknight dinner into a fiesta with this 30-minute recipe featuring zucchini, carnitas, and corn in a spicy bean sauce. Perfect for Cinco de Mayo celebrations too!

Servings

Prep Time

4

servings

10

minutes

Servings

Prep Time

4

servings

10

minutes
For Ole Frijoles Pinto Bean Sauce
Preheat oven to 400 F degrees.

To make stuffed zucchini: Slice each zucchini in half lengthwise. Use a melon baller to scoop out a channel in each zucchini half. Chop up the scooped-out squash into small pieces and place scooped out zucchini "boats" side-by-side in a 9"x13" baking dish.

Add olive oil to 12" skillet and bring to medium-high heat. Add chopped, scooped out zucchini, sheared corn kernels, and onion to skillet and sauté for 3 to 4 minutes until vegetables are beginning to soften, but are not cooked through.

Stir in prepared, shredded carnitas along with garlic powder, pepper and Tajin seasoning. Use a spoon or fingers to stuff this meat mixture into scooped out zucchini boats, mounding up high. Sprinkle tops evenly with the queso fresco cheese.

Cover dish with aluminum foil and bake at 400 F degrees for 20 to 25 minutes, removing foil in last 10 minutes. Dish is done with boats have softened and cheese bubbling on top.

While zucchini is cooking, make bean sauce. Beans should already be cooked according to package directions. This will take quite a few hours, even overnight, depending on your method – so give yourself enough time.

Add cooked beans and all remaining ingredients for sauce to blender jar and process until smooth. Consistency should be between soup and refried beans, add more water to thin if necessary.

Transfer bean sauce up to saucepan and warm up over medium heat.

To serve, drizzle a generous portion of sauce on top of head zucchini boat or make a pool of about 1/2 cup bean sauce on plate and top with 2 zucchini halves. Sprinkle with additional cheese and garnish with cilantro, if desired.