Keeping my nutrition in check with my busy family, work and training schedule can sometimes seem like one of the hardest tasks at hand. If I don't put a priority on properly fueling first thing in the morning before my workouts, and then afterward, I definitely notice an increase in my recovery time, dip in my overall energy and concentration levels, and a reduction in performance the next day. Day after day, this can become a downward spiral. For example, if the stress starts getting to me, I'm prone to lose weight and stop sleeping and that's no good for an athlete trying to maintain and/or grow muscle mass.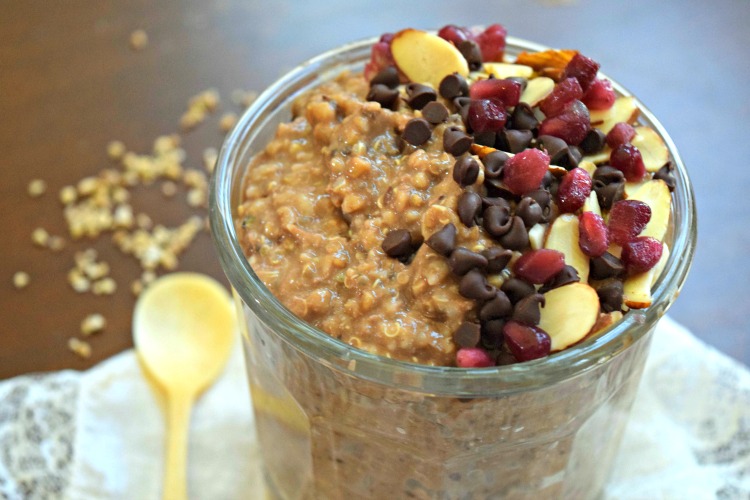 Thankfully, I plan ahead more these days with simple solutions for success, like putting up portions of leftover steak in the freezer for future salads, meal prepping a week's worth of whole grains like quinoa or oatmeal, and placing my scoops of protein powders and recovery drinks into single-serve baggies for a grab-and-go before the gym. Read on to get the recipes for my easy make-ahead Chocolate Peanut Butter Protein Power Oats and learn about some of the sports nutrition products I rely on from Life Time Fitness.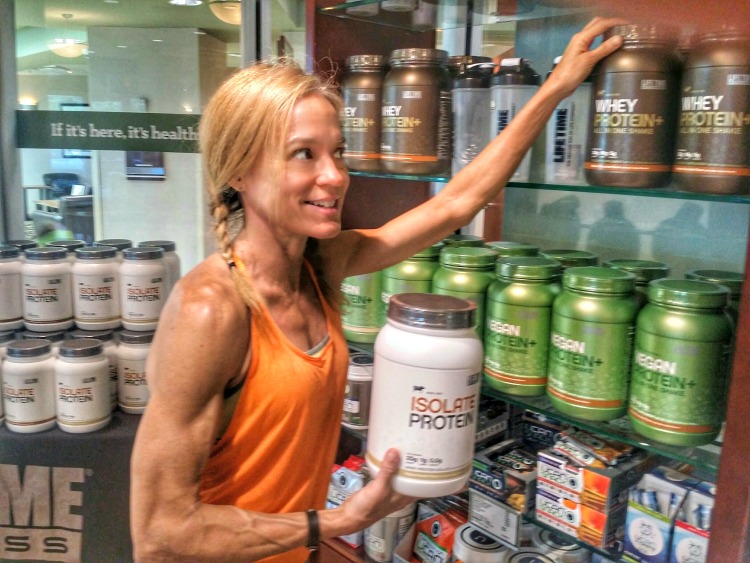 When I first started going to Life Time Fitness, I was blown away that they had an actual place to eat (Life Café) on the premises that served wholesome, square meals and not just smoothies, juices and such. Hanging around in the Life Café, also noticed that they sold a lot of nutrition supplements under the Life Time brand, like protein powders, pre-workouts, vitamins, detox stuff and more. How convenient! But, you don't have to be a member to reap the benefits – they have an online Health Store too!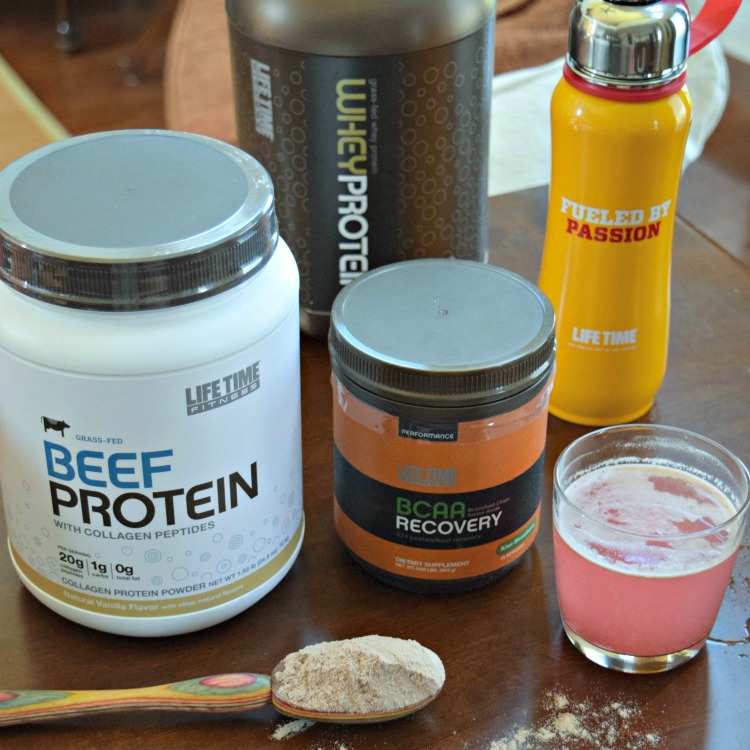 Because I am the queen of using protein powder in various recipes, including the Chocolate Peanut Butter Protein Power Oats I'm sharing today, knew I had to try out a few of the various protein offerings from Life Time – although NOT everything, as they have a wide range from Vegan protein to All-In-One Protein Powders (for a meal replacement). Also, I couldn't agree more with their "Optimize in 45" message.
Constantina Totosegis, R.D., the on-site Nutrition Program Manager at the North Austin Life Time Fitness, tells me, "Adopting proper nutrition habits around workouts not only helps with recovery, but it may also improve immunity, facilitate fat loss and control appetite. It is important to ensure 20-40 g of protein (approximately 45 minutes) before and after workouts through whole foods or protein supplements."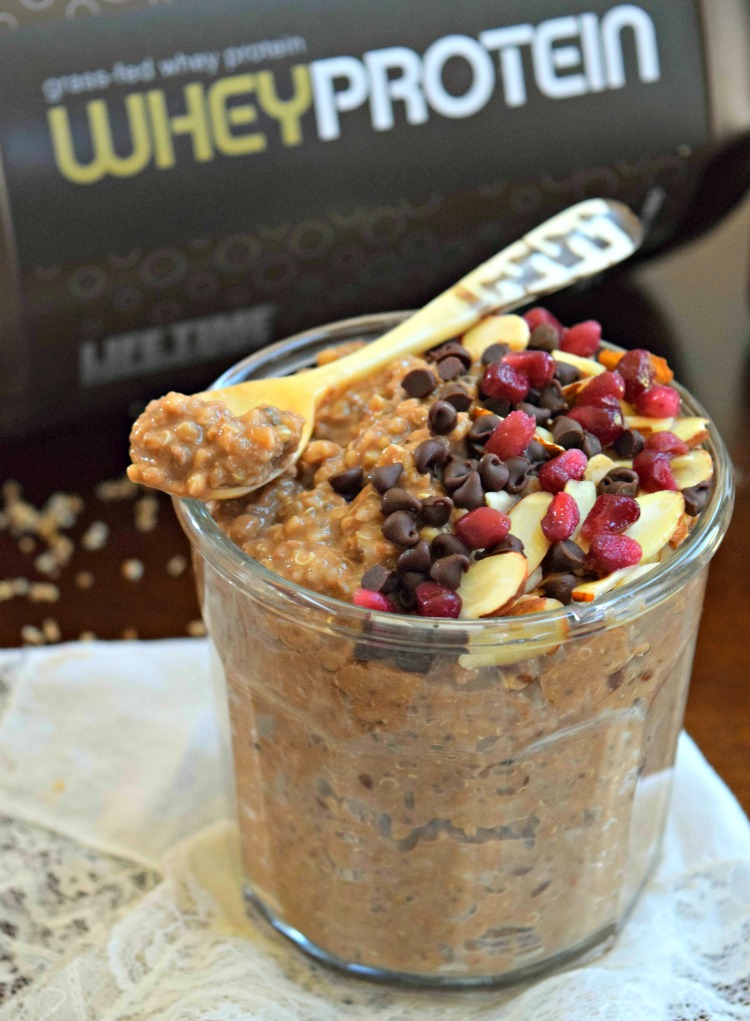 First, I tried the Grass Fed Whey Protein in Chocolate because I knew it would be perfect for my oatmeal recipe. With 22 grams of protein per 120-calorie serving, I thought it was rich and creamy shaken just with water and appreciated that there were no hormones, chemical additives or antibiotics. There is a bit of natural cane sugar (2 grams) for a light sweetness, but (for me) that's good as I like the extra carbs before an endurance workout.  If you want a no-sugar added alternative, the Whey Protein Isolate is a great choice.
The Beef Protein with Collagen Peptides in Vanilla also caught my attention because I learned in school that collagen is a fundamental component of healthy bones, tendons, ligaments and skin – and at this point in my life and training routine, I think I need more help in this department. It tastes nothing like beef (haha) and instead the rich vanilla goes well in the background of any kind of smoothie on my mind.  Finally, during and after my workout, I use their BCAA Recovery drink mix so that I can maximize my gains and reduce my soreness thanks to the potent blend of branch chain amino acids.

With so many products out there, this Protein Powder Comparison chart makes the nutrition information a little easier to digest.

Okay, now onto my yummy recipe for Chocolate Peanut Butter Protein Power Oats. This is a pre-run or workout breakfast that I crave and eat very frequently – even before a marathon or obstacle course race. I used to try to get by on few carbs, but that left me feeling really flat on days when I had an intense run plus workout planned back-to-back. . . I double up like that up to 3x a week, so I need the healthy complex carbs from oats and quinoa balanced by the protein so that I can keep the pedal to the metal without tanking.
A few things I love about this oatmeal recipe aside from the fact it fills me up and kinda tastes like a Reese's PB Cup: 1) I can pump it up or down with the amount of Grass Fed Whey Protein in Chocolate I stir in, 2) it can be meal prepped and frozen in single-serve portions, 2) quinoa and steel cut oats are a dynamic duo that require the same amount of cooking time and thusly play well together in the pot, 3) the topping choices are unlimited (today I used almonds, chocolate chips and pomegranate)
A hearty serving of Chocolate Peanut Butter Protein Power Oats per the recipe (without toppings) has 270 calories, 23 grams protein, 7 grams dietary fiber, 7 grams of mostly healthy Omega fats (from the hemp, chia and flax),  and 35 grams carbohydrate with only 1.8 grams of those being sugars, the remainder are long-lasting energy from the whole grains.
What do you eat before a big race or workout? What toppings do you like to put on your oatmeal? Please share in the comments – XOXO, Jennifer 
This post is sponsored by Life Time Fitness, however the recipe and all editorial comments are my own. Statements made about nutritional products have not been evaluated by the Food and Drug Administration. These product is not intended to diagnose, treat, cure or prevent any disease.

Pump up your morning and workout with this easy, make-ahead recipe for chocolate peanut butter quinoa-oats boosted with protein powder and hemp, chia and flax seeds.
Servings

Prep Time

4

servings

5

minutes
Servings

Prep Time

4

servings

5

minutes
Pump up your morning and workout with this easy, make-ahead recipe for chocolate peanut butter quinoa-oats boosted with protein powder and hemp, chia and flax seeds.

Servings

Prep Time

4

servings

5

minutes

Servings

Prep Time

4

servings

5

minutes
Rinse quinoa and oats to remove bitterness and add to 2 quart pot.

Add hemp, flax and chia along with 3 cups water. Stir together. Bring to boil over medium-high heat, uncovered.

Once boiling, reduce heat to low and cover (partly vented) and simmer for 15 to 20 minutes or until most water absorbed and grains are tender.

Remove from heat and stir in protein powder, powdered peanut butter and stevia to taste, adding a bit of water (or milk) to achieve desired consistency.

Top oats as desired and serve warm in 4 bowls. Or, let cool and put in freezer-safe containers. Defrost in microwave when ready to eat.