Life got you jumping like grease on a hot skillet? My schedule is sizzling (that's a good thing), but I'm often so busy that forgetting to eat (or grabbing something bad right before bed) could be a real issue if it weren't for my three teen boys asking "what's for dinner" as soon as we roll in from after their school activities. Geeze, all I want to do is take a quick nap.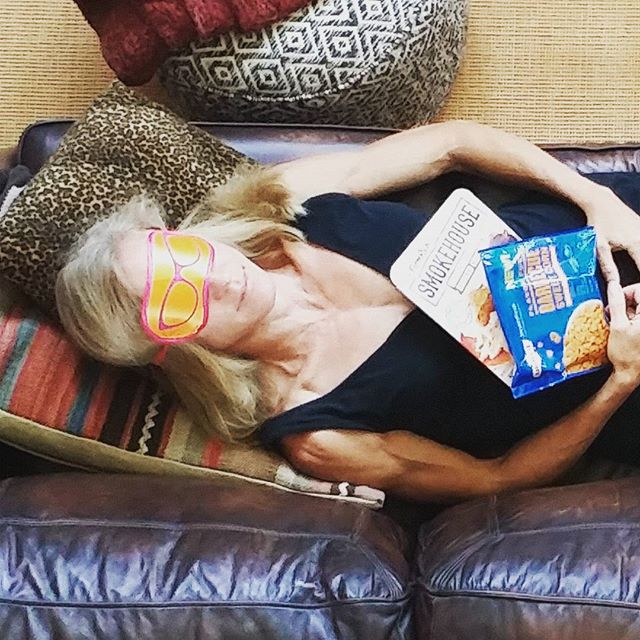 But, that's when the panic can start to set in about making nutritious and flavorful dinners, knowing I don't have anything simmering all day in a slow cooker or thawing and ready to throw on the grill. I don't want my boys to be one of the estimated 20 percent of Americans who eats at least one fast food meal a day in the car. But, now I can get my nap and still make quick flavorful dinners in a snap thanks by keeping fresh produce and healthier convenience foods on hand like Birds Eye® Flavor Full vegetables and Farm Rich® Smokehouse high-quality, high protein cuts of meat. Both of these time and sanity-saving products are recipe ready, straight from the freezer.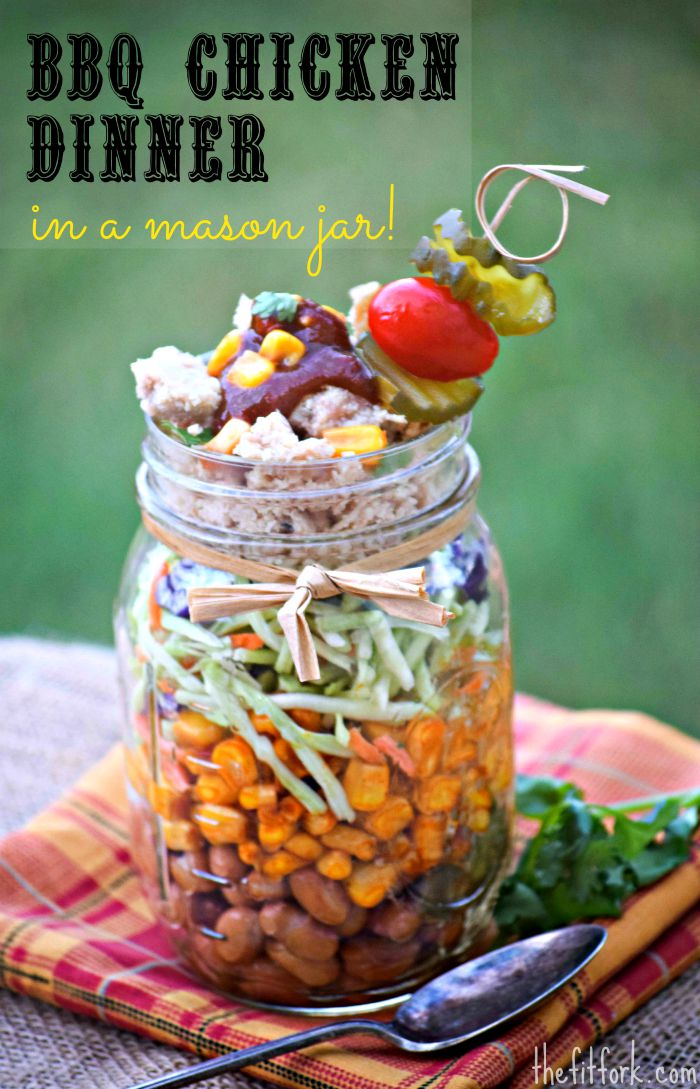 I have a super quick and easy recipe to share today for BBQ Chicken Dinner in a Jar – it's hearty yet nicely-balanced, perfect to serve my whole passel of hungry boys in under 15 minutes!  All the yummy things you'd find on a barbecue dinner plate – like corn, coleslaw, beans, smoked chicken and pickles are piled up with love in a glass mason jar.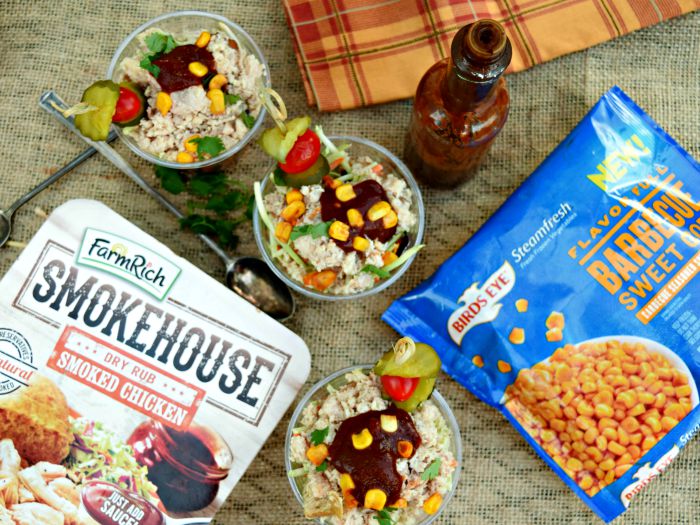 Another perk of these healthy flavorful dinners in a jar is that they can be eaten on-the-go and in the car (gasp)!  Just layer them up warm (or reheat premade jars) and the kids can eat them right out of the jar on the way to or from tutoring, sports games, band practices or what-have-you.  When done, screw back on the lid and deal with the "dishes" when you get home.  This quick and easy dinner recipe can also be prepped and eaten cold – it's actually quite good on top of a bed of lettuce!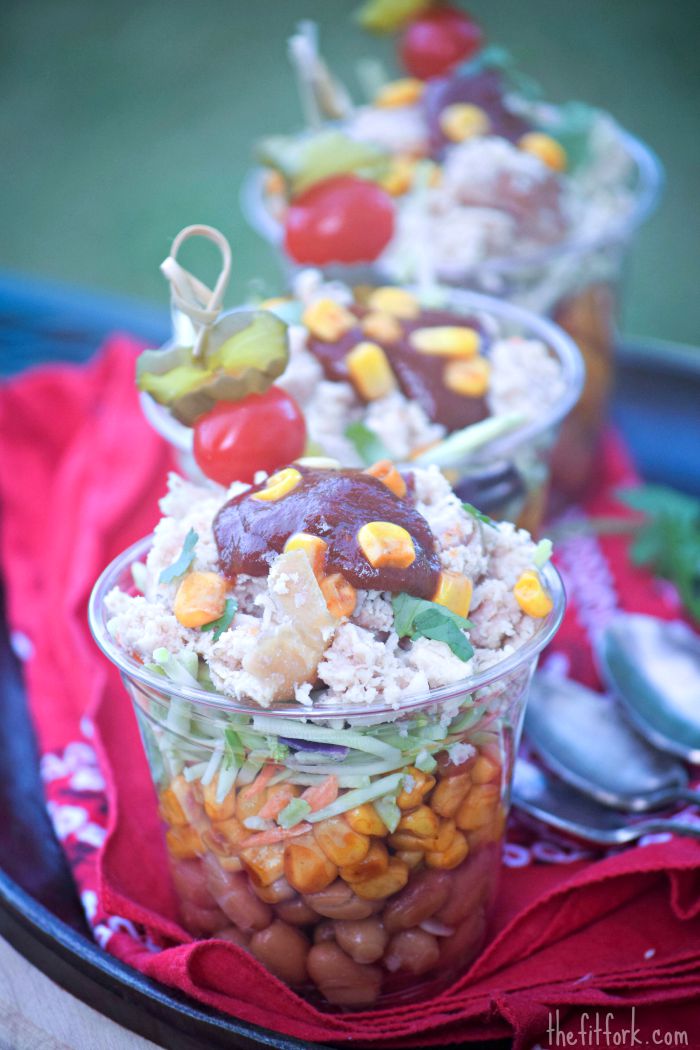 If you need a comprehensive tailgate recipe or hosting an outdoor hoedown or some other fall-season festivity, these BBQ Chicken Dinners can be assembled in plastic glasses – guests can still see the beautiful layers of barbeque ingredients, but clean-up is super easy-breezy.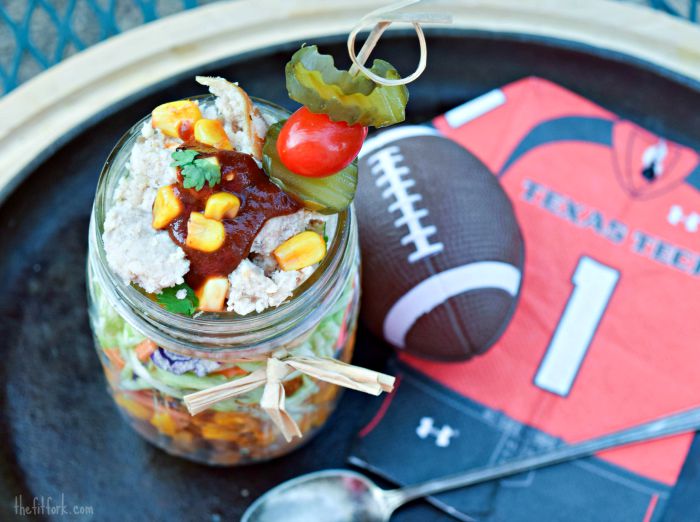 Making a healthy, balanced meal like these Barbeque Chicken Jars does not have to be difficult if you have products from Birds Eye® and Farm Rich® Smokehouse. The high-protein, high-quality meats from Farm Rich® Smokehouse can be prepared in minutes; the hours of flavor-infusing smoking have been done on your behalf!  I also appreciate how Birds Eye Flavor Full vegetables deliver the flavor my family wants (Buffalo Cauliflower, Ranch Broccoli, Sour Cream & Onion Potatoes, Teriyaki Broccoli and Barbecue Sweet Corn) with the nutrition they need. Find both these brands in the freezer aisle at Walmart.
For a limited time, earn $0.75 on Birds Eye Vegetables and unlock $1.00 off one Farm Rich® Smokehouse product with Ibotta while supplies last. Note: If you haven't used Ibotta, you have to download the app available on iOs and Android. Before you shop, be sure to unlock the rebates for both Birds Eye Vegetables and Farm Rich® Smokehouse. Then, shop! Buy the products that you've unlocked at major retailers. Finally, verify your purchase by scanning your barcodes and submitting a photo of your receipt!
What night of the week is craziest for you? How do you deal with dinner with only a few free minutes? Please share in the comments – XOXO, Jennifer
This post is part of a social shopper marketing insight campaign with Pollinate Media Group®, Birds Eye®, and Farm Rich® but all my opinions are my own. #pmedia #FullnRichFlavor  http://my-disclosur.es/OBsstV"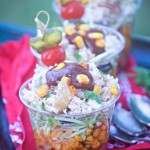 Make a complete BBQ Chicken Dinner in 5 minutes, layer ingredients up in a jar to eat on the go, at a football game, tailgating or other outdoor parties.
Servings

Prep Time

4

people

5

minutes
Servings

Prep Time

4

people

5

minutes
Make a complete BBQ Chicken Dinner in 5 minutes, layer ingredients up in a jar to eat on the go, at a football game, tailgating or other outdoor parties.

Servings

Prep Time

4

people

5

minutes

Servings

Prep Time

4

people

5

minutes
May be served warm or cold. To prepare warm, heat beans, corn and chicken in separate containers according to instructions on packages. Skip this step if preparing cold.

Using 16-ounce glass mason jars or 12 - 16 ounce "squatty" clear plastic glasses, layer ingredients in each container in this order, starting at bottom -- approx 4 oz beans, 2.5 oz corn, generous handful rainbow slaw, 2 tbs. dollop of ranch dressing, 3 oz chicken and 2 tbs. dollop of BBQ sauce.

Skewer pickle slices and grape tomatoes together on toothpick and add as garnish. Serve immediately.

May be prepared cold and stored in refrigerator (with lid or cover) for up to 3 days.