isclaimer: This post is sponsored by TownPlace Suites by Marriott. However, all opinions, experiences, content/recipes and enthusiasm are my own.
If you've ever had to stay in a hotel for an extended period of time, whether for vacation, business, or even "between houses," you will likely agree that both your wallet and waistline take a hit eating every meal out.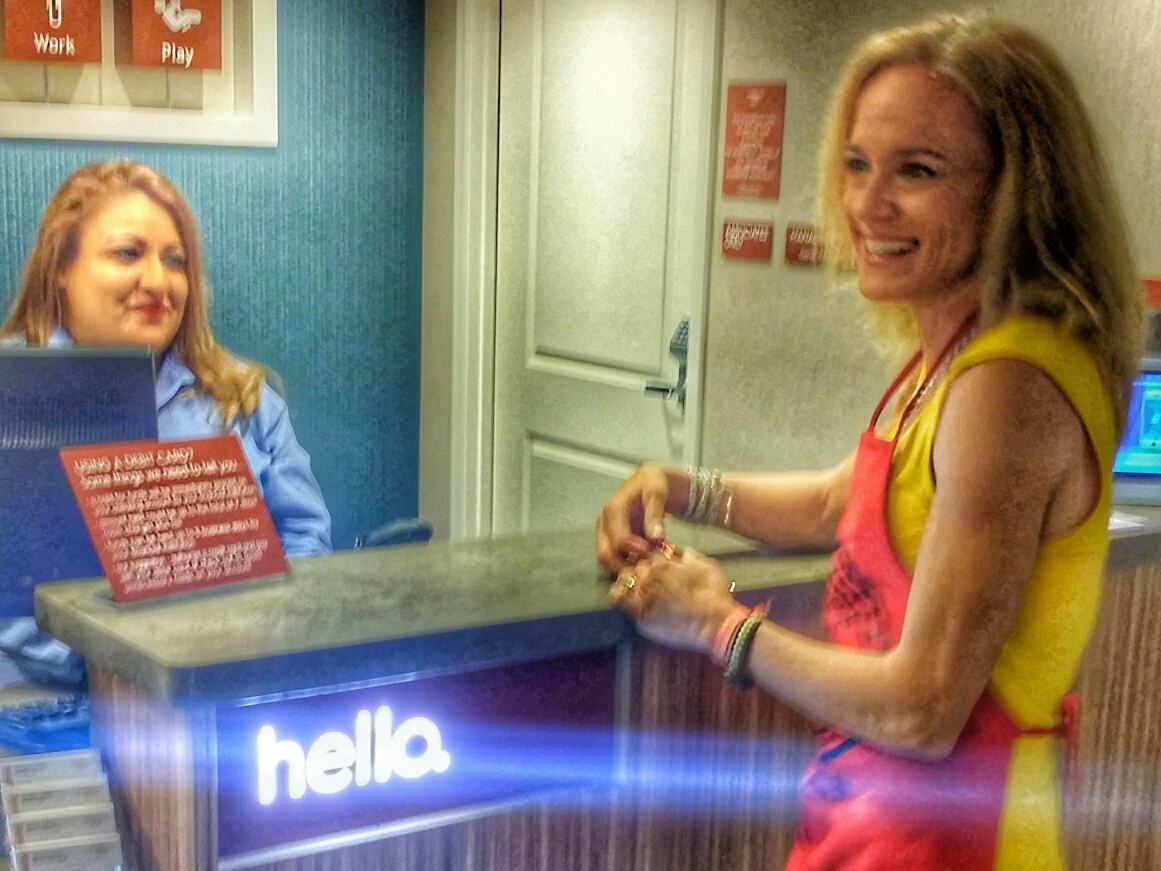 Thank goodness for TownePlace Suites by Marriott, my favorite "home away from home" that keeps me in a happy place with all of my life's necessary comforts — free-flowing Wi-Fi, spacious living areas, a full kitchen for recipe creating, and even high-end Weber grills in the patio area. Honestly, I was so fired up after finding out that TownPlace had partnered with Weber Grills, I created a special fresh and fit recipe to celebrate – Grilled Cantaloupe with Ancho Date Sauce.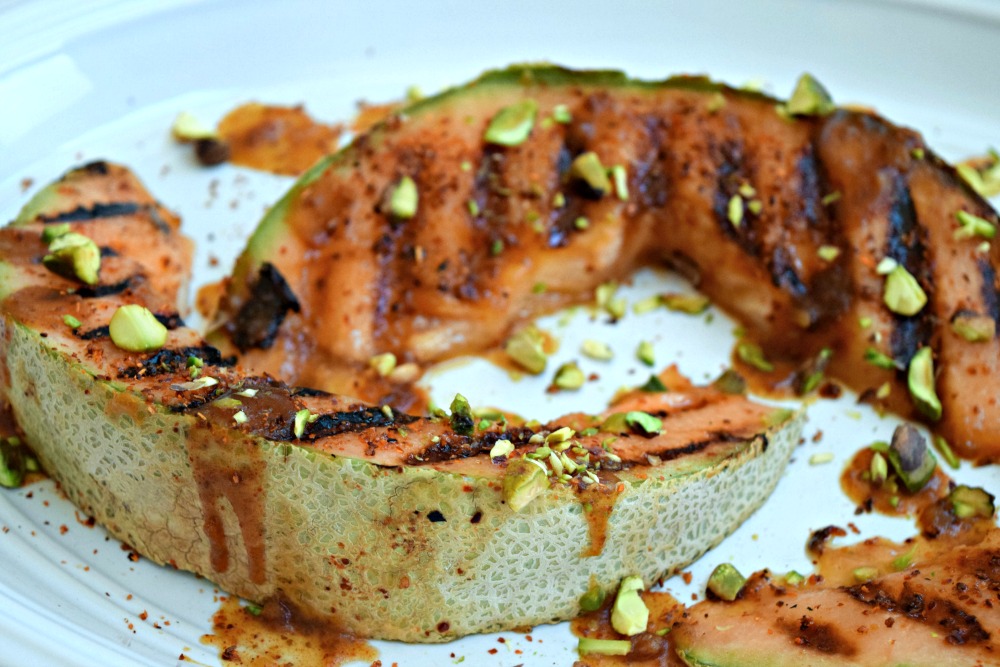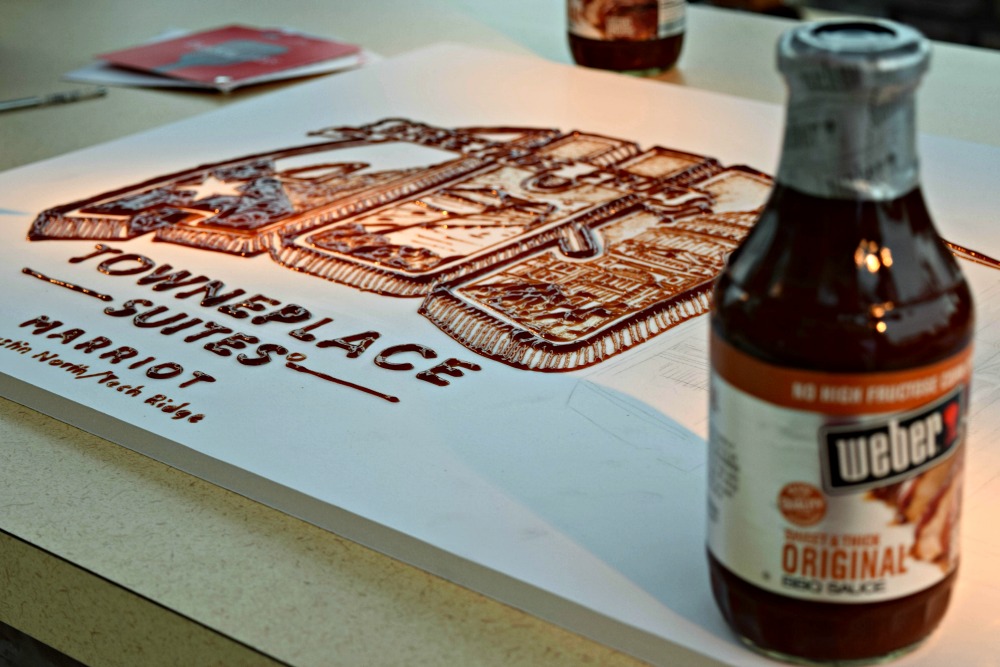 Perhaps the apron was a tip-off, but I felt compelled to let the front desk know that I am a grilling fanatic and consider myself a Grill Master of Healthy Things. In fact, I grill on two different Weber Grills at home, one was actually a gift after winning a Barbeque Sauce Competition (Apple Honey BBQ Sauce with a Bite) hosted by Jack Daniels and guest judging at the Jack Daniel's World Championship Invitational BBQ. This epic life event required getting certified by the Kansas City BBQ Association and sampling my body weight in meat, it's another story for another day!
Anyway, back to the friendly front desk at TownPlace by Marriott. They said whenever I was ready to "get my grill on," to just call down and they would have all the grill tools, mitts, spices and seasonings I need (Weber-branded, naturally) ready and waiting for me – of course, they reminded, I'd need to bring my own meat.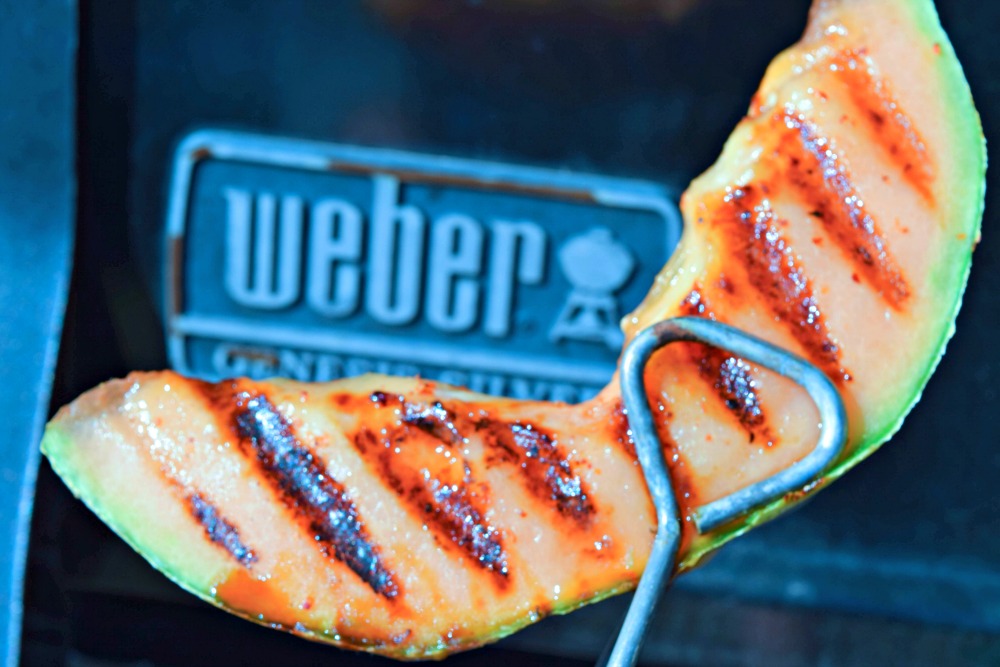 Of course, when I said, "You mean, bring my own cantaloupe," they looked at me like I was a couple briquettes short of a full flame. But those who understand me know I haven't gone all bananas when it comes to grilling fruit. Not only do I experiment with grilling all the fruits and vegetables I can find, I'm a native Austin home girl who does her best to #KeepAustinWeird by chili powdering most anything and everything.
The recent 300th Location Grand Opening of TownPlace by Marriott was the perfect place to get inspired for creative grilling. At the "Flip the Grill" party, two local celebrity chefs (Sonya Cote of Eden East and Evan LeRoy of Leroy and Lewis) battled it off in a Chopped-style grill off with unusual basket ingredients that even included ramen and Doritos!
Also, part of the fun was a Mix Your Own Spice Bar and that's where I crafted the spicy-sweet seasoning that inspired my my Grilled Cantaloupe with Ancho Date Sauce.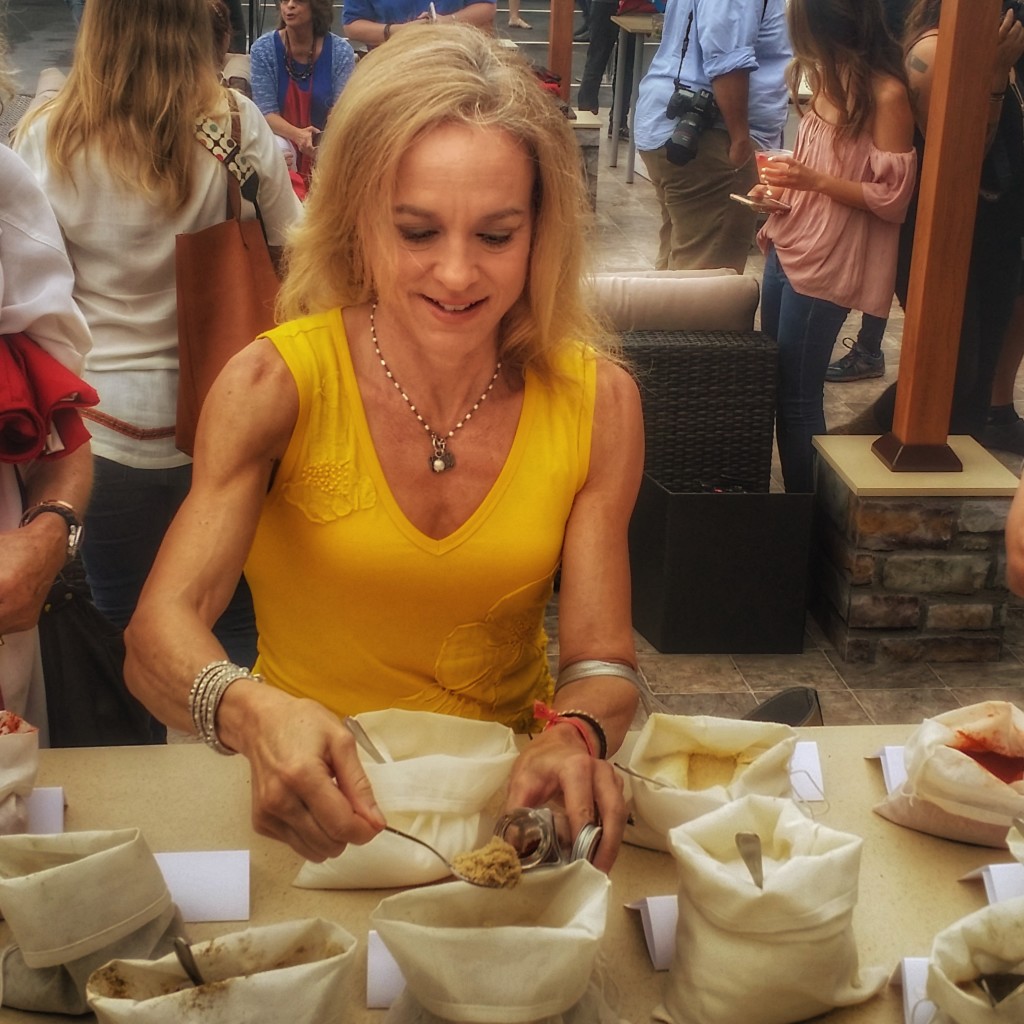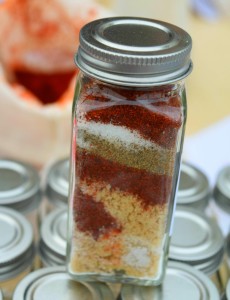 Grilling melon may seem odd, but with just a few minutes on grates, but after sprinkling with my spice mix, cantaloupe gets some smoky swag and spicy-sweet caramelization that takes it to a whole 'nutha level. Melon grilled like this would be delicious topped on a salad or paired with your favorite lean protein. I've turned it into a special side dish by drizzling with ancho date syrup and pistachios – or, add a bit of vanilla bourbon ice cream and call it dessert!
So, I hope I've inspired you to #FireUpYourStay and raise a spatula to grilling on the road. Try something new, try grilling this cantaloupe recipe or even grilled avocados, grilled bananas, and grilled watermelon and notice how quickly other people ditch their hotdogs and burgers to come make friends with you!
Linking up with FairyBurger.com and TheFitFoodieMama.com
What have you been grilling lately? What's the longest hotel stay "streak" you've had? Any summer vacations coming up? Please share in the comments – XOXO, Jennifer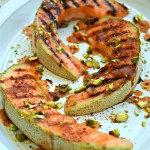 Flip the grill and add spicy-sweet, healthy YUM to dinner with this easy grilled fruit recipe that works as a side dish or dessert.
Servings

Prep Time

4

servings

5

minutes
Servings

Prep Time

4

servings

5

minutes
Flip the grill and add spicy-sweet, healthy YUM to dinner with this easy grilled fruit recipe that works as a side dish or dessert.

Servings

Prep Time

4

servings

5

minutes

Servings

Prep Time

4

servings

5

minutes
Make sauce first. Soak dates in 1 cup water for 15 minutes. Place dates WITH the water in blender and process until smooth. Add date mixture to saucepan and stir in ancho chili powder and salt. Bring to boil for 1 minute and then lower to simmer and continue to simmer, stirring occasionally, until reduced by about 1/2 in volume. Remove from heat and let cool.
Remove seeds from cantaloupe, but leave skin on. Slice into wedges, approximately 1/2" thick.

In small bowl, toss together 1/2 tsp ancho chili powder, 1/2 tsp salt and 1 tbs. brown sugar. Sprinkle over both sides of cantaloupe.

Heat grill to approximately 400F degrees. Grill cantaloupe for 2 minutes per side, or until grill marks have formed and slightly softened but not completely wilted.
Plate cantaloupe slices and drizzle with date syrup. Sprinkle with crushed pistachios and serve. Leftover date syrup may be stored in fridge for a week and used for other purposes.