This post is sponsored by The National Watermelon Board. All opinions, editorial comments, recipes and enthusiasm are my own.
I can't say I HATE running in cold weather because even when the temperature drops, I'm still out there moving and grooving my body in the sport I love. But, I get chilled to the bone, my feet freeze, my fingers go numb . . . it doesn't matter how warmly I'm dressed. Coming home to my Hot Spiced Watermelon Lemonade with collagen is not only a tasty treat, but thaws me out and fills me up with nutrients I need to expedite my workout recovery and bolster my immunity.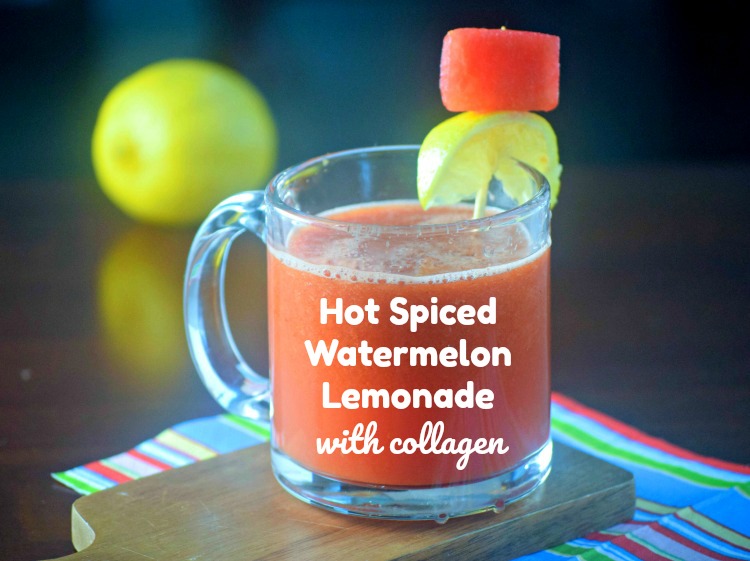 Read on to learn more about my Hot Spiced Watermelon Lemonade for workout and running recovery, check out my how-to video and get the easy recipe.
In the video I'm blending it up and talking about the wonders of every ingredient!
So many people think of watermelon as just a summer-season fruit, but it's a great snack, simple side dish and recipe ingredient that can help optimize your health 365 days a year. If you don't have access to whole watermelons in your grocery store, there are at least produce-department packaged tubs of watermelon cubes . . . or at least bottled watermelon juice or watermelon water. Even packaged watermelon seeds! I love WATERMELON every season, every way . . every day!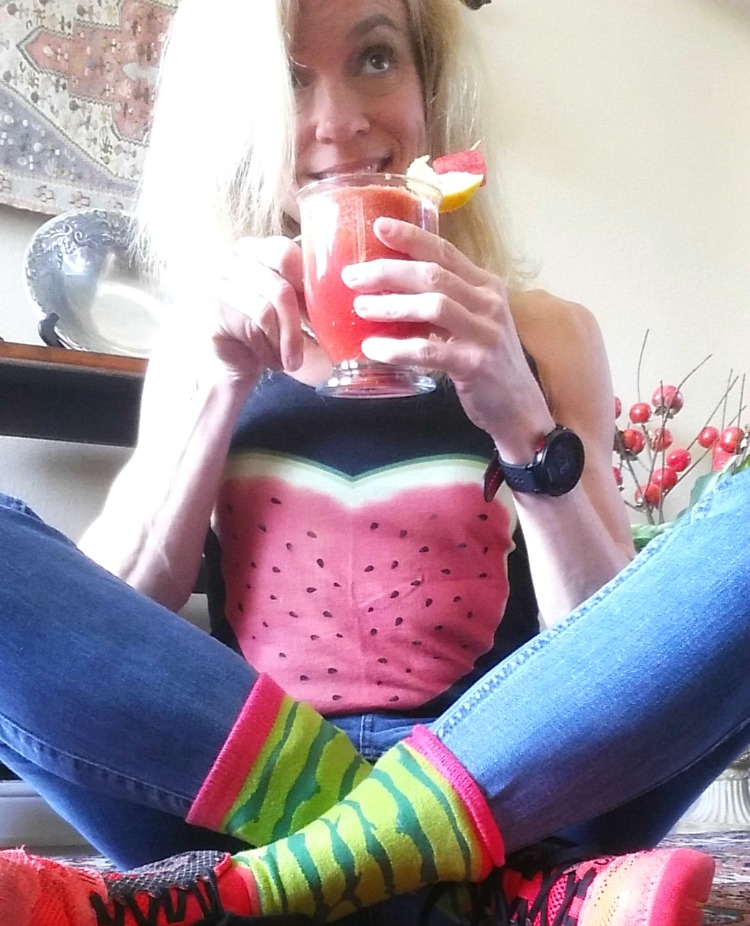 Watermelon is 92% water, so it's obviously hydrating and a great ingredient in any recovery beverage. It's also low in calories (about 80 per 2 cups) and a great source of many vitamins and minerals. For example, watermelon is a good source of potassium, an electrolyte that helps the body maintain water balance in the cells. And, you know how we runners are always chasing down more potassium. Watermelon is also a good source of vitamin C, which can help to support immunity and wellness, especially important as the miles start piling on during training and racing. Also, this mega-sized, mega-awesome fruit can help athletes bounce back quicker after giving a workout their all. A study in the Journal of Agricultural Food and Chemistry reports that drinking watermelon juice before an intense sweat session may help to reduce an athlete's heart rate and next-day muscle soreness thanks to the amino acid citrulline. Hey, less DOMS is A-OK with me!
So, between my love for the taste of watermelon and the enormous amount of health benefits it offers runners, swimmers, CrossFitters, cyclists, and other athletes, you can see why I picked this fruit to be the featured ingredient in my warming post-workout drink – Hot Spiced Watermelon Lemonade.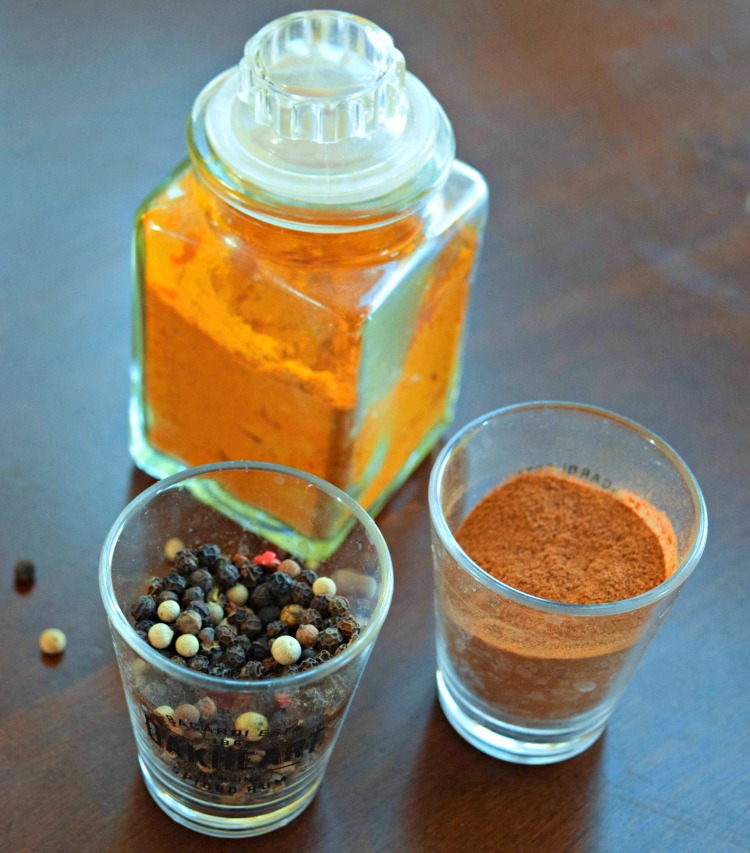 Turmeric, cinnamon and black pepper are the healthy, healing spices in my beverage.
This workout recipe also includes spices to give your body a boost – turmeric, black pepper and cinnamon. Turmeric is a spice prized all over the world, not only for the beautiful golden color but also the natural medicinal properties – most well-known, it's capacity as an anti-inflammatory. I've also added ground black pepper to Hot Spiced Watermelon Lemonade to work in tandem with the turmeric. The bioavailability of curcumin, the beneficial plant chemical in turmeric, is increased when eaten along with black pepper – plus it gives an interesting, spicy kick to the drink! I like to juice my own turmeric root and keep it in ice cube trays in the freezer (deets here), but you can also use dried ground turmeric root found on the spice aisle. And, aromatic, earthy ground cinnamon is also included for taste and additional inflammation-busting powers.
I wanted to add some protein to my Hot Spiced Watermelon Lemonade because it's so important to ingest protein within 30 to 60 minutes of a big run or workout. Adequate and properly timed protein consumption helps muscles repair and rebuild and also helps your body get healthy carbs efficiently replaced, in this case the complex carbohydrates from watermelon. One thing, I didn't want to do was change the taste of my delicious drink or make it thick and cloudy. Because I already use collagen protein to ease my joint and ligament discomfort as an older athlete, I knew a small scoop would be a tasteless, easy-to-mix protein solution.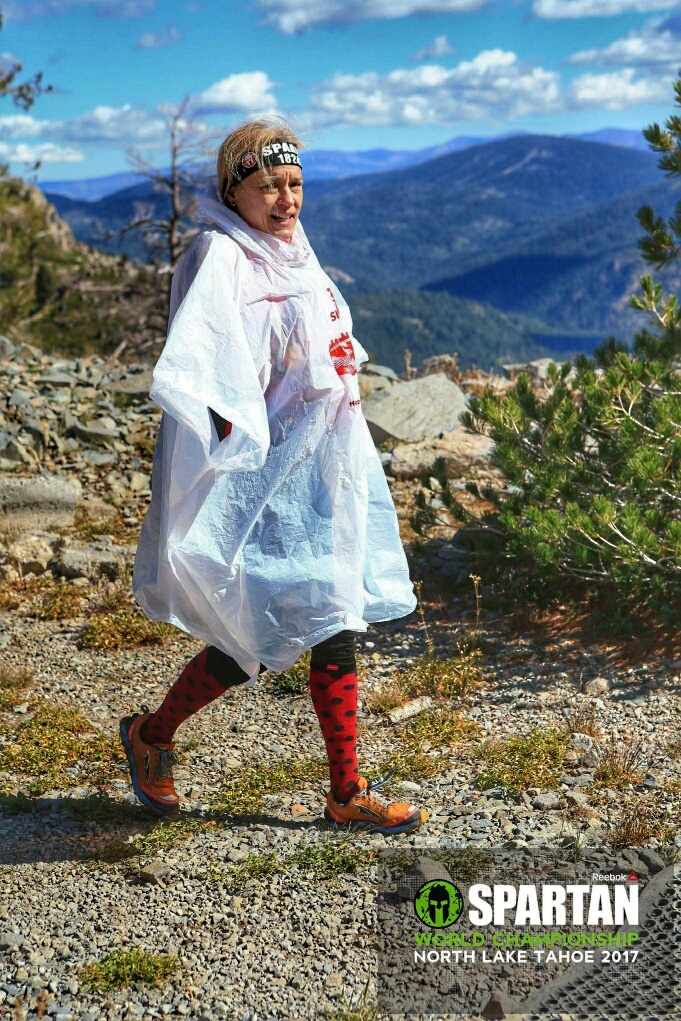 How ridiculous is this picture? But I was sooo cold and from getting in sub 40 degree water that I took any and every hand warmer, mylar blanket, wind jacket and poncho offered graciously by other competitors.
So, BAM! Hot Spiced Watermelon Lemonade has pretty much everything you need for successful workout recovery . . . except maybe an ice back (ooh, but I'm NOT doing that in winter). I sure wish I would have had this hot, healing drink at an aid station when I was running (and swimming) the Spartan World Championships in Lake Tahoe and literally freezing my butt into hypothermia (above pic).
Cheers! Each serving of Hot Spiced Watermelon Lemonade has less that 150 calories and 11 grams protein, 464 mg potassium and virtually no fat. It also packs 87% DV for vitamin C, 23% DV for vitamin A and 25% DV for vitamin B6. Full nutrition details in the recipe notes.
If you are looking for other workout related watermelon ideas, I suggest my Watermelon Beet Shot Blocks (below) for quick energy on the course. Also, Watermelon.org has a bumper crop of watermelon recipes along with why you should be eating watermelon for health and fitness.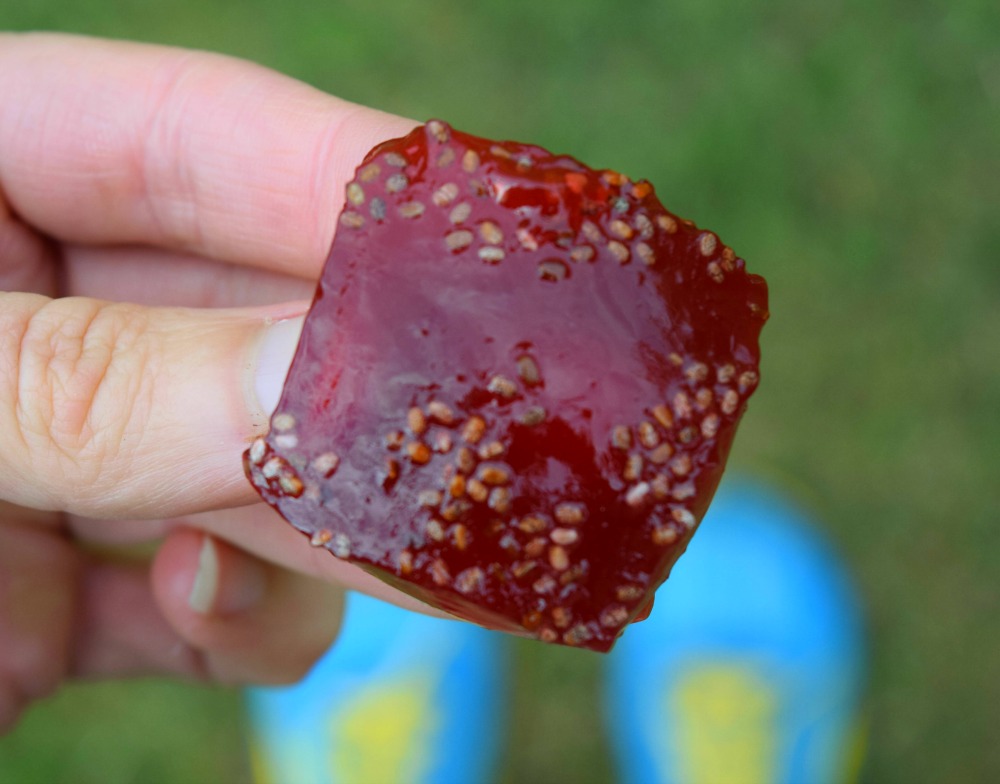 What do you drink after a run or workout when it's super cold out? Do you eat many watermelons in the fall and winter months? Please share in the comments – XOXO, Jennifer

Warm up after a winter run or workout with this hot spiced watermelon lemonade. It's packed with healing spices and collagen protein to help promote workout recovery.
Servings

Prep Time

1

serving

5

minutes
Servings

Prep Time

1

serving

5

minutes
Warm up after a winter run or workout with this hot spiced watermelon lemonade. It's packed with healing spices and collagen protein to help promote workout recovery.

Servings

Prep Time

1

serving

5

minutes

Servings

Prep Time

1

serving

5

minutes
Cut lemon into quarters and squeeze juice into blender.

Add about 1 1/2 to 2 cups watermelon cubes or balls (any seeds removed) to blender. Blend until watermelon a liquid. Let sit for a minute and use spoon to remove and discard some of the pulp that rises to the top -- it's okay if some remains.

Add turmeric, cinnamon, black pepper and collagen protein and blend for 10 to 15 seconds or until incorporated.

Pour into microwave-safe mug and heat for about 30 to 60 seconds until warm. Enjoy.