Tea is . . . my cup of tea! I love that there are so many varieties available that meet me my body where it is for the day, whether that's requiring an instant pick-me-up, desperately craving better sleep, or feeling bloated and in need a diet detox. Plus, the world's most popular beverage, is packed with an abundance of antioxidants (varies on the type of tea) to help boost immunity and optimize overall health and well-being.
  This month, I've been jump-starting my mornings with Lemongrass-Mint Matcha Chai Latte, it's a exponentially more wholesome, herbal alternative the carbonated sugar-free energy drinks I sometimes guzzle prebreakfast (we all have vices, people). After just a few sips of this steaming green goodness, I know that the cold weather, shortened daylight levels, and lengthy to-do list are going to be so much more bearable.
Lemongrass-Mint Matcha Chai Latte will stimulate your senses with the fragrant flavor and "bite" of the traditional Indian spices used in Masala Chai, like cardamom, pepper, cinnamon, and cloves.  Old school chai is traditionally made with black tea, but I like to swap in traditional green tea or my new favorite tea, matcha, a ceremonial greed tea prepared by whisking powdered green tea leaves into liquid rather than steeping whole leaves.
Pin This!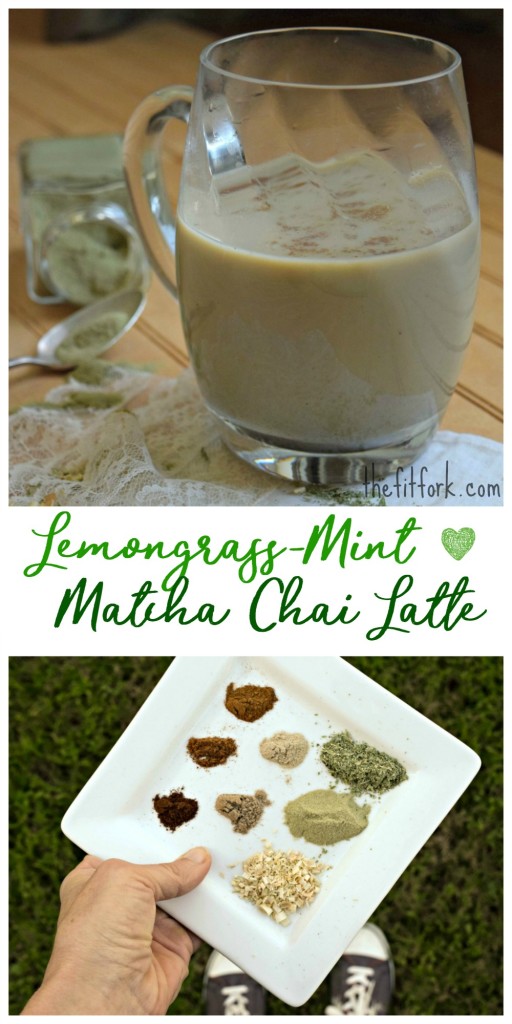 The health benefits of matcha are seemingly never-ending – it's one of the most SUPER of super foods. Some sources say it has 5 times the antioxidants of any other food and is off the charts in EGCg, a nutrient that is most widely recognized for its cancer-fighting properties. Matcha has 100x more EGCg than any other tea around. Additionally, matcha provides a gentle surge of caffeine (without the crash of coffee) yet is rich in the amino-acid, L-Theanine is, which promotes a calm state without drowsiness. It also enhances the production of dopamine and serotonin, two chemicals that work to improve mood, memory and concentration. Many more benefits, Google it!
I've also added lemongrass and mint to this tea to add flavor and detoxing properties, both can help with digestion and bring down bloat a bit. I originally made this recipe for Litehouse Foods using their dehydrated lemongrass and mint . . . but have written up the instructions using fresh (and included the swaps should you make in the original method).
Take care not to overheat the matcha (no boiling) as it lessens the health properties. Pull out your herbs in the tea diffuser and sweeten to your satisfaction. Chai teas are typically served moderately sweet and coconut (palm) sugar and honey are great choices if you are active and need the extra calories to burn through the day.  However, when I'm being mindful of my carbohydrate intake, I use my favorite natural no-cal sweetener, Better Stevia, from Now Foods. If you've shied from stevia because you of the bitter aftertaste some brands leave, you need to try Better Stevia — they use a special manufacturing process to ensure this doesn't happen! It's also a great value in the 8-oz bottle!
What is in your mug today? Have you tried Matcha, what do you think? What do you sweeten your hot drinks with? Did you run in the snow today? Please share in the comments, XOXO – Jennifer

Sweeten to taste with honey, coconut sugar, stevia or other sweetener of choice.

In small saucepan, warm milk over medium-low heat. Do not boil.

Turn off heat, leave on burner, and whisk in matcha powder and all the spices except lemon grass and mint.

Add lemongrass and mint to tea infuser (or bundle in coffee filter) and steep for 2 to 3 minutes. 7. Serves 2.

After steeping, remove infuser and discard lemongrass and mint.

Sweeten to taste and divide among two mugs.