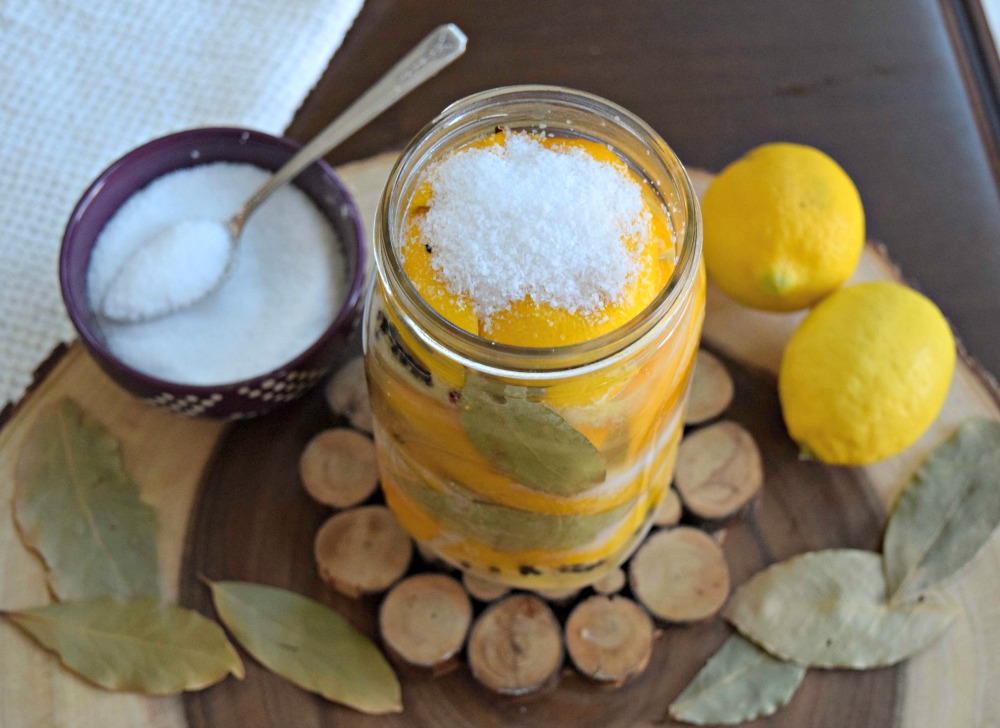 When life hands you lemons, make Preserved Lemons! Although back in 80-degree weather in January (!), a super cold spell last weekend required harvesting of citrus off the Meyer Lemon trees . . . including a bumper crop coming from my aunt in Houston. While making lemonade, lemon curd, lemon preserves and other citrus-y staples are a sweet way to use an abundance of the fruit, I was looking for something to use in savory dishes.
PIN THIS and check out other fit, fresh and fast recipes in Best of TheFitFork.com

My mom filled me in on Preserved Lemons, prepared similar to the Moroccan method – pickled in salt with peppercorns and bay leaves (and other herbs, should you desire).  Why have I not done this before, it was so easy! Actually, it was beyond easy, and with a dozen large Meyer lemons (or regular lemons) and 5 minutes of prep time, I assembled a huge Mason jar of these brined lemons which can be used in so many ways.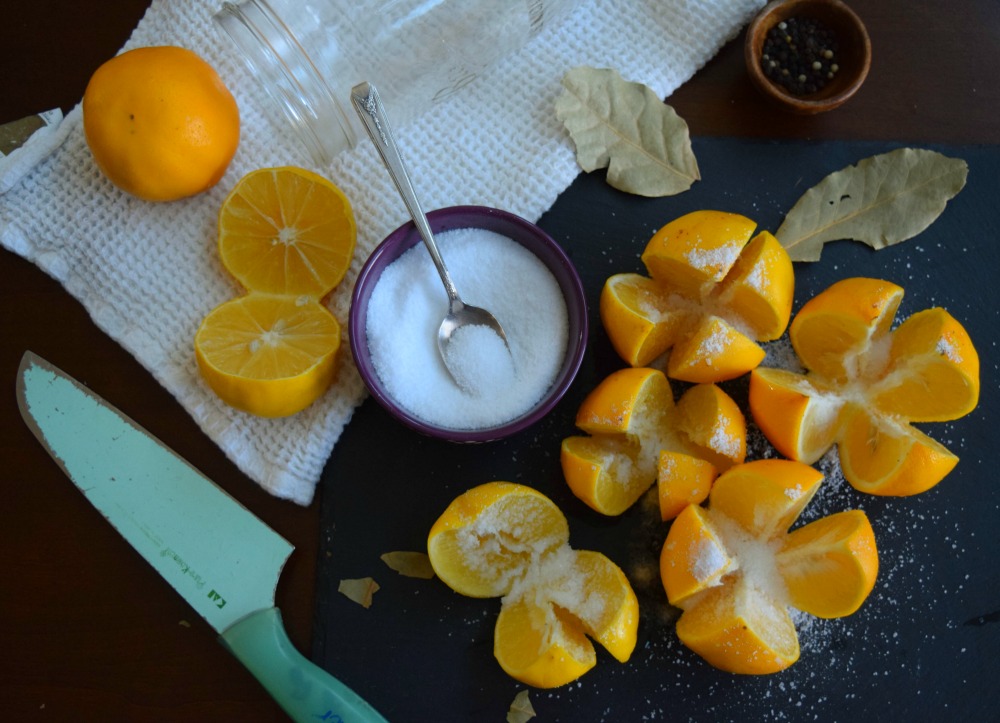 In Moroccan cuisine, preserved lemons are used with lamb tagines, paired with poultry and olives, and used in all sorts of salads, side dishes and seafood recipes. Preserved lemons are also an easy way to brighten up the taste of rice, couscous, and all types of grains; dressings and sauces; soups, stir-frys and more.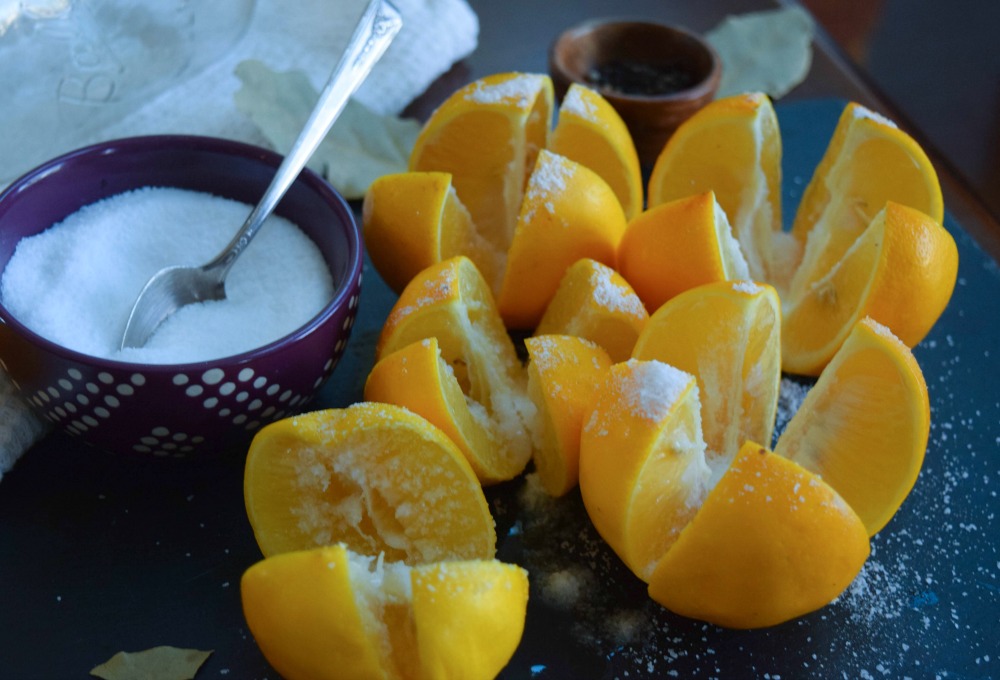 The recipe is super simple and you leave it on the counter for several weeks, turning upside down one day and then right side up the next, to help the flavors mix and mingle together. Stick in the fridge after this ripening process and it will stay good in there for up to 6 months. To use, stick a clean utensil into the jar to grab a lemon and then rinse the salt away under the kitchen faucet. Throw them in whole to recipes or slice and dice, use the pulp or discard the pulp – the choice is yours.
If you have leftover fresh lemon wedges from another meal prep situation, you can just throw them right there in the brine with the remaining lemons. Just make sure that the brine is always covering the lemons – don't add water if it gets low, add more salt and fresh lemon juice. The remaining brine juice in the jar even has a purpose, it can be used add salty-tart taste to any recipe – even Bloody Marys or Gin and Tonics!
I can't wait to share my new recipe creations with this jar of Preserved Lemons, stay tuned! In the mean time, bits of the zest and pulp would be great in these recipes:
What is your favorite savory lemony recipe? What fruit or veggie do you end up with a bumper crop of every year? Please share in the comments – XOXO, Jennifer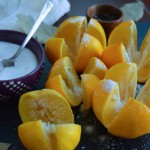 Preserve a bounty of lemons and add zesty flavor to soups, seafood, salads, grains and other recipes. This easy DIY recipe for salt brined lemons is a great way to use up a bumper crop of citrus.
Cook Time

Passive Time

0

minutes

2

weeks
Cook Time

Passive Time

0

minutes

2

weeks
Preserve a bounty of lemons and add zesty flavor to soups, seafood, salads, grains and other recipes. This easy DIY recipe for salt brined lemons is a great way to use up a bumper crop of citrus.

Cook Time

Passive Time

0

minutes

2

weeks

Cook Time

Passive Time

0

minutes

2

weeks
Sterilize 16-ounce canning jar in boiling water.

Thoroughly wash and scrub outside of lemons.

Quarter each lemon from the top to within 1/4 inch of the bottom, keeping fruit intact at bottom. Sprinkle kosher salt over the cut surfaces (approximately 1 tablespoons per lemon), then reassemble fruit.

Add bottom of the jar with more kosher salt to cover, approximately ¼ cup. Fit all the cut lemons in jar, pushing down with wooden spoon to smash them down and release juice. Sprinkle approximately ¼ cup additional salt on each lemon layer, along with some peppercorns.

Add bay leaves to jar. If released juice hasn't covered the top of smooshed lemons, squeeze additional lemons into jar until full. Do not use water.

Tightly screw on lid to jar and let ripen at cool room temperature, shaking the jar every day for 2 to 4 weeks, or until the rinds are tender. At this time, store it in the refrigerator for up to 6 months.

To use, remove a piece of lemon and rinse it. (Add more fresh lemons to the brine as you use them up.)