This post is sponsored by Now Foods. I received products for review and compensation for my time, however all comments, opinions, recipes and enthusiasm are my own.
Today, I'm delighted to share with you a Sugar-Free Strawberry Protein Truffle recipe that will take your Valentine's Day game to a whole 'nutha level! These sweet little treats are not only sugar-free and dairy free but also pumped up with sustaining protein and heart-healthy fats that won't jack up your blood sugar and then leave you in a nasty carb crash.  Perfect for a post-workout treat, healthy dessert, sensible snack and really cute way to woo the one you love on Valentine's day!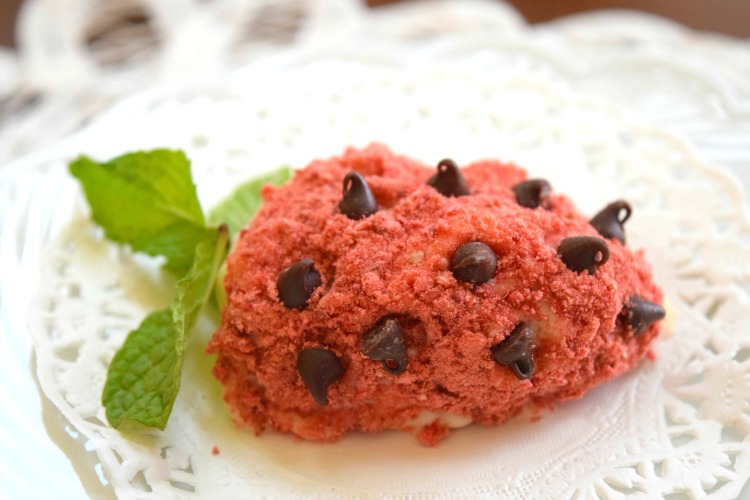 Now, before you get confused, I'm a way more of a Race Boss than a Cake Boss! My cake, candy and cookie decorating skills can be so lame that I'm often forced to do penalty burpees! But these protein truffles are simple to make and there is no "cooking." Plus, I've offered several decorating options – easy, easier and easiest!
The convenient thing about whipping up a batch of these berry beauties is that I had most of the ingredients already on hand in my pantry thanks to Now Foods.  Are you familiar with Now Foods (and their brands like Now Sports, Ellyndale and Now Real Foods)? Seriously, I think they might have all ALL the natural foods and supplements I need for my active lifestyle except maybe fresh produce and steaks, seafood and yogurt.  Plus, I've toured their manufacturing facility and state-of the-art laboratory in Chicago and I have seen up close and personal how this leader in the industry can off such quality products at an affordable price.
The key product in this recipe are Strawberry Whey Protein Isolate from the Now Sports division. This is some good stuff, y'all. It has no artificial anything (including funky pink coloring), is sugar-free, gluten-free and has an excellent BCAA profile and one scoop justs cost you 120 calories but offers 25g of protein.
You'll also need to round up some dehydrated raw organic cacao butter chips to make the sugarless "white chocolate" truffle coating and dehydrated strawberries used in the filling and decorating.
Making these Sugar-free Strawberry Truffles is no biggie! The truffle filling ingredients mix up in a flash – but then you need to let the mixture set up in the fridge so that it will be easy to handle when rolling and dipping.
Now the topping is where you get to choose easy, easier and easiest. The "easiest" option, not pictured here, is to skip the coating and just roll your strawberry protein truffle filling in anything from cocoa  powder to crushed nuts.
The "easier" alternative to shaping into the strawberry shape is to roll into balls and then dip in the white "chocolate" mixture, and dust with crushed dehydrated strawberries.
And, the still "easy" whole strawberry look involves pressing truffle filling out into a berry shape before dipping, then quickly pressing top into a small bowl filled with crushed dehydrated strawberries. You'll quickly need to then press in mini chocolate chips or cacao nibs and a mint leaf before the "chocolate" hardens. Make sure you have all your ingredients prepped and ready to go before heating up the coating.
For those of you who track macros, each truffle has 130 calories, 4.5g carbs, 7g fat, and 10g protein.
Feeling thirsty? My "Kiss of Honey" Strawberry Hot Chocolate makes the perfect pair-up with these pretty, pink truffles.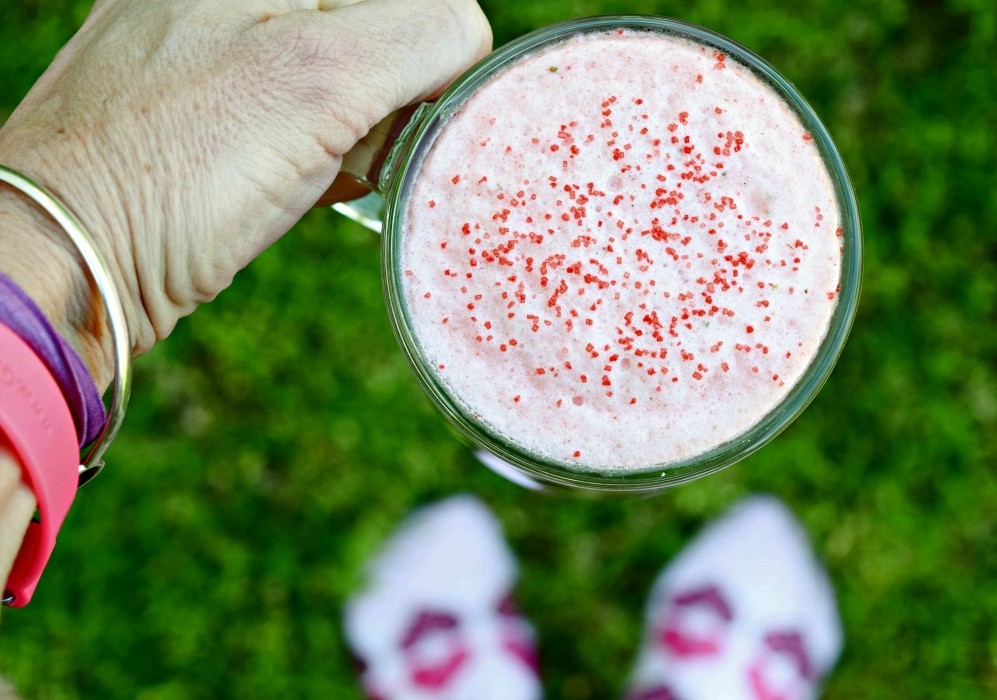 What is your favorite Valentine's Day treat? If you were picking a chocolate out of a traditional hear-shaped variety box, which flavor would you hope for? What are you in LOVE with lately? Please share in the comments — XOXO, Jennifer

Leave dehydrated strawberries in their package, but open up a corner a bit to let air escape. Use a rolling pin to completely crush the strawberries into powder. Divide in half (placing one half in a small bowl) and set aside.

In medium bowl, mix together one half of crushed dehydrated strawberries, strawberry whey powder and coconut flour. Use a whisk to make sure all dry ingredients thoroughly blended and not clumpy.

Pour almond milk into dry ingredients and use a spatula to combine. Mixture should be dough-like and pulling away from sides of bowl. If too sticky, add a bit more coconut flour, 1 teaspoon at a time. Chill mixture for one hour in refrigerator.

Remove truffle filling from refrigerator and form into 16 equal size portions. Roll into a ball shape between hands, using a bit of coconut oil to keep from sticking to hands if needed. For strawberry-shaped truffles, slightly flatten and pinch one end, while pulling out the other. For round traditional-shaped truffles, keep in ball shape.

Add coconut oil and cocoa butter chips to small bowl and microwave in 30 second increments, stirring between, until everything melted. Stir in vanilla protein powder, sugarless sugar and salt. Insert a fork partially in back of truffle filling and submerge in topping. For strawberry-shaped truffles, quickly dip top in bowl filled with remaining dehydrated strawberry dust. Place strawberry truffle dust side up on wax paper and quickly insert chocolate chips or cacao nibs and spring of mint. For round truffles, places on wax paper and sprinkle strawberry dust on top before topping cools.

Store leftovers in airtight container in refrigerator.
Additionally, truffles can be made without hard topping and rolled in the strawberry dust, chopped nuts or cocoa  powder.