Grape-Nuts has been around forever, for almost 120 years! I've been eating it for decades and my parents grew up with it too – probably because their own moms and dads knew it was a great way to start the day.
While snacking on Post® Grape-Nuts right out of the box or pouring it in a bowl and covering with milk is hearty, filling and exactly the way my mother served it to me (with raisins on top as a bonus), sometimes a girl wants a little more decadent flavor in her day – like, errr, chocolate-covered cherries. Nothing wrong with that, even if being mindful of New Year's resolutions. I'm sharing right here and now that my New Year's resolution is to start each day with a delicious, chocolate-inspired breakfast and thanks to my nutrient-dense recipe for Overnight Chocolate Cherry Breakfast Pudding, I'm prepared for sweet success!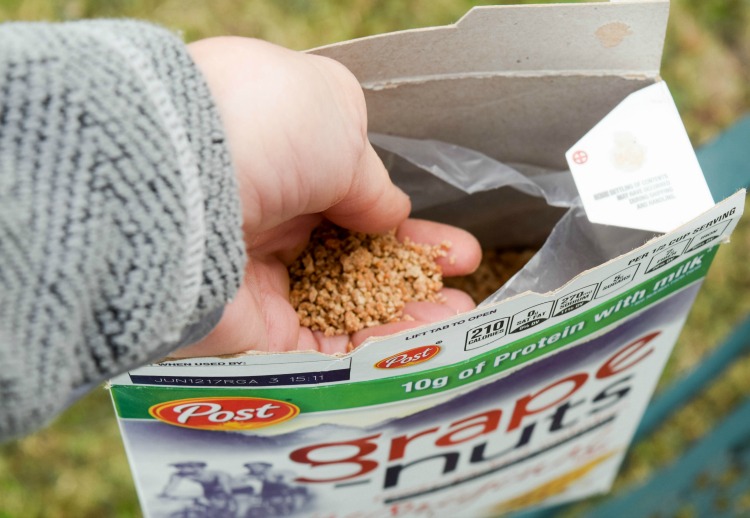 This make-ahead breakfast recipe features Post® Grape-Nuts, a distinctively crunchy cereal that actually has no grapes or nuts – it's made from wheat and barley, fortified with vitamins and minerals. A ½ cup serving is a great source of fiber and also provides 100 percent of your daily needs for whole grain. Plain Greek yogurt pairs up with protein found in the cereal to provide more than 28 grams of protein per serving. I've been on a soapbox for years telling anyone who will listen that getting 25 to 30 grams at EVERY meal, including and especially BREAKFAST is so important for muscle and weight management.
Watch this quick video to see how easy it is to make Overnight Chocolate Cherry Breakfast Pudding with Grape-Nuts.

In addition to all the #spoonfulsofgoodness of Grape-Nuts, I've also boosted the recipe with chia seeds rich in heart-healthy fats (or try hemp or flax seeds). Almond milk, in tandem with the Greek yogurt, hooks you up with more than 50 percent of your daily need for calcium and a single serving of this drool-worthy pudding provides 70 percent of the iron you need each day. Many athletes, especially female endurance athletes, tend to not get adequately-spaced protein or enough calcium and iron – so this recipe is definitely what to eat for winning in the long haul! Check out the NUTRITION INFORMATION on my recipe HERE.
Adding cocoa powder to breakfast isn't anything to feel a drop of guilt over. Nearly fat-free and antioxidant-rich, cocoa powder satisfies that craving so many of us have in a healthier way than eating a candy bar. And cherries, everyone loves them! This convenient breakfast recipe uses frozen dark cherries that have thawed and been lightly muddled and mashed with a fork. Don't drain off the juice that oozes out, it helps sweeten the recipe naturally. And, speaking of sweetening, I've added a bit of stevia but you can skip it or use honey if you prefer.
Here's another New Year's Resolution – Pin more healthy, easy recipes like this one!
For busy moms and working folks, this Post® Grape-Nuts recipe is a real time-saver in the morning. It can be prepped ahead and left in the refrigerator overnight to "set" and for the cereal to soften. But, it doesn't take the entire night, you can also prep this right before heading to work or the gym, keep chilled, and it will be ready to eat in about an hour. For the organized and ambitious, the recipe can be multiplied as many times as you need for meal-prepping and kept in the back of the fridge for up to 3 or 3 days.
Don't go making this recipe or eating breakfast at all without checking out the great money-saving coupon offers from Post® – click right HERE to get your COUPONS!
What is your go-to fast breakfast? Have you ever had anemia or been iron deficient? Do you eat chocolate every day?  Please share in the comments – XOXO, Jennifer

Add all ingredients in a pint size mason jar. Secure lid and shake well.

Store in refrigerator for 1 hour to overnight. May be meal-prepped and kept in refrigerator for 3 days.

Enjoy chilled for breakfast the next morning with optional garnishes including mini chocolate chips, extra Grape Nut cereal (for crunchy texture) and fresh cherries.