Training for spring season obstacle course racing and the 5-week long Crossfit Games Open competition makes me hungry. Really, really hungry. After 25+ years as a competitive athlete, I've learned (and sometimes the hard way), what does and doesn't work for me when it comes to fueling my fitness. Lots of junk food and candy, not so good. Salty, over-sugared or fat-laden drive-thru and take-out meals, also not optimal. Restrictive dieting or skipping meals, even worse.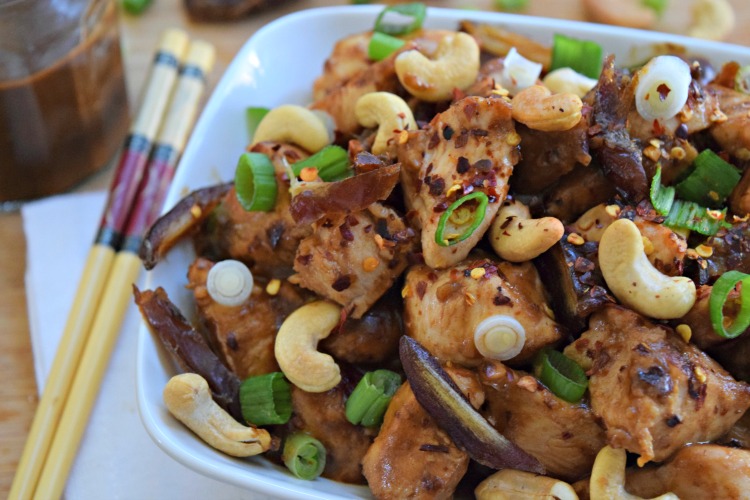 But, you know what's good? Healthy, homemade recipes like my Paleo Kung "Power" Chicken, an easy-to-make meal that gives me the energy I need to accomplish my daily fitness goals, make workout gains and recover optimally for the next sweat sesh! There is lots of lean protein for muscle-making, this take-out inspired dinner also features a surprise ingredient that is great for athletes – MEDJOOL DATES! Read on to find out all the deliciously savory-sweet-sticky details and get the recipe!
So, yup, I said dates, Medjool dates, to be precise. Loaded with vitamins, minerals and fiber, these fruits of the date palm tree are a smart way to add sweetness to almost any recipe. They are really trending right now in healthy sweet treats and candies. I also use them in both the sauce and toppings for my Paleo take on Kung Pao Chicken.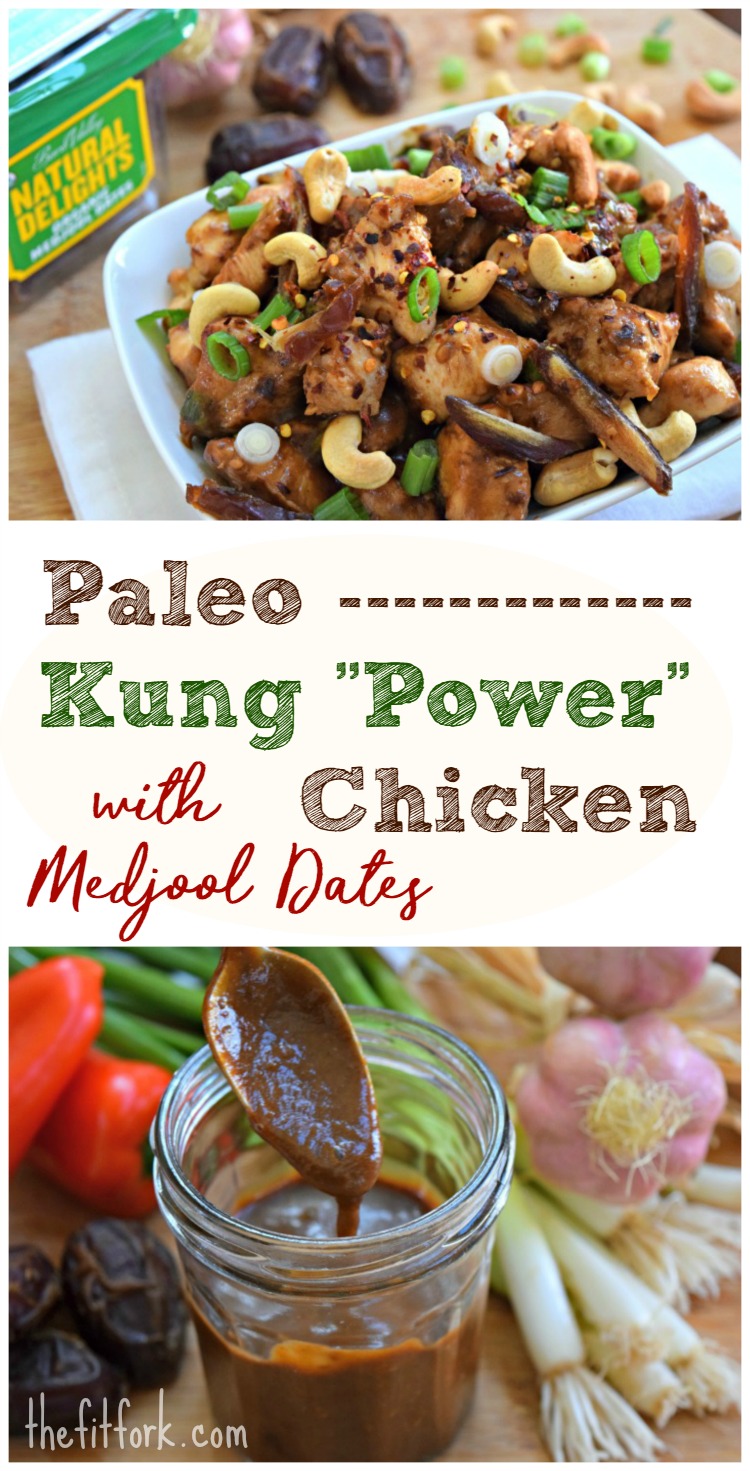 Get other healthy recipes at my Best of The Fit Fork board on Pinterest.
Did you know many Asian sauces are prepared with straight-up white table sugar?! I would much rather use Medjool dates as a natural sweetener, without exception, over granulated sugar and almost always over other natural, carb-rich sweeteners like honey and coconut sugar (but those sugars have their own perks in certain situations, too). When you use a Medjool date or two (or three) for sweetening, your body benefits from the inherent abundance of potassium, magnesium, calcium, fiber and other nutrients packed inside. Plus, you can't live on protein alone, the body needs energy-dense carbs for get-up-and-go and also after strenuous activities to help with protein synthesis – ya know, to repair and make those lovely muscles!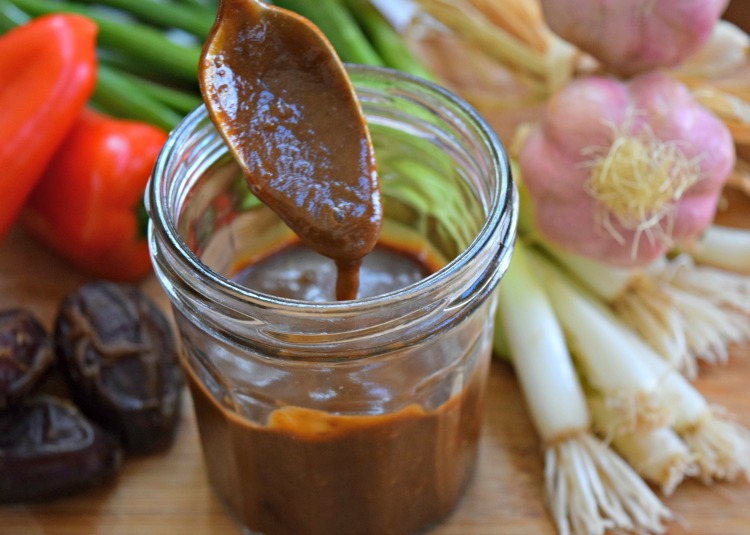 I think the best Medjool Dates around are from Natural Delights – you can find them conveniently in the produce department. Their pre-pitted Medjool dates are very handy for quick recipe preparations and portable snacking. Heck, stick one of these babies in your pocket to eat in the middle of your run for quick energy and mineral replacement. The average-sized Medjool date has 66 calories, no fat, 6.87 grams fiber and 15 grams of natural sugars – plus potassium, magnesium, calcium, iron and other good stuff active people need.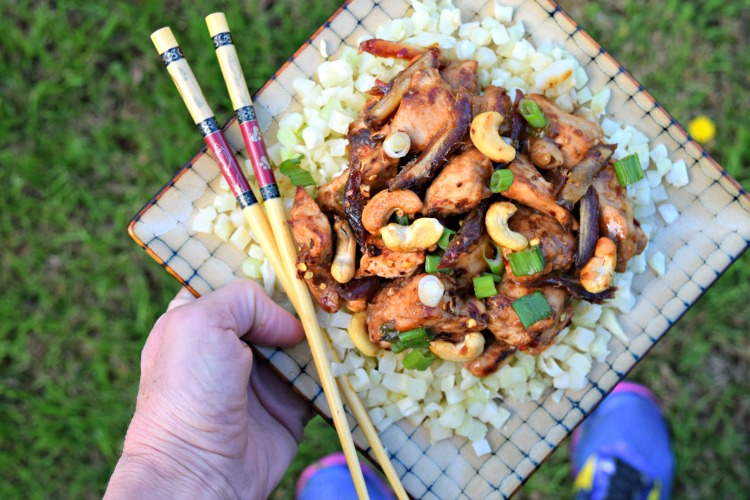 Serve with riced cauliflower as an alternative to traditional rice or noodles.
In addition to using Medjool dates for sweetness, I've kept my Paleo Kung "Power" Chicken within the realm of Paleo-ness with some additional ingredient swaps for traditional foodstuffs. However, if you can't find these ingredients, and don't feel bound completely to life as a modern-day Paleo person, feel free to reverse the swaps – it's still a healthy, balanced meal. But, do please use the Medjool dates, you won't be sorry!
Medjool dates instead of white sugar
Coconut aminos instead of soy sauce
Arrowroot starch instead of cornstarch
Toasted cashews instead of peanuts
Cauliflower "rice" instead of white rice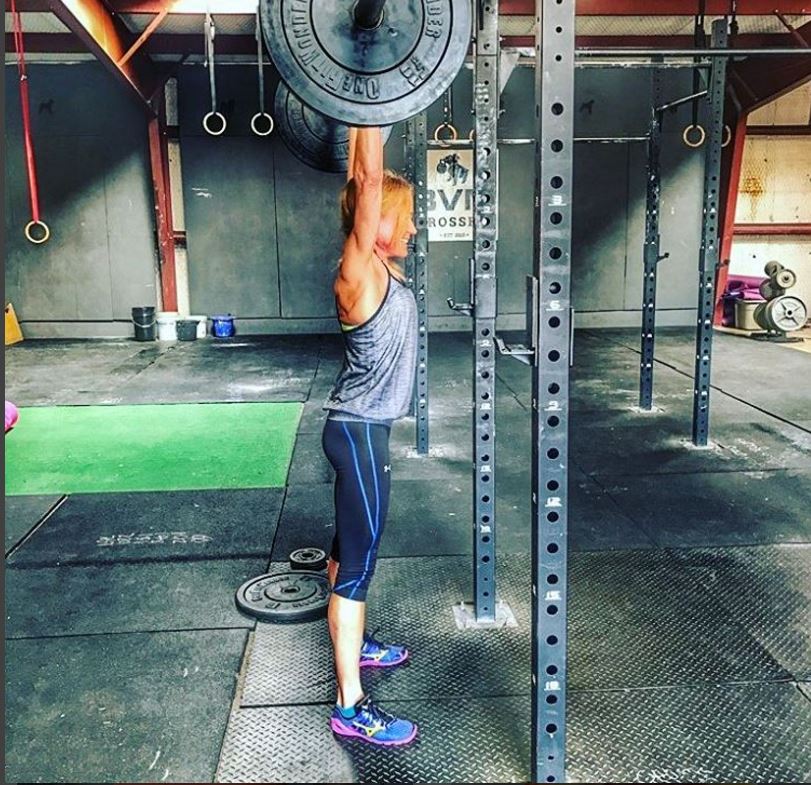 Some last-minute (Medjool date fueled) preparations before Crossfit Games Open starts!
Disclaimer: This post was sponsored by Bard Valley Natural Delights, however all recipes, editorial consideration and enthusiasm are my own. 
When is the last time you tried a Medjool date? What races or fitness competitions are on your spring schedule? Please share in the comments below – XOXO, Jennifer
In a medium bowl, stir together coconut aminos, rice vinegar, and arrowroot starch until the arrowroot starch is dissolved. Add the bite-sized chicken pieces and stir gently to distribute marinade. Let stand at room temperature for 15 minutes.

In a small microwave-safe bowl, add 3 pitted and coarsely chopped Medjool dates. Add ¼ water to mostly cover dates and microwave for approximately 30 to 45 seconds or until dates have softened. Drain off approximately half of water.

Place softened dates with water, balsamic vinegar, coconut aminos, sesame oil, arrowroot starch and teaspoon ground Sichuan pepper in small blender or mini food processor and blend until smooth. If dates have softened well in the water and are chopped enough, this mixing can be done vigorously by hand. Set sauce aside.

Heat a wok or large skillet over high heat until a bead of water sizzles and evaporates on contact. Add the coconut oil and swirl to coat the base. Add the red pepper flakes (or whole chilies) and stir for 30 seconds or until slightly fragrant.

Drain off excess marinade from chicken and add the chicken and stir-fry until no longer pink, 2 to 3 minutes. Do not overcrowd pan.

Add the scallions, garlic, and ginger and stir-fry for about 30 additional seconds. Stir in the sauce, coating ingredients, and cooking for an additional minute or until heated and bubbling.

Transfer to a serving plate, sprinkle cashews, date slices, and additional scallion greens. Serve with riced cauliflower, if desired.