Topping cheese grits with shrimp isn't anything new down here in the south, but mashed purple sweet potato grits is an unexpected and utterly game-changing twist! I feel like I should rename this post, Grits Gone Wild. Plus, I love how it's a quick fix on busy nights and, if desired, the shrimp can be left off for a vegetarian side dish . . . . perhaps for Thanksgiving?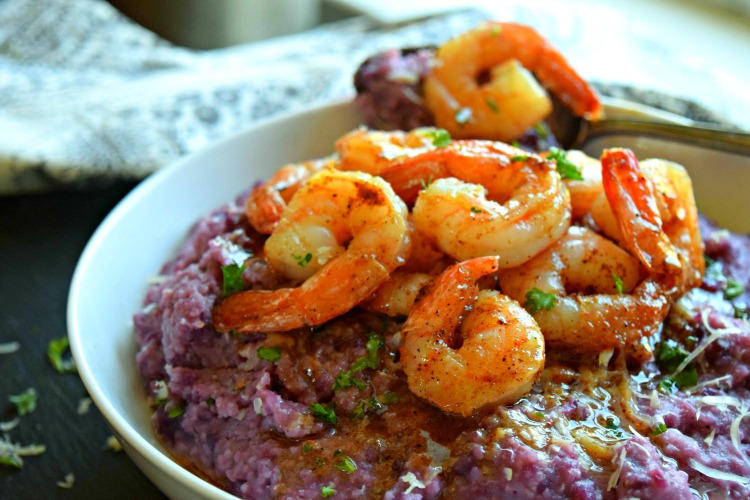 Stokes Purple® sweet potatoes are different that their classic orange cousins not only in color, but they are favorably denser, richer and offer well-balanced sweetness. Read on to get the Parmesan Purple Sweet Potato Grits with Creole Shrimp recipe, find out more about this healthy complex carb that is perfect for your active lifestyle and to enter my giveaway for Purple Sweet Potato & T-shirt Giveaway. 
I love to eat Purple Sweet Potatoes to fuel my marathon and Spartan training, I need and crave those quality carbs to fuel my body and brain. Purple sweet potatoes get their color from anthocyanins, a flavonoid that is said to have a myriad of health benefits from a reduction in certain cancers and cholesterol levels to improved eyesight and cognitive function. They are also non-GMO, high in fiber and low on the Glycemic Index when boiled. Choose from conventionally or organically grown.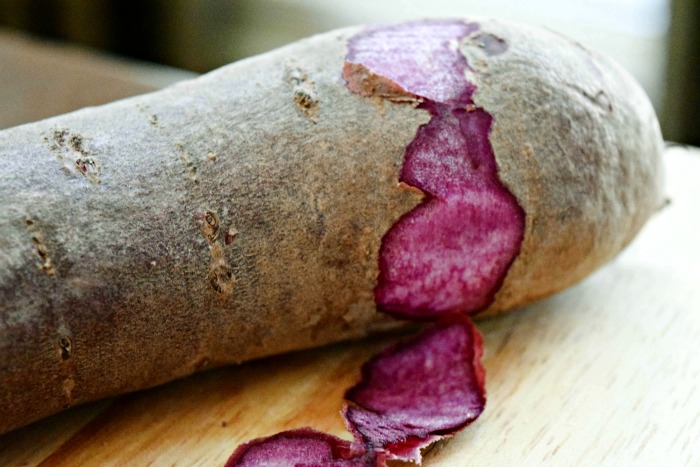 Don't confuse a regular purple potato with a Stokes Purple® sweet potato or an  Okinawan Sweet Potato, it's just not the same thing. You can by these purple taters at Trader Joe's, Whole Foods and many other select retailers like HEB, Kroger, etc. Check the store locator and maybe even call ahead, because these trendy potatoes are hot, hot, hot!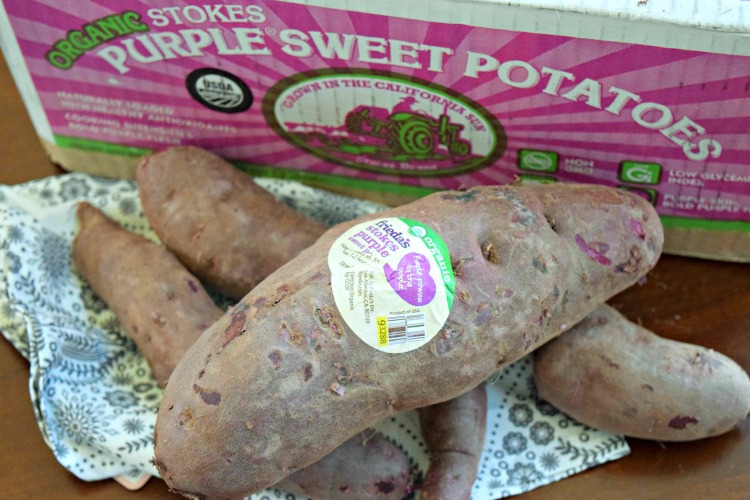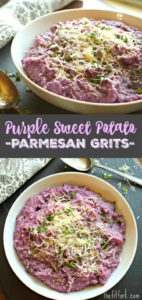 Hope you get a chance to try this recipe, I'm not kidding about how easy and delicious it is. It sounds sort of indulgent, but each serving has less than 400 calories with 27 grams of protein!
As I mentioned earlier, if you don't want to do the shrimp, just skip and you still have a hearty side dish.  To make things even quicker, I often put a bunch of 'em in the slow-cooker all afternoon and then mash them up so I can use as a quick side dish or ingredient all week.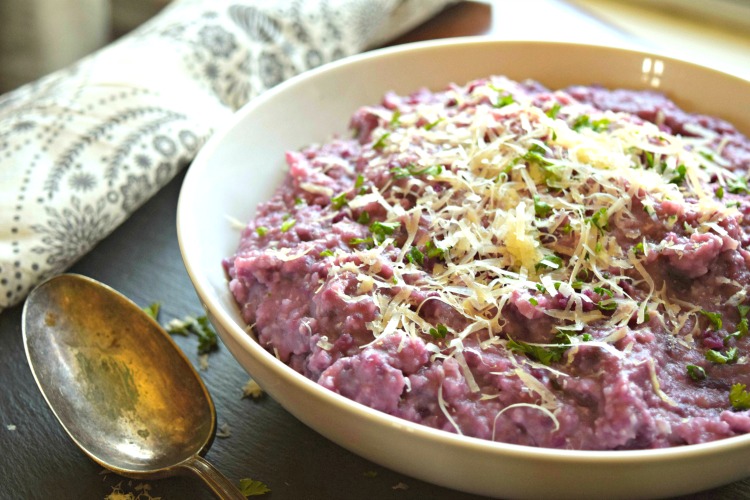 Other Purple Sweet Potato recipes of mine you should check out include:
Enter  giveaway below for a chance to win 5lbs. of Organic Stokes Purple® sweet potatoes and a "Purple Power to the People" t-shirt courtesy of Friedas.com, a specialty produce company.
For Purple Sweet Potato Grits
Add water and salt to 1 ½-qt pot and bring to boil over medium-high. Add grits and reduce heat to medium-low, simmering for about 5 to 7 minutes uncovered. Most water should be absorbed, but they will still look a little wet.

Stir cheese until melted in. Stir in mashed purple potato and return to stovetop to warm for a few minutes, if needed. If mixture seems to thick, add a splash of water or milk and stir in.

In small skillet, add 1 tablespoon olive oil and bring to medium-high heat. Add shrimp and statue for 3 to 4 minutes until hot. Add butter and creole season and stir until melted and coating shrimp.

Pour shrimp along with pan sauce over grits. Top with additional parmesan cheese and fresh chopped parsley.