Swoon, Seared Scallops on Baked Rice Stick in Ginger Beer Broth! This Asian-inspired recipe might make your guests think they're dining in a fancy restaurant, but it's surprisingly fast and easy. I love to use Sea Scallops in my recipes, they are elegant in a "small plate" sort of way, yet satisfyingly meaty as a full meal. Plus, they are extremely speedy to prepare and are a great source of lean protein with just 112 calories, 1 gram of fat, 23 grams of protein and Omega 3s for 100 grams of scallop (about 4 fairly large ones).
You can find scallops in your market's seafood department, but I prefer the Sea Scallops from Sizzlefish.com. They source scallops from the North Atlantic and pick only the best — they are off the hook, crazy good and convenient dry-packed, flash frozen in individual portions, and shipped straight to my door. No water or chemicals are added, I just get the rich flavor of unadulterated scallops that I can enjoy so many creative ways.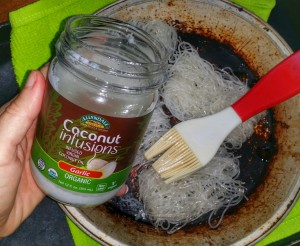 I was inspired by the deep-fried rice stick that you so often get in Thai food joints – I wondered if there was a healthier way to prepare it. So, I brushed the dry noodle bundles with Coconut Oil Infusions -Garlic from Ellyndale (a gourmet food line from Now Foods that includs cooking and finishing oils) and baked at 350F degrees for 20 minutes – it worked! They were a tiny bit toothy, but once simmered back into the ginger beer reduction, the result was divine!
If you're looking for another easy scallop recipe, I made these Cumin-dusted Seared Sea Scallops last year!
Hope you enjoy the recipe – it's the real deal and a 30-minute meal! Check out Sizzlefish.com.for some great seafood packages designed to support an active, healthy lifestyle.
Are you a scallops fan? What is your favorite type of seafood? Are you going to the beach this summer, where? Please share in the comments below, XOXO -Jennifer

This fancy seeming Asian-fusion recipe is actually quite easy to make with sea scallops. The rice stick brushed with coconut oil and baked, rather than fried, to keep it fit!
This fancy seeming Asian-fusion recipe is actually quite easy to make with sea scallops. The rice stick brushed with coconut oil and baked, rather than fried, to keep it fit!
Heat oven to 350 F degrees. Brush tops and bottoms of uncooked rice stick (noodle) bundles with coconut oil. Place on baking sheet and back for 18 to 20 minutes, flipping halfway through, until golden brown. Remove from oven and set aside on paper towel to absorb any remaining oil.

Add 1 tablespoon olive oil to skillet and saute shallots over medium-high heat, stirring constantly, until caramelized. This will take 3 to 4 minutes, add garlic in last remaining minute. Remove a few caramelized shallots from skillet and set aside for garnish.

Add ginger beer, soy sauce and red onion flakes to skillet with cooked shallots. Cook over medium until boiling, add baked rice stick nests and then reduce heat to low and simmer for 4 to 5 minutes, flipping rice nests over halfway through. Cook scallops while this is finishing.

To cook scallops, add remaining 1 tablespoon coconut oil to a small skillet and bring to medium-high heat. Add scallops to skillet and sear on one side for approximately 3 minutes or until browning and releasing to flip. Flip scallop over and cook an additional 1 ½ minute. Season with coarse sea salt, if desired.

To serve, add half of ginger beer broth to shallow bowl, add two rice stick nests and four scallops. Garnish with green onions. Repeat for remaining serving.