Skinny Turkey Quinoa Pot Pie Soup
Use up those holiday leftovers with this 30 minute soup. The ingredient list may look long, but don't let that fool you — super easy!
Servings

Prep Time

8

sevings

10

minutes
Servings

Prep Time

8

sevings

10

minutes
For crescent stars (omit if gluten-free)
In large stock pot, add olive oil and bring to medium-high heat.

Add onions, carrots, celery, and mushrooms, stirring constantly until starting to soften, approximately 5 minutes. Season with salt and pepper and temporarily transfer to bowl.

In same stock pot, melt one tablespoon of butter over medium heat and then add flour, stirring constantly to make a roux. Mixture will bubble and start turning golden brown, remove from heat.

Return cooked vegetables to pot and add chicken broth, 2 tablespoons Poultry Herb Blend, and quinoa. Bring to a boil over medium-high heat and then cover pot and reduce heat to medium or medium-low and let simmer for 15 to 20 minutes or until quinoa is cooked.

Stir in milk and chopped turkey and heat over medium, stirring frequently, until warmed through.

Garnish with fresh parsley and Crescent Stars (below), if desired.

For Crescent Stars: While quinoa in soup is cooking, pre-heat oven to 375 F degrees. Unroll cylinder of crescent dough and gently press seams together. Use a star cookie cutter to cut out approximately 16 stars. Place on baking sheet and sprinkle with garlic salt and poultry blend herbs. Bake for approximately 8 to 11 minutes or until turning lightly golden brown. Remove and serve one or two with each bowl of soup.
One serving without crescent stars.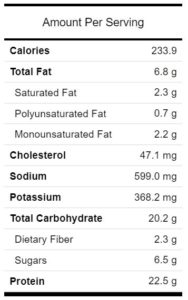 © 2012-2017 thefitfork.com All Rights Reserved