I'm a salad eater year 'round. In fact, I don't think a day goes by that I don't enjoy some sort of salad and fall is full of hearty possibilities. My Spiralized Green Apple Butternut Squash Salad is super delicious and nourishing, incorporating some of the season's yummiest picks from the produce department.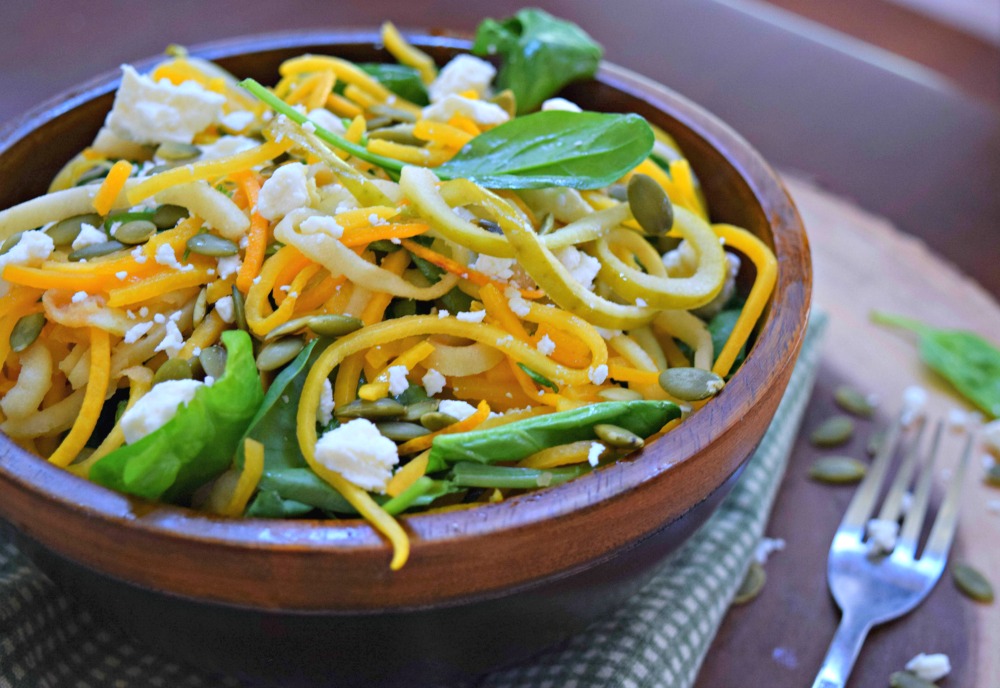 Read on to get all the details about this main or side-dish salad that gets you well on your way to eating fruits and veggies for the day.
Most think of cool and crisp when they think of salads, and this squash salad is just fine served chilled. However, I crave it warmed up a bit as it seems heartier and more comforting. The spinach wilts without getting soggy and the raw crunch comes off the squash and apples. All I do is run them through my spiralizer, drizzle with olive oil and roast for about 10 minutes in the oven.  After the butternut and apple have cooled down to warm, the next step is to add baby spinach and toss it all with Organic Ginger with Honey dressing from Litehouse Foods, a lightly sweet but zingy dressing that makes fabulous foods even more so. You can find it on the cold shelf section of the product department.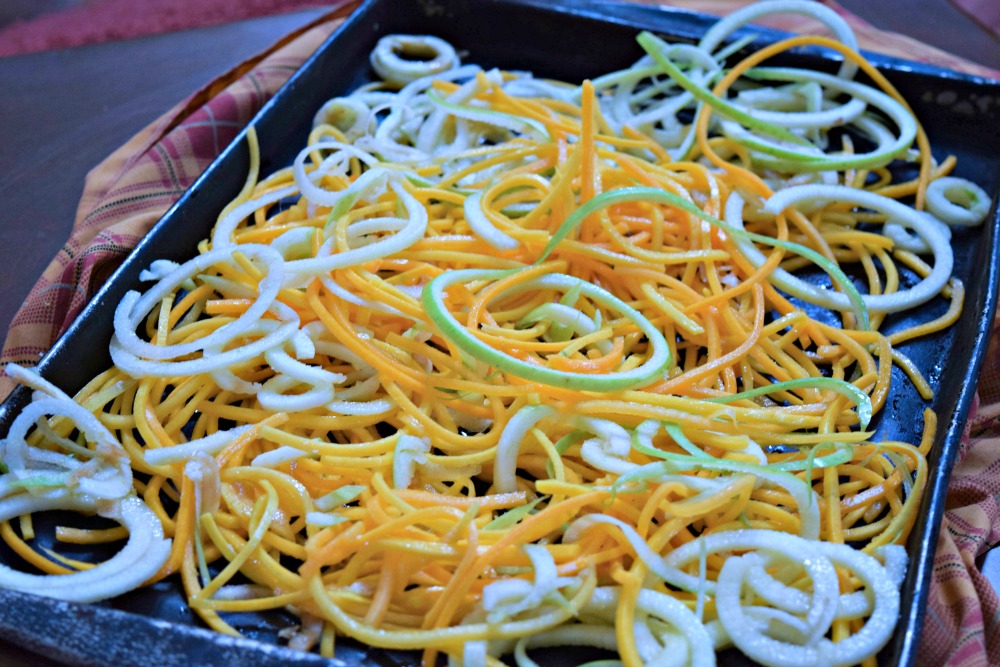 Just like I prefer to finish my fall wardrobe with a scarf, boots or fun pair of earrings, my salad wants a special exclamation point too! So, I sprinkle on extra toppings as inspired, like nuts, cheeses, pickled things, dried fruit and croutons that speak to my taste buds. Today, this autumn salad is accessorized with salty pumpkin seeds (pepitas) and feta cheese crumbles.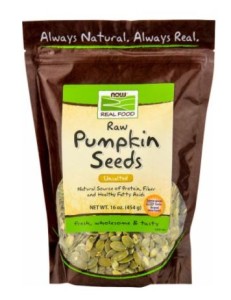 Pumpkin seeds, or pepitas as we call them here in Texas, are a great source of:
Iron
Fiber
Protein
Omega 3 fats
If you don't want to spend the time breaking down a big butternut squash for this fall salad recipe, many supermarkets sell it already spiralized into raw "noodles."  But, if you want to save money and don't mind a throwing a little muscle into it, butternut isn't that hard to prep. Just slice off the top and bottom ends with a sharp, sturdy knife and then use a potato peeler or knife to remove the outer peel until the orange flesh is revealed. Slice in half and use a spoon to remove the seeds and then cut up or spiralize as desired.
What fall vegetables are you craving right now? Do you like summer or winter squashes better? Have you been to pick apples, pumpkins or other fall produce at a farm this season? So fun! Please share in the comments – XOXO, Jennifer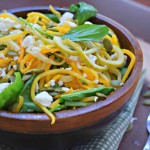 Make the most of fall produce with this gorgeous, good-for-you spinach salad with spiralized apples, butternut squash. A seasonal side dish with lean protein.
Servings

Prep Time

2 to 4

servings

10

minutes
Servings

Prep Time

2 to 4

servings

10

minutes
Make the most of fall produce with this gorgeous, good-for-you spinach salad with spiralized apples, butternut squash. A seasonal side dish with lean protein.

Servings

Prep Time

2 to 4

servings

10

minutes

Servings

Prep Time

2 to 4

servings

10

minutes
Preheat oven to 400 F degrees.

Place spiralized squash and apple on a rimmed baking sheet. Drizzle with the olive oil and toss around a bit with tongs to coat. Spread evenly on baking sheet and sprinkle with salt. Roast in oven for 10 minutes.

Remove squash and apple from oven and let cool on baking sheet for about 3 to 4 minutes. Transfer to serving bowl and add spinach. Add salad dressing and toss everything until evenly coated

Top with feta cheese and pumpkin seeds (pepitas), roasted or raw