Everything in life should be accessorized, including oatmeal! Despite it's inherent healthiness, serving of plain, unadulterated "sunrise slop" reminds me of the gruel I feed my babies when they were first learning to eat. It's bland, it's boring and gonna get pushed back to my pantry. But, then there's my  When I kick of the texture of my oatmeal with quinoa and bedazzle it with berries, this morning mush turns into make-ahead morning magic!  
You MUST try my recipe for Strawberry Cheesecake Quinoa-Oat Bake, it's healthy, hearty and will have you racing to the kitchen before the rooster crows! 
Prepared with the dynamic duo of of steel cut oats and quinoa, this easy breakfast recipe provides lots of whole grains to fuel the day. Steel cut oats offer an abundance of fiber and are lower on the glycemic index than rolled oats which keeps blood sugar from spiking and crashing — this will help manage your hunger later in the morning. Quinoa (actually a seed that gets clumped in the "whole grain" category) also provides a steady does of energy and also decent protein per serving.
You may think you've been served dessert with this yummy strawberry and low-fat cream cheese (Neufchatel). breakfast, but it's oh-so-much healthier than dessert and it has no added sugar! Strawberries offer natural sweetness, are low-cal and are a good source of antioxidants and vitamin C.  And, don't feel guilty about the cheese, Neufchatel makes a smart swap with about one-third less fat  . . . and still all the creaminess. I also use stevia-based baking blend (Sugarless Sugar from NOW Foods) to keep the carb and calorie count down in this quinoa-oatmeal recipe.
Each serving has less than 200 calories, 8 grams of protein and just 7 grams of fat. How 'bout this reality check — a standard slice of real strawberry cheesecake has 500 calories and in excess of 30 fat grams!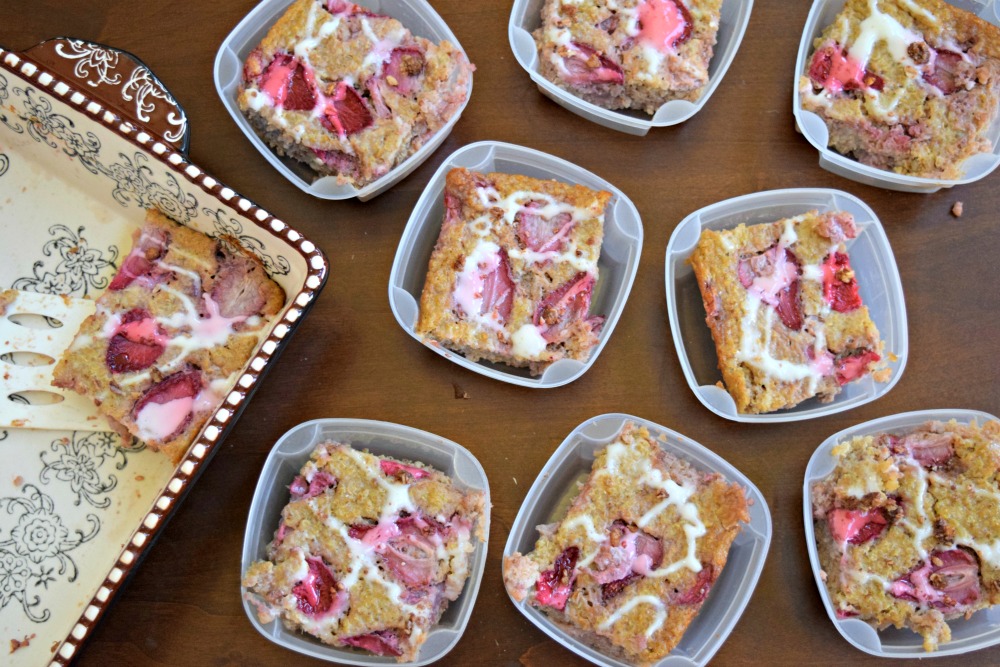 If you've got a crowd coming for breakfast, this Strawberry Cheesecake Quinoa-Oat Bake serves 12! You can make the casserole the night before and then bake it in the morning.  It's easy to serve, as it sets up like a coffee cake that can be sliced and plated in squares.  If you don't have breakfast company, this meal-prep friendly recipe can cut into individual portions and kept in the refrigerator for up to three days and reheated in the microwave. It also freezes well!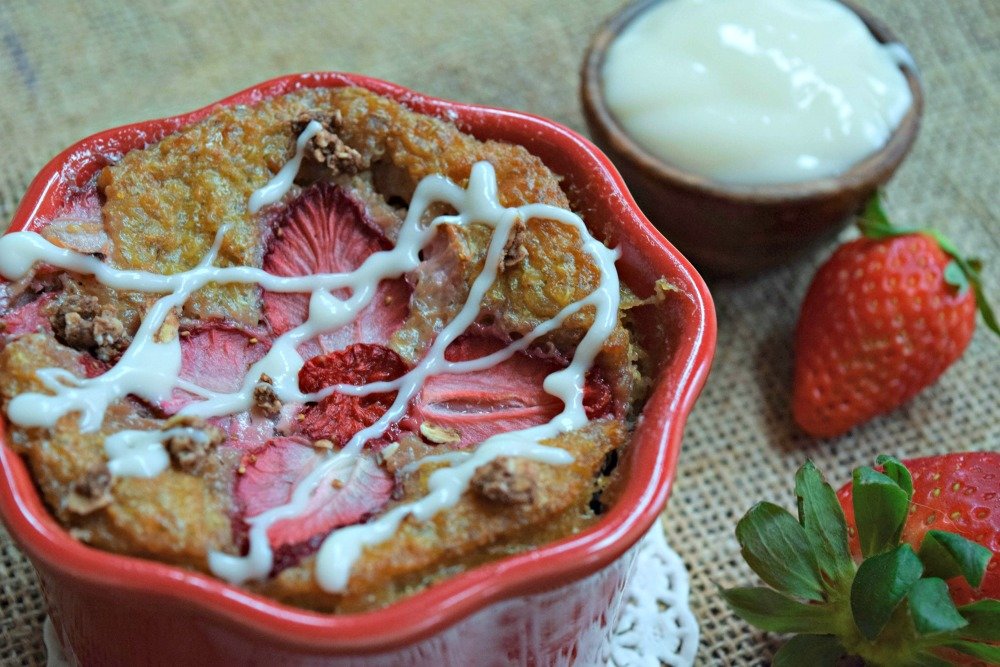 Instead of baking in a 9" x 13" casserole dish, this oat bake can also be prepared in individual ramekins — it makes lovely presentation for entertaining and guests can drizzle on cream or milk and stir it up a little more right in a single-serve dish. For special treats, I also like to use Opaditpity Creamy Cheesecake Greek Yogurt Dip on top – it's low-cal and high happiness!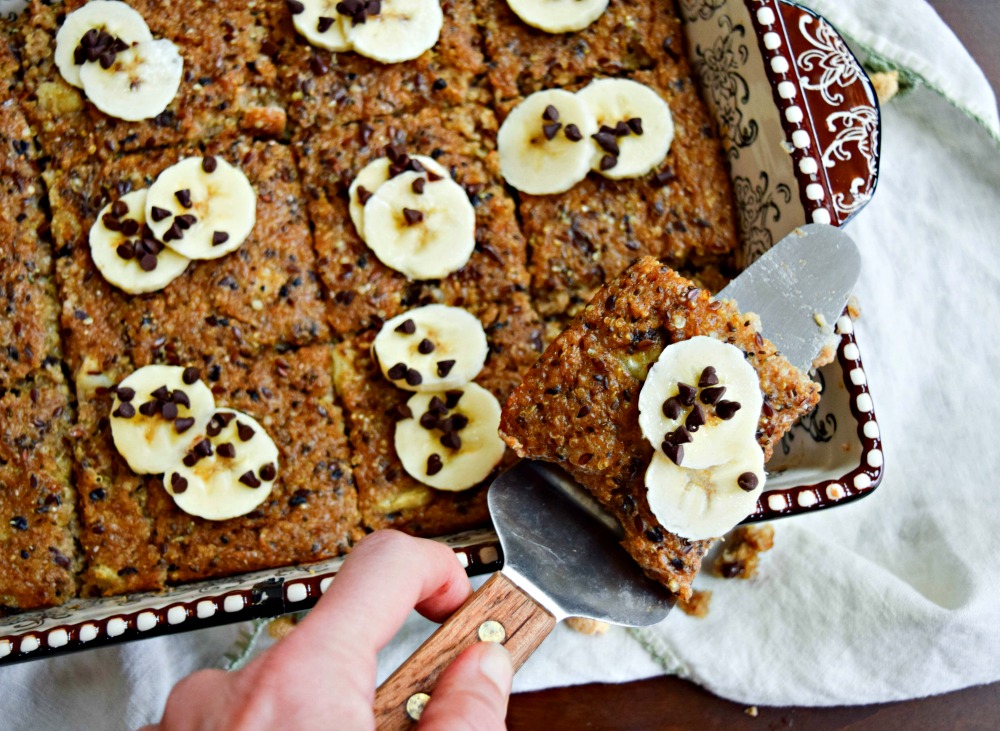 If you like the idea of this recipe, you'll need to also check out my Banana, Quinoa, Oats 'n More Breakfast Bake
How do you take your oatmeal? Would you run 5 miles to eat a slice of real cheesecake? How much time do you give yourself to make breakfast in the morning? Let's chat in the comments — XOXO, Jennifer
. Serve warm, drizzled with Opadipity Creamy Cheesecake Greek Yogurt Dip.
Treat yourself to cheesecake for breakfast with this healthy and hearty made with oats, quinoa, low-fat dairy, and fresh berries. Meal prep and freeze!
Servings

Prep Time

12

Servings

19

minutes
Servings

Prep Time

12

Servings

19

minutes
Treat yourself to cheesecake for breakfast with this healthy and hearty made with oats, quinoa, low-fat dairy, and fresh berries. Meal prep and freeze!

Servings

Prep Time

12

Servings

19

minutes

Servings

Prep Time

12

Servings

19

minutes
Rinse uncooked quinoa in fine mesh strainer to remove bitterness.

In large pot, add quinoa, oats, salt and water and bring to rolling boil. Reduce heat, cover with lid, and let the mixture simmer for about 15 minutes, stirring occasionally. Once the water is absorbed into the grains, remove from heat and stir in Neufchatel cheese and stevia. Let cool for 10 minutes.

Preheat oven to 350 F degrees. Prepare 9-by-13-inch baking dish or 12 ramekins with cooking spray. Lightly beat 2 eggs with milk and vanilla. Stir this mixture into the somewhat cooled quinoa and oats mixture, stirring constantly. Stir in baking soda.

Gently mix in diced strawberries. Transfer the mixture to the baking dish(es), and top with strawberry slices, if desired.  Bake, uncovered, 35 to 40 minutes or turning golden brown on top and center set (not runny).

Let sit for 10 minutes before cutting into 12 slicesI