School may be starting, but that summer weather will be around these parts for a while  — and that means I can count on good watermelons through October here in Texas. Yeehaw!  When chopping up fresh watermelon for my kids' lunchboxes, I always hide set aside a bowlful in the fridge to use as the superstar ingredient in in one of my salad creations.  This weekend, "Super Red" Watermelon Quinoa Salad was inspired by a dish I could both serve outdoors for al fresco dining (squeezing out the last few drops of summer pleasure before vacation ends) and also to package up during the week to take to school and work.
"Super Red" Watermelon Quinoa Salad lives up to its name – it's super beautiful in shades of red made with ripe watermelon, shredded fresh beets and red onion. In addition to all the gorgeous nutrition these super food veggies offer, this quick and easy salad recipe offers enough protein to make it a meal thanks to hearty red quinoa and sprouted pumpkin seeds. Yes, you CAN eat watermelon seeds contrary to the old wives' tale that eating them might make the fruit grow in your belly!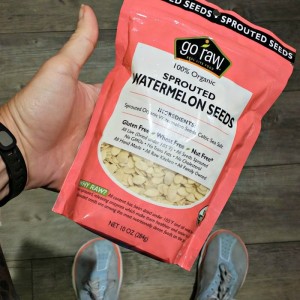 I buy sprouted watermelon seeds to put on this salad and eat as a snack right out of the bag. Why "sprouted" seeds?  Not only does the sprouting process make them easier to eat and digest than the big black seeds, they are high in protein and a good source of iron and heart-healthy fats.  Sprouting seeds "wakes up" dormant seeds and kick starts the germination process that unlocks all their nutritional benefits.  You could make sprouted watermelon seeds at home, but busy-me prefers to buy – you could also substitute sunflower seeds or pumpkin seeds in the recipe if you can't find them.

Over the course of #LivingOnTheWedge this summer, I've received lots of reader comments and questions about watermelon. I'm sharing what I know with you inquiring minds of melon – another great resource for all things watermelon (including nutrition, recipes, and fun facts) is Watermelon.org.
What's the best way to store a watermelon and for how long can you keep it?Storing watermelons at 55° F is ideal, according to Watermelon.org.  However, whole melons will keep for 7 to 10 days at room temperature – any longer and they'll start they'll lose flavor and texture. After cutting, store watermelon in refrigerator for 3 to 4 days. After cut, wrap watermelon in plastic or keep in an airtight container at 36° – 39°F. Also, I've noticed if you let watermelon sit in the juice that collects at the bottom of the container for too long, it loses the signature crisp texture – so I always drain off (and drink or save) the juice every time I get into my stash. Another strategy to maintain freshness is to keep melon stored in big chunks or slices as opposed to little bites. This cuts down on the amount of juice that drains out in the bottom of the container.
Do you know why watermelon helps alleviate morning sickness while pregnant?  The high water content in watermelon (92 percent) along with magnesium and potassium helps keep pregnant women from getting dehydrated, a dangerous condition that can also make nausea worse.  Additionally, the cool, mild, lightly sweet flavor of watermelon is easy to tolerate when queasy, especially when paired with other known upset tummy tamers like ginger, lemons or limes. Check out my recipe for Watermelon Ginger Limeade  — take a few sips every 10 minutes until you feel better!
Is it safe to eat a watermelon that was accidentally left in the car overnight in the summer?  My first reaction to this question was – "yes, don't watermelons grown in the hot sun anyway?" But experts say to abide by the "when in doubt, throw it out" rule.  So, I would say if the outdoor temp was close to "room temp" then eat, if hotter,  throw it away (as horrifying as that is).
Is it okay to swallow watermelon seeds?  One reader said she remembered swallowing her share of seeds during watermelon eating contests as a kid, and was worried about the consequences. Unlike the fear that our mothers instilled in us as young-uns, watermelon seeds are 100 percent safe for consumption. There is nothing at all harmful about them and a watermelon won't even sprout in your belly! Today's recipe for "Super Red" Watermelon Quinoa Salad even uses easier to digest "sprouted" watermelon seeds (which can be grown or, easier, bought at a health food store) – they are actually good source of protein and alternative for people with nut allergies.
How many kinds of watermelon are there and which is the best? There are more than 300 varieties of watermelons grown around the world, although not that many are readily available in your local market. The Crimson Sweet is a popular choice that is reliably sweet –check out this link that sums up some of the best from Saveur. And, if looking to pick the BEST watermelon out of the bin, check out these Tips for Picking Watermelon.
What's the most unusual watermelon recipe you've made? Okay, this was a fun question to answer because I got to reminisce about all my watermelon creations and give them superlative awards! Winning "Most Beautiful" is my Chocolate Cherry Watermelon "Cake" and taking the title of "Most Dramatic" is  my Sesame Salmon on Spicy Seared Watermelon, a recipe that caught the unsolicited attention of casting agents for the Food Network (apparently I'm not as exciting as my food although I beg to differ).   "Most Athletic" goes to My Creamy Watermelon Chia Seed Smoothie for its L-citrulline and protein perks that are good for pre and post workout while and "Most Cool" award goes to the Watermelon Coconut Cherry Chiller . Oh, and I can't forget to mention my go-getter recipe,  Brisket Tacos with Watermelon BBQ Sauce – it's definitely "Most Likely to Succeed" at your next backyard cookout or family Taco Tuesday night.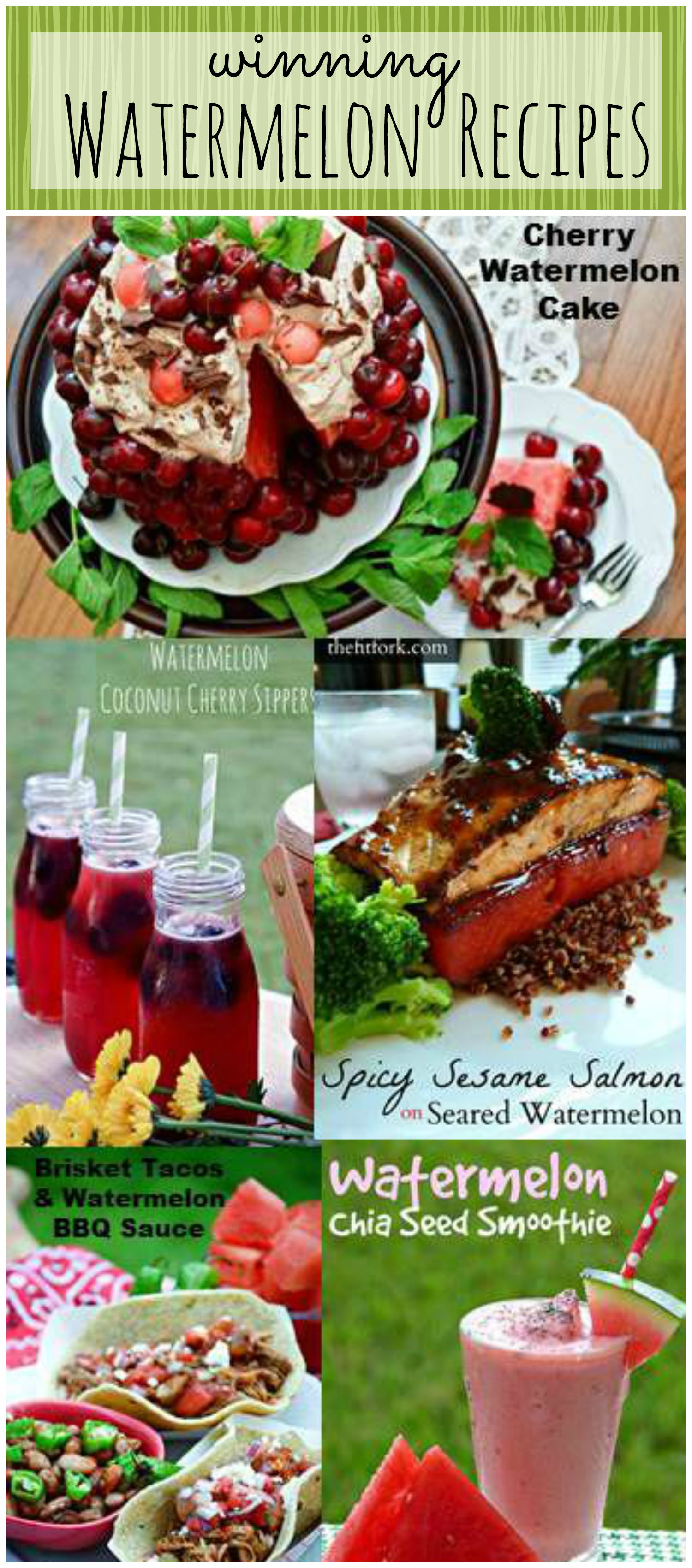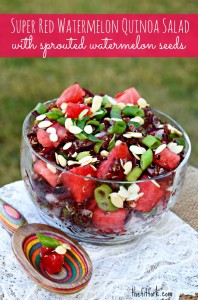 What are you packing in lunchboxes this week? Aside from "don't swallow watermelon seeds," what other superstitious advice has your mother given you?  Do you have any unanswered watermelon questions? Please share and/or ask in the comments below – XOXO, Jennifer
BTW, this post was sponsored by the National Watermelon Promotion Board — however, unless otherwise noted, all recipes, editorial content, and enthusiasm for watermelon are all my own.  
This delicious Watermelon Quinoa Salad is packed with nutritious benefits and is great f or Labor Day entertaining, summer parties and lunch boxes!
Servings

Prep Time

4

servings

15

minutes
Cook Time

Passive Time

15

minutes

30

minutes
Servings

Prep Time

4

servings

15

minutes

Cook Time

Passive Time

15

minutes

30

minutes
This delicious Watermelon Quinoa Salad is packed with nutritious benefits and is great f or Labor Day entertaining, summer parties and lunch boxes!

Servings

Prep Time

4

servings

15

minutes

Cook Time

Passive Time

15

minutes

30

minutes

Servings

Prep Time

4

servings

15

minutes

Cook Time

Passive Time

15

minutes

30

minutes
Place watermelon in blender and blend for about 1 minute, or until flesh is broken down. Pour watermelon through fine mesh strainer, collecting juice in a glass measuring cup. Collect 1 ½ cups of watermelon juice, reserving 1 cup for quinoa and ½ cup for dressing.

Rise uncooked quinoa in fine mesh strainer and place in saucepan with 1 cup of watermelon juice. Bring to a boil, and then reduce heat to medium-low, cover and simmer for approximately 15 minutes or until juice is absorbed. Pour cooked quinoa in bow and let cool in fridge for 30 minutes.

While quinoa is chilling, make dressing by adding ½ cup of reserved watermelon juice to bowl. Wisk in jalapeno, salt, pepper, stevia, olive oil and cilantro. Set aside.

Pull quinoa out of fridge. Add beets, red onion, green onion and spouted watermelon seeds to quinoa and toss with watermelon vinaigrette.