This post is sponsored by Farmhouse Delivery, I received products/services in return for my editorial consideration. 
There are a few no-fail ways to win my heart. Keep me company on a long run without complaining, agree that I need another pair of cowboy boots for my collection, or send me a massive box of locally-sourced, organic fruits, veggies and other fine foods so that I can save time creating healthy, nourishing meals to fuel my active lifestyle.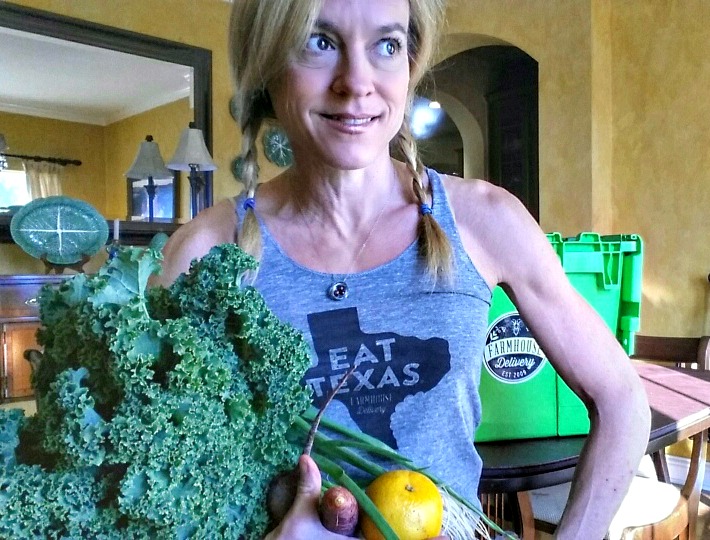 So, let's chat about the latter, being "gifted" with local Texas produce and other home state food supplies and sundries from Farmhouse Delivery. Farmhouse Delivery partners with local farmers and ranchers to deliver the cleanest, highest-quality, sustainably produced food to my front door – and yours! Farmhouse Delivery helped me mastermind some beautiful, body-boosting meals to feed my family this week. Read on to learn about my experience with this delivery service and get my recipe for Sweet Potato Grits and meal inspiration.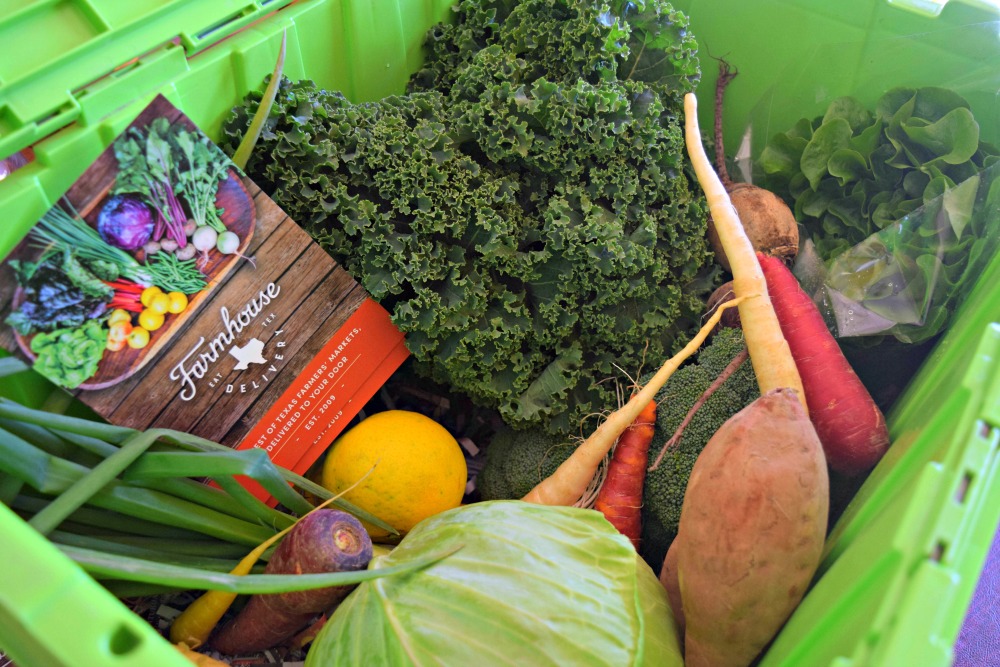 Ding, dong . . good eating's on like Donkey Kong! When I greeted my Farmhouse Delivery on the doorstep, my mind started bounding up and down with all the possibilities these gorgeous fruits and vegetables in my weekly Produce Box could behold for breakfast, lunch and dinner this week. Literally, the produce was picture perfect, so much prettier than in a mainstream store where it's been travelling on corporate trucks and sitting delivery docks for who knows how long. Farmhouse Delivery is straight off the farm with a small, short detour through their warehouse where each item is hand checked for quality TWICE and packed with care in a signature green delivery bin.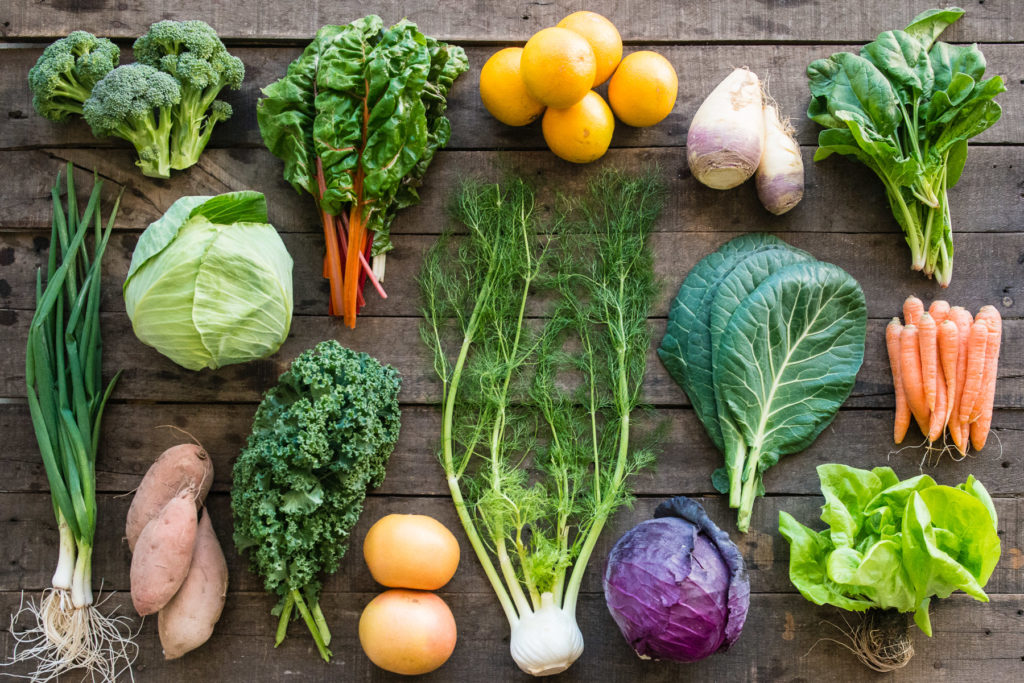 Each week, the subscription Produce Box changes to offer the latest and best seasonal bounty. For example, this week featured kale, sweet potatoes, green onions, cabbage, oranges, broccoli, beets and carrots. To complement my Produce Box and help round out my meals, I also ordered a la carte from the selection of sustainably raised meats, dairy, bakery, prepared foods and artisan groceries offered by Farmhouse Delivery.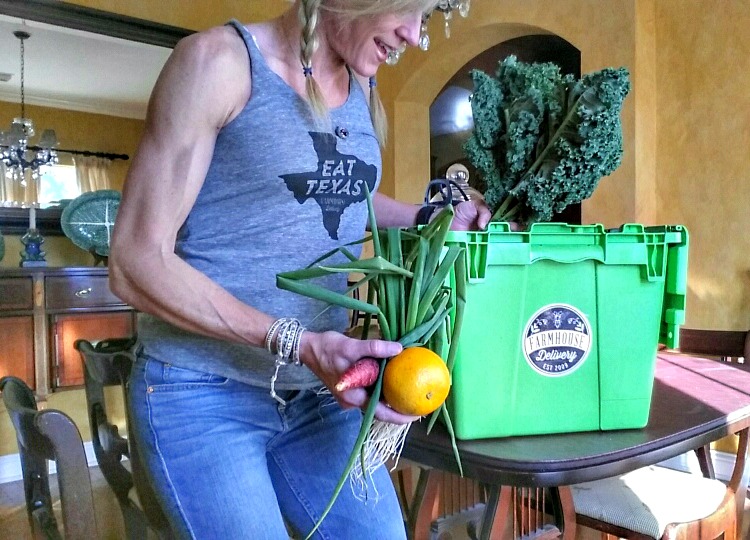 With this abundance of wholesome goodness, I knew I could easily whip up almost ANYTHING alone or in combo and it would be ridiculously nourishing delicious – sautéed kale, a delicate lettuce salad with shredded beets and carrots, orange-green onion dressing, and my kids favorite crack broccoli. These are some of the dishes I'm planning to make with my Farmhouse Delivery Produce Box without having to make a special trip to the store.
My first meal to come to fruition was Sweet Potato Grits (with local sweet potatoes and stone ground yellow grits from Homestead Gristmill in Waco, Tx) and topped it with a pile of sautéed kale and freshly-hulled black beans.  I'm going to share the Sweet Potato Grits recipe with you because, it's just so insanely good, easy and versatile for breakfast, lunch or dinner.  As a southern girl, I had to laugh to myself as I was prepping this dish because I just read an article sayng Grits are one of the trending foods for 2018.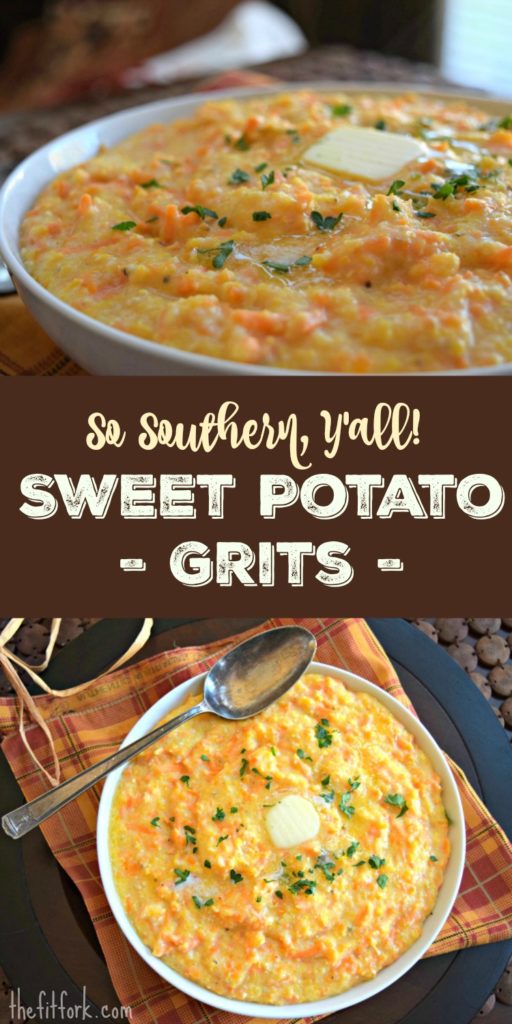 I knew these Sweet Potato Grits were going to be on point from the second I started stirring. How could the collision of two southern side dishes not be exponentially amazing?! Thick and creamy yet made with just low-fat milk – it was hard for me to believe this decadent-tasting dish wasn't loaded with cheese (although, oh my, that WOULD be a good addition). When I've made this in the past, I've added leftover mashed sweet potato, which worked well. But, I think I like my approach this time to add shredded sweet potato – it added a bit of texture!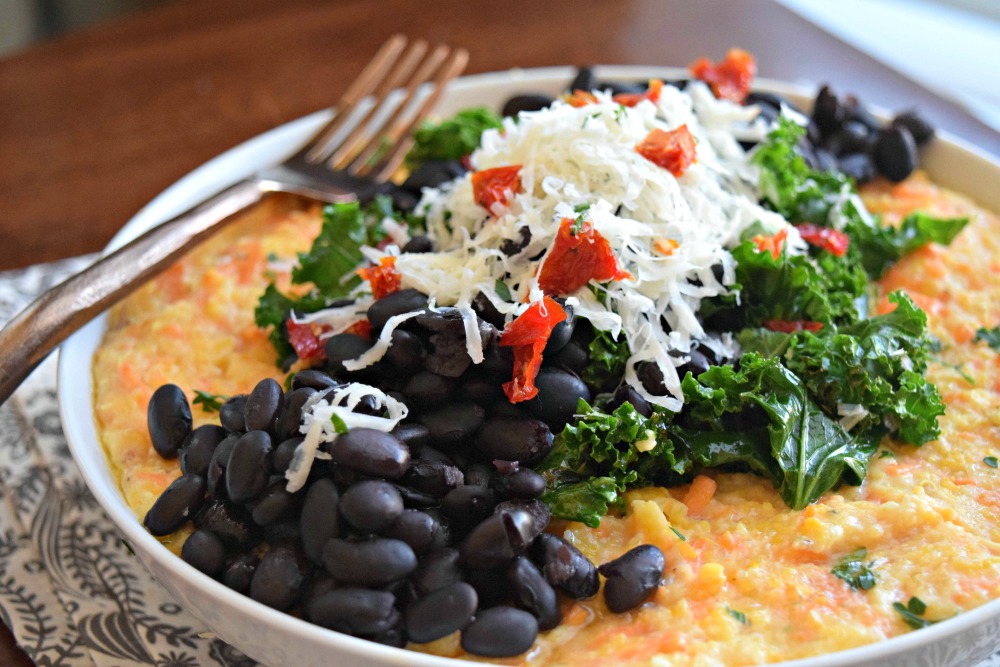 These Sweet Potato Grits are delicious served any which way, I topped with veggies and black beans from my Produce Box and ate the leftovers the next morning with a sprinkle of cinnamon and breakfast sausage.
Farmhouse Delivery also has a Supper Club, a weekly delivery of specially curated proteins, vegetables, sauces and spices along with an original recipe that can be whipped up into a fresh, home-cooked meal with typically less than 20 minutes hands-on time. The Garlicky Kale-Stuffed Chicken Breasts from this week looked amazing and a culinary masterpiece that anyone can make!
I know just by the fact that you are reading my blog that you love fresh, clean, creative meals and supporting the local food-producing community. So, if you'd like to try Farmhouse Delivery, an amazing service which brings all this TO YOUR FRONT DOOR, please use my special savings code FITFORK to have the one-time membership fee of $20 waived and $10 off your first order, whether a Produce Box, the Supper Club offerings, or just a la carte grocery items. Please let them know you heard about it from by my mentioning name, Jennifer Fisher or TheFitFork.com  in the 'How Did You Hear About Us' field.

Two caveats. First, for delivery (which is free over $40), you must live in Austin, San Antonio, Houston, or Dallas. Search by zip code to verify delivery availability.  Second, you'll need to invite me over for dinner – just kidding! But feel free to share a photo on Instagram and tag @thefitfork and @farmhousedelivery
Have your tried a farm-to-door service like this? What would you do with time saved from a shopping trip? What would you put on top of your Sweet Potato Grits? What is your favorite winter vegetable?  Share any or all in the comments – XOXO, Jennifer 
In a large saucepan, bring water and milk and bring to a gentle boil over medium-high heat.

Slowly whisk in grits, stirring constantly. Mix in sweet potato, salt and ginger.

Reduce heat to low and simmer uncovered, stirring often, until grits are creamy, thick and tender to bite, about 30- 45 minutes.

During cooking process, more water can be added a 1/4 cup at a time, if too much liquid cooking away.

Optional: For added richness, stir in 1/4 cup butter OR cream, and/or cheese.