I try to eat green and eat clean, but sometimes I need to give it a rest! And, now I have the science to prove that it's okay to indulge in my Bacon & Blue Cheese Mac recipe every once in a while. A recent study says that our willpower is like a muscle, after use it becomes fatigued and is no longer able to perform at peak levels. After a lot of use, your needs to take a break, just like you need to recover after a hard run or workout!  The scientists studying decision making called it "self-regulation failure," and people in the food and fitness world call it a "cheat day" when these decisions come to food – I don't like those terms and am rebranding the idea a Willpower Rest Day!
I first developed this rich and creamy recipe for macaroni and cheese for Litehouse Foods using blue cheese crumbles from their Simply Artisan Reserve line of cheese. It's become famous with friends, family and readers of the Living Litehouse Blog. And, also beloved by the thousands of people who have sampled it at Fresh Summit in Atlanta and recently the Winter Fancy Food Show in San Francisco. I'm not trying to brag (oh, who am I kidding?!), but I'm heard exclamations like, "OMG, this is the BEST macaroni and cheese I've EVER eaten."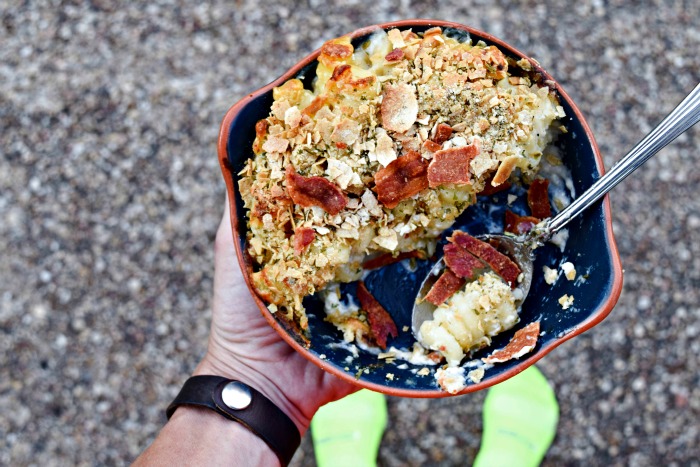 Smoky, salty bacon complement bold blue cheese – there is a lot of umami action going on with this fancy mac and cheese. However, the flavors aren't so over the top that the kids will be freaked out. However, maybe you WANT to keep them out of it (more for you) so just double up on the blue cheese! Have I convinced you to give your willpower a rest day and make up a batch of this delicious baked macaroni and cheese recipe?  This baked pasta recipe can even be made ahead and then popped into the oven an hour before serving.
Also, check out these macaroni and cheese making tips from from Cooking Light — everything you need to know to satisfy your mac madness!
What is your favorite comfort food? Do you rest your willpower every now and then? Fan of blue cheese? Please share in the comments below, XOXO — Jennifer 

Treat yourself to this rich and creamy baked macaroni and cheese made with blue cheese and bacon -- delicious as a side dish to steak, a casserole for your pot luck or just straight out of the dish.
Servings

Prep Time

8

servings

15

minutes
Servings

Prep Time

8

servings

15

minutes
Treat yourself to this rich and creamy baked macaroni and cheese made with blue cheese and bacon -- delicious as a side dish to steak, a casserole for your pot luck or just straight out of the dish.

Servings

Prep Time

8

servings

15

minutes

Servings

Prep Time

8

servings

15

minutes
Preheat oven to 400 F degrees. Spray a baking dish with nonstick spray.

Bring water to a boil and prepare pasta according to directions, but shaving 1-2 minutes off of the cooking time to keep al dente.

Meanwhile, heat butter in medium saucepan over medium heat. When butter begins to sizzle, quickly add flour and whisk constantly until roux is golden, about 2 minutes.

Pour in milk and whisk constantly, stirring until the mixture slightly thickens.

Reduce heat to low and add in white cheddar and blue cheese a couple handfuls at a time until cheese melts and sauce is thickened.

Stir in Blue Cheese Dressing. Stir in Instantly Fresh chives and season with salt and pepper.

Add cooked pasta to baking dish. Pour cheese sauce over top, tossing to coat all the noodles.

Cover top in panko bread crumb mixture.

Bake for 30-35 minutes, or until top is golden and crunchy and sauce is bubbling. Top with crumbled bacon