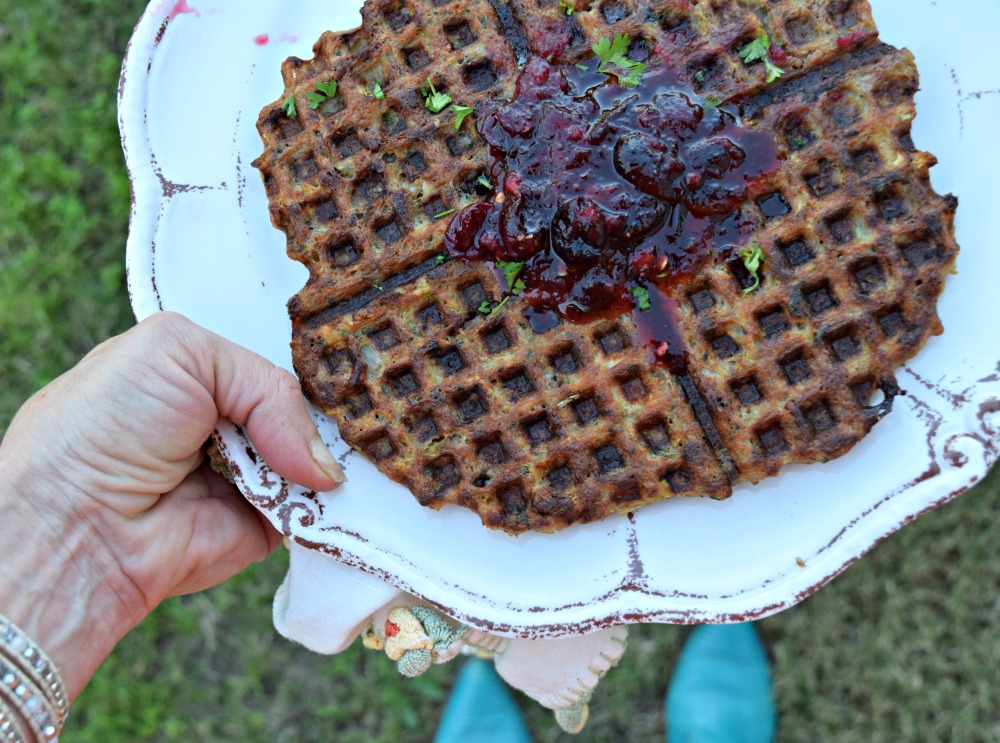 First of all, Happy Thanksgiving! I hope it was a wonderful day celebrating life's many blessings with family and friends. My college son is in town and the whole family is running the local Turkey Trot, I'm get to make my take on a classic turkey dinner for the just the five of us, we have a board game night planned and then we're getting prepping for a 50th anniversary party I'm hosting for my wonderful parents in two days. My cup overfloweth with blessings.
I already know I want to avoid strenuous cooking on Friday, having just cooked a big spread today and wanting to keep the kitchen clean for the golden celebration. Good thing is there will be an abundance of Thanksgiving leftovers in the fridge.  I have the simplest most scrumptious way to serve the stuffing – Leftover Stuffing Waffles with Bourbon Cranberry Sauce Syrup!
Full disclosure, I really don't like stuffing. It's just one of those dishes that you make because generations of family hostesses have insisted it's a turkey-pairing tradition.  Even the yummy secret family recipes are "meh" to me – mainly because it gets so sadly soggy in the center. Give me the crunchy bits!
Well, these leftover waffles are crunch-ified to the max, from corner to corner and nook to cranny — all while still being terrifically tender (but not soggy) in the center.  I was a little worried about my wild hair to make a savory waffle – 1) would the leftover stuffing redux work and 2) could I pass it off on the kids.
Yes, it worked, yes the family gobbled my waffles up! These brunch, breakfast, lunch and dinner waffles are basically idiot proof – just stir in chicken broth, a little poultry seasoning and eggs into cold stuffing, and heat up the waffle iron!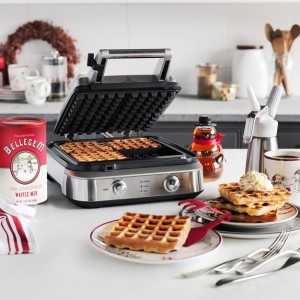 BTW, this Breville Smart Waffle Maker is one of the top items I'm kindly requesting from Santa. It has fabulous good looks and "Waffle IQ" which means it automatically sets and adjusts the cooking time based on the specifications of your batter.
The syrup is simply leftover cranberry sauces that has been deliciously doctored up with bourbon but you could also pair with a genuine maple syrup or just go the simple honey-butter route. 
My matriarchs may be groaning (or rolling over in their graves), but I now declare this is the way stuffing should be served all the time! That famous southern specialty, Chicken & Waffles, can't even compare to my Leftover Stuffing Waffles topped with slices of turkey breast.
Leftover Stuffing Waffles with Bourbon Cranberry Sauce Syrup Recipe
For the waffles:
1/3 to 2/3 cup chicken broth
1 tablespoon Instantly Fresh Poultry Blend
4 cups stuffing leftovers (any variety)
2 large eggs
For the syrup:
1 cup whole berry cranberry sauce
2 tablespoons water or cranberry juice
2 tablespoons bourbon
Heat waffle iron. Add poultry blend herbs to cold chicken broth and let sit for 1 to 2 minutes. Add cold or room temperature stuffing to mixing bowl. Add egg and pour in 1/3 cup of the chicken broth. Mix together until combined. If "batter" seems too thick, mix in more chicken broth mixture a few tablespoons at a time.
Place a little more than 1 cup of batter on waffle iron and cook according to manufacturer's directions – it should take approximately 8 to 10 minutes for waffles to get golden brown and crunchy on the outside. Remove waffle and repeat several times with remaining batter.
Meanwhile, make syrup but adding cranberry sauce, juice or water, bourbon, and corn syrup to small sauce pan and bring to low boil over medium heat. Lower heat and simmer for approximately 5 minutes. Top waffles with syrup, leftover turkey or other favorite toppings. Serves 4.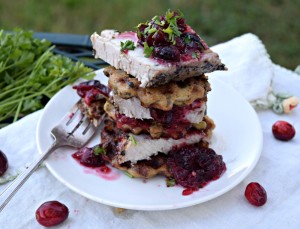 Oooh, is my turkey and stuffing waffle tower going to topple before I can eat it?!
So, got any plans for your Thanksgiving leftovers? What was your favorite dish this year? Did you run in a Turkey Trot? Please share in the comments below – XOXO, Jennifer