On the eve of a road trip, I get anxious about being cooped up in the car, whether it's just for hours on the road or 14. A little bit of claustrophobia combined with dread over what feels like a sedentary death sentence – I cannot tolerate locked knees, a cricked neck and what feels like roots growing from my butt into the bucket seat. Plus, I need to EAT and with my mind on auto-pilot, thoughts of snacking typically don't vanish until satisfied!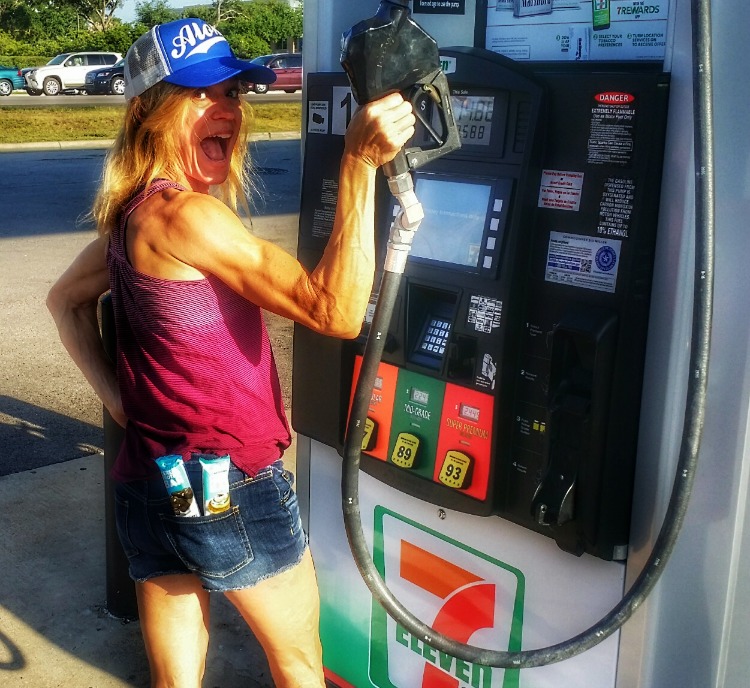 Bu typical gas station food is really not my thing, eating the junk food just makes me feel worse. But, whoohoo, I just found out that 7-Eleven can keep me fueled up in a healthier way — they sell one of my favorite protein items, Quest Cereal Bars! With only 110 calories, 12g protein and a much more nutritious ingredient profile than most convenience store snacks, I can keep my tank filled for the finish! Read on to find out more about Quest Cereal Bars, get my Road Trip Rules for People Who Can't Sit Still and enter a GIVEAWAY!
Most road trippers would say that the actual journey is part of the pleasure! However, for some, roads trips are just an uncomfortable means to an end, I mean LET'S JUST GET THERE ALREADY! If you fall in the later, my Road Trip Rules for People Who Can't Sit Still help workout the wiggles and make the miles less passive so that you can enjoy it all!
Take co-piloting seriously: If you can't move your body as you like, at least you can flex your brain at take a load of stress off the driver by monitoring Google maps, riffling through paper maps and watching for highway turn-offs, detours and enforcers of the law.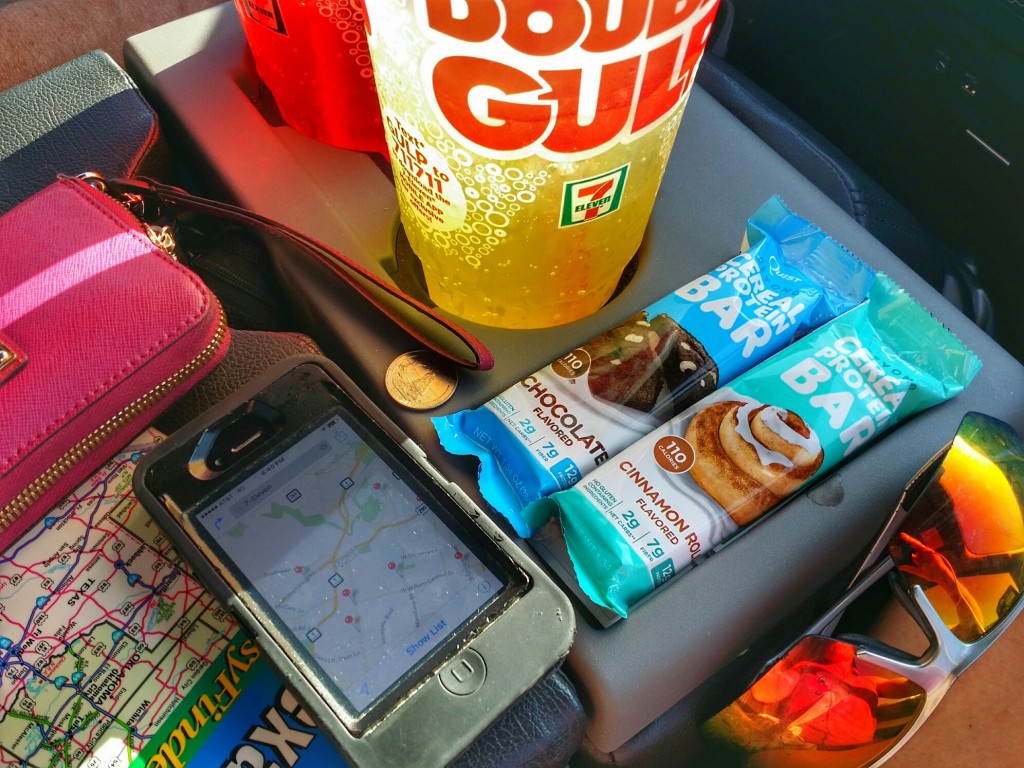 Seat dance like nobody's watching: Riding shotgun usually means you're in charge of the music, so pick some up-tempo songs and get that Ford in fiesta mode! While your rear end might be strapped into the seat, there's no law that says you can't tap your toes and wave your hands in the air like you just don't care! Let loose with all those savage moves you've been saving – this IS the perfect occasion!
Lead a bucket seat boot camp. Work out your wiggles and put the kibosh on claustrophobia with an impromptu isometric session. Pass the time in the passenger seat and get the backseat involved with a fun workout to strengthen muscles. Isometric exercises are perfect for the car because they need no equipment and can be done from a "still" position. Here are some ideas: Try squeezing your glutes for 10 seconds and releasing, for a challenge do this will pushing with straight arms off the seat. Recline seat back and partially pull up with core and hold until failure. Grab a small towel with both fists, arms extended, and pull opposing ends as hard as you can. Next do this while moving arms back and forth like a steering wheel. You get the idea – use your creativity to come up with more car exercise!
Add some sweat to your pit stops: Every time a car mate needs to take a restroom break, don't stay cooped up in the car. Jump out and find a grassy area (preferably one where dogs are not being relieved) and bust out jumping jacks, burpees, push-up . . . and cartwheels, if that feels appropriate!
Make every historical site mandatory. Assuming you're not in the biggest hurry, stop at all roadside landmarks and historical markers. Not only will you increasing your knowledge base of this great country, you'll also be increasing your heart rate as you get a chance to walk, jog and jump around.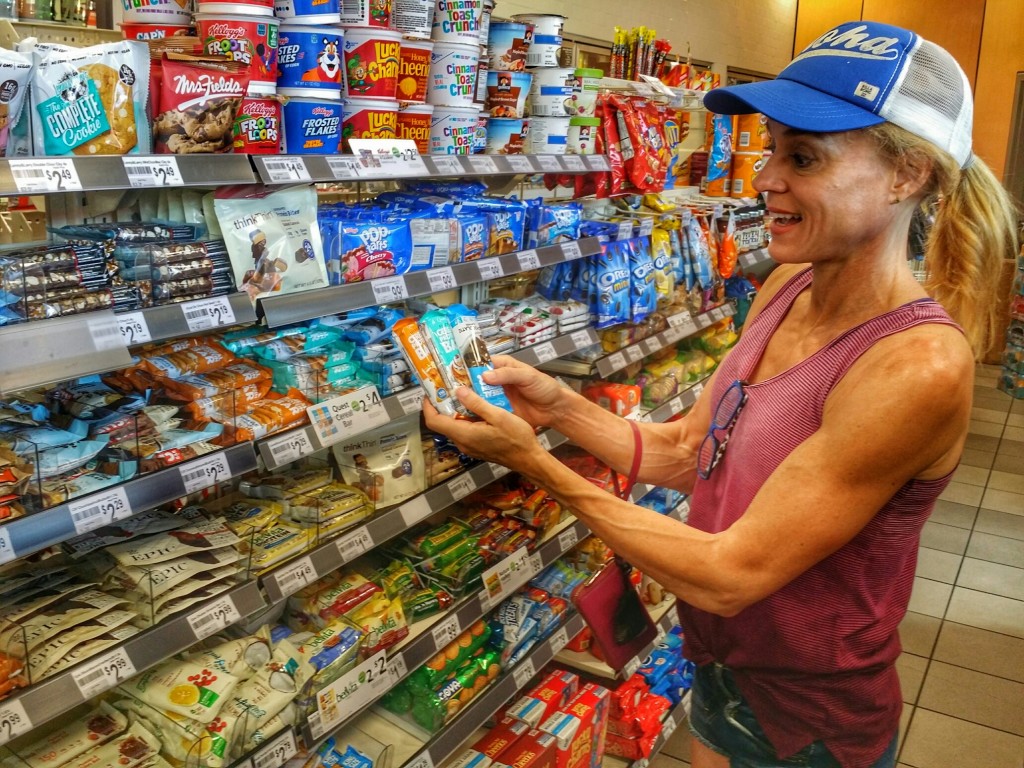 Assume snack acquisition duties: Not only another chance to get out of the car and move about, but you're likely burning off some calories being such an active passenger! Those not driving can take their eyes off the immediate road to scan the horizon for snacks and meals. Since I'm not a fan of junky, sugary snacks, I always have eyes peeled for a 7-11! This sounds contradictory to my fit foodie standards, but you'd be surprised at some of the healthier snacks they stock . . . like fresh fruit and protein bars! Quest Cereal Bars are a personal favorite – keep reading to find out more!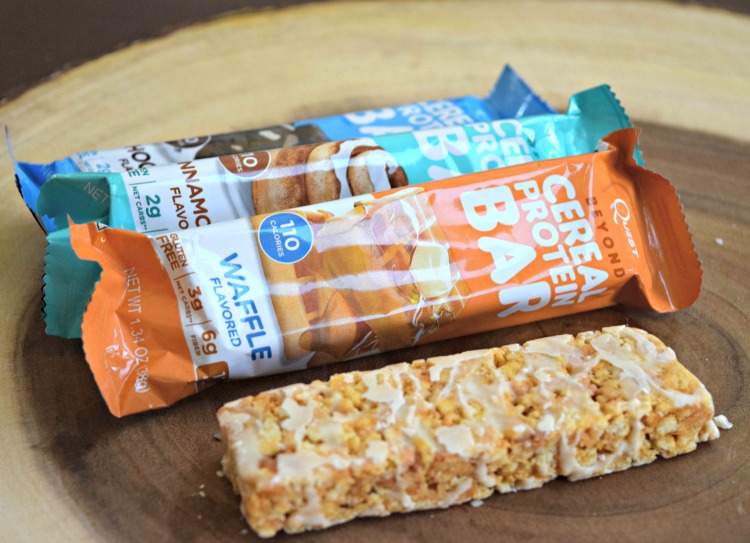 So, back to these Quest Cereal Bars. I about FREAKED out with happiness when I saw them in 7-11! I love me all the bars Quest makes and this new addition tastes just like a cereal bar (the kind my kids would beg me to buy when they were little) but with way more protein to curb my hunger and no traditional sugar (sweetened with natural Allulose, you can read my previous post here). Also, with 110 calories,12g protein, 2-3g net carbs and 6 -7g fiber each, these bars are the perfect, no-guilt nosh between meals . . . and finding them 24/7 in a 7-Eleven is a thing of beauty. With more than 60,000 locations in the world, I always know a 7-Eleven (and imminent Quest Cereal Bar score) will be showing up soon on my road trippin' radar.
Drop by a 7-Eleven any time of the day or night to grab a few Quest Cereal Bars as a satisfying and healthy alternative!
Also, as a motivator for you to try these Quest Cereal Bars, I'm also personally hosting a for a $25 Visa Gift Card so that one winner can load up on protein bars (or whatever)! To enter, follow the simple Rafflecopter instructions.