I'm going to keep this short and sweet (potatoes)! In addition to the Bourbon Cranberry Apricot Relish, one of my other contributions to the family's Thanksgiving feast was this delicious dish – Sweet Potato Skillet Stack with Sriracha Orange Sauce. So pretty to look at and easy to make – you use the same skillet to roast the potatoes and simmer down the sauce on the stove top. Slicing the potatoes into nearly paper-thin slices is the most tedious detail, but it's made much easier with a mandolin (watch your fingers) or food processor slicing attachment.
Sweet Potato Skillet Stack with Sriracha Orange Sauce Recipe
4 pounds sweet potatoes
3 tablespoons olive oil
2 tablespoons butter
sea salt to taste
4 ounces orange juice
2 tablespoons coconut sugar
1 teaspoon grated ginger root
2 teaspoons. sriracha
¼ cup chopped green onions, including green tops
2 tablespoons fresh parsley, chopped
1) Preheat oven to 375°. In small microwave-safe bowl, melt butter and then mix together with olive oil; set aside.
2) Peel sweet potatoes and, using a mandolin or sharp knife, slice crosswise into very thin slices (1/8" to 1/16").
3) Coat bottom and sides of 12-inch cast iron skillet with two tablespoons of the butter-oil mixture; reserve the rest. Arrange the sliced sweet potatoes in concentric stacked rings until the entire pan is filled. Sprinkle tops with sea salt.
4) Roast potatoes for approximately 1 hour and 15 minutes, or until the middle of the potatoes are tender and the tops begin to brown and crisp.  If potatoes were sliced on the thick side or packed very tightly, they may take longer to cook.  Remove from oven.
5) In small bowl, stir together orange juice, coconut sugar, ginger and sriracha sauce. Drizzle mixture over potatoes and bring to boil over medium-heat on stovetop.  Lower heat and continue to simmer for approximately 5 minutes or until orange juice mixture is reduced to a thicker state. Sprinkle tops of potatoes with green onions and parsley and serve warm.
Serves 8.
I have sweet potatoes coming out my ears! Due to the holidays, they've been on sale for 25 cents a pound at my grocery store. Needless to say, I've been picking up a couple pounds every day "just in case." Good thing I have a lot of favorite sweet potato recipes to finish off my stockpile. Check out all this yam-y yumminess: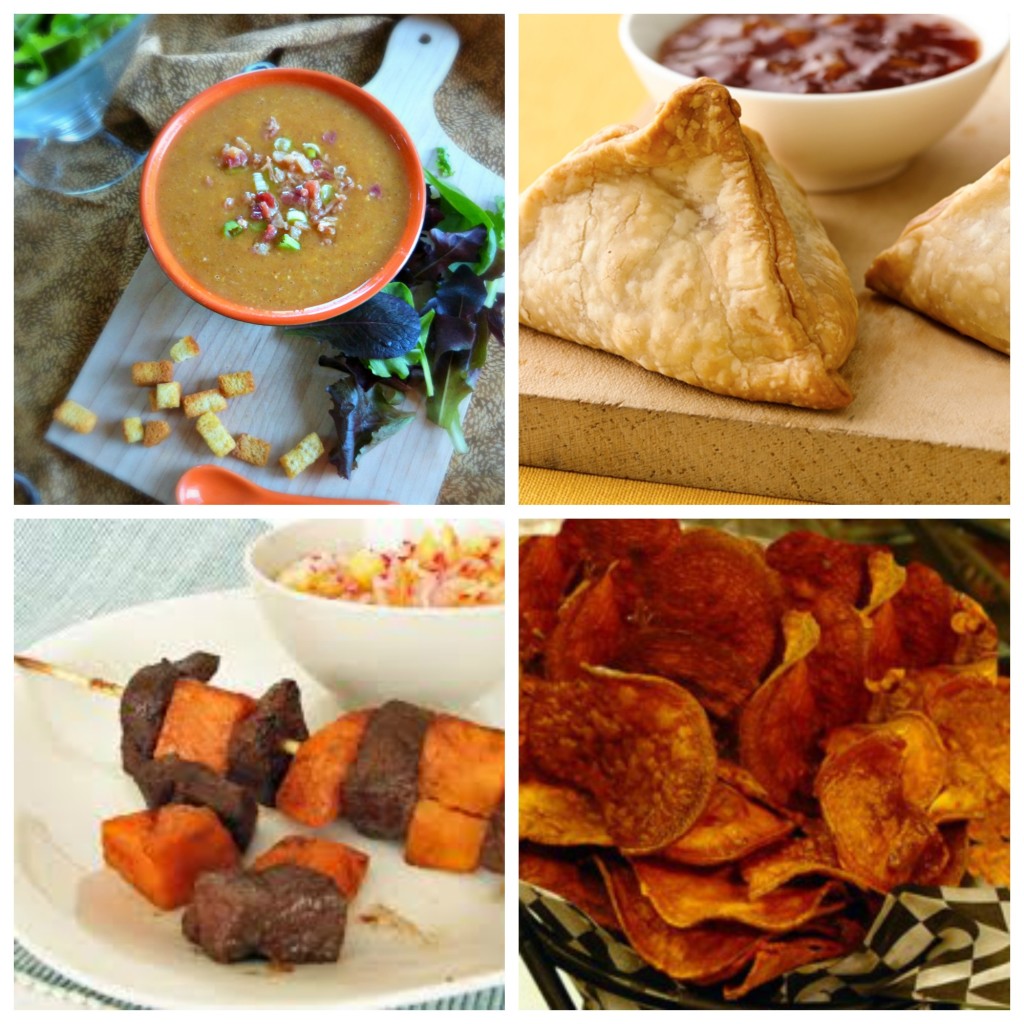 Southwester Sweet Potato & Chickpea Soup
Spicy Beef & Sweet Potato Samosas
Jamaican Beef & Sweet Potato Kebabs