Earlier in the Fall, I traveled to Chicago to visit with the Beef. It's What's for Dinner people and attend their #LiveWell event. While I mentioned this tasty trip a while back on the blog, all the (ahem) hard studying and sampling of lean beef distracted me from sharing one of my favorite parts of the trip – a recipe challenge!
Our blogging, beef-eating group gathered at The Chopping Block, a popular cooking school in the Windy City, and divided up into teams.  I was partnered up with the perfect cooking clique; we were truly "a cut above." With Amee, the CrossFitting, book-writing mama , from Amee's Savory Dish wielding bamboo skewers on one side and Shaina, also an author and epicure, from Food for my Family ready to whisk, there was no way we could lose this showdown. Oh, I missed the memo that this was not, in fact, a contest! However, trying to be creative under the time and ingredient constraints, thinking it was a cook-off, is what made it all the more fun!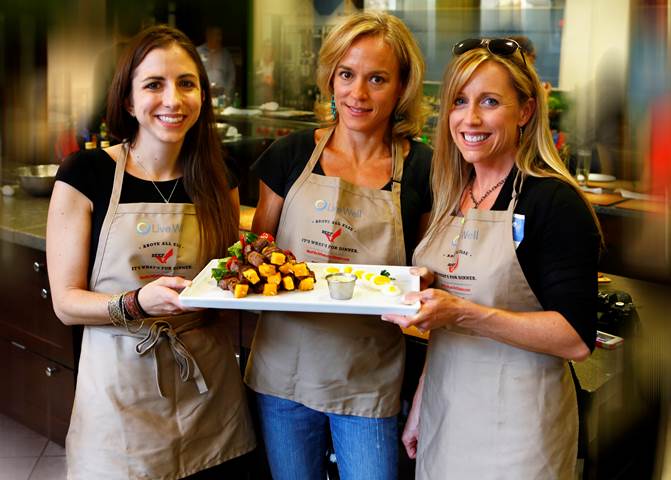 Our team was charged with making over a traditional recipe – Cobb Salad. This iconic entrée salad was only meant to be our inspiration; we could concoct anything we pleased as long as it was a healthy, quick fix. Oh yeah, and it had to include top sirloin steak (which by the way is one of the 29 lean cuts of beef, about 150 calories per cooked 3-ounce serving and under 6 grams of fat).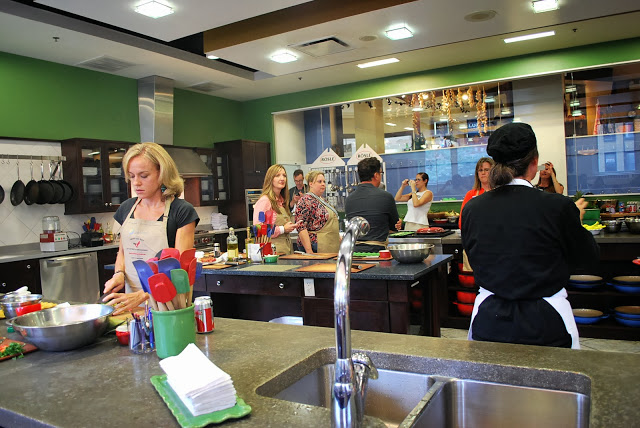 I use top sirloin all the time for the grill, especially kebab-making (check out these Mojo Beef Kebabs). The collective creative wheels didn't spin long with our wing-it-and-bring-it party of three. In a matter of minutes, Amee, Shaina and I were grabbing up fresh produce and supplies from the "ingredient bar" to make (drumroll, please) . . . . . Sirloin Cobb Kebabs!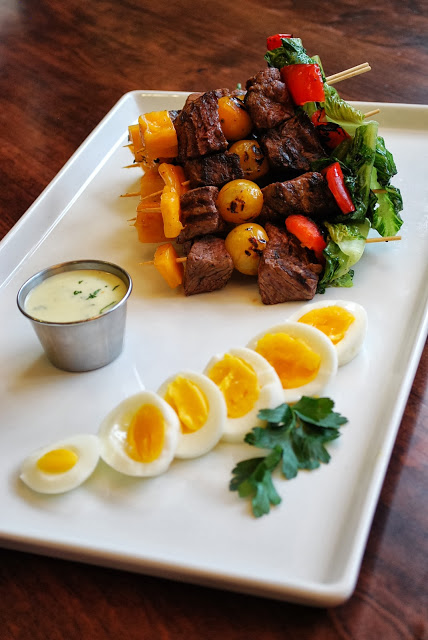 Sirloin Cobb Kebabs with Ranch Vinaigrette Dressing
 Ingredients for the kebabs:
1 ½ lbs top sirloin, cut into 2" bite size pieces
2 red peppers, cut into 2" size pieces
1 pint golden cherry tomatoes, keep whole
3-4 large romaine leaves, rinsed and patted dry
4 oz sharp cheddar cheese (block), cut into 2" chunks
Ingredients for the dressing:
1/3 cup light ranch dressing
1 lemon, juiced and zested
1 clove garlic, minced
1 tablespoon fresh parsley, minced
¼ cup extra virgin olive oil
Additional ingredients:
3 large eggs
Bamboo skewers
Sea salt and pepper to taste
Directions:
Prepare your medium boiled eggs (firm white and semi-firm yolk) by placing them into a small pot and cover with cold water.  Bring water to a full boil, then turn off heat and cover with a lid and set the timer for 6 minutes.  When the timer goes off, immediately place eggs in an ice bath to stop the cooking process while you prepare your other ingredients.
To prepare dressing, mix together the ranch dressing, lemon juice, lemon zest, garlic, and half of the fresh parsley. Slowly whisk in the olive oil. Top with remaining parsley before serving.
For the kebabs, soak wooden skewers in water to prepare them for the grill for 10 minutes (or use metal skewers).  Toss steak cubes, peppers, cherry tomatoes and romaine in a little olive oil and season lightly with sea salt and fresh cracked pepper.  Place steak cubes, peppers and cherry tomatoes on a skewer, leaving room for the romaine and cheese on the end (but do not add them yet).
Grill kebabs over medium-high heat for 2-3 minutes per side (so steak is medium rare).   Lay romaine leaves onto the grill and cook quickly until each side is starting to wilt and ends are getting brown, approximately 1 minute per side.  Remove from grill, chop into large pieces for skewering and set aside.
In a grill pan, flash cook the cheese until it just gets warm and soft enough to skewer.  Now add the romaine and cheese to the kebabs.  Peel and slice your eggs and arrange on a platter with the kebabs.  Garnish with fresh parsley and serve with the dressing on the side for dipping.
Serves 4 to 6.