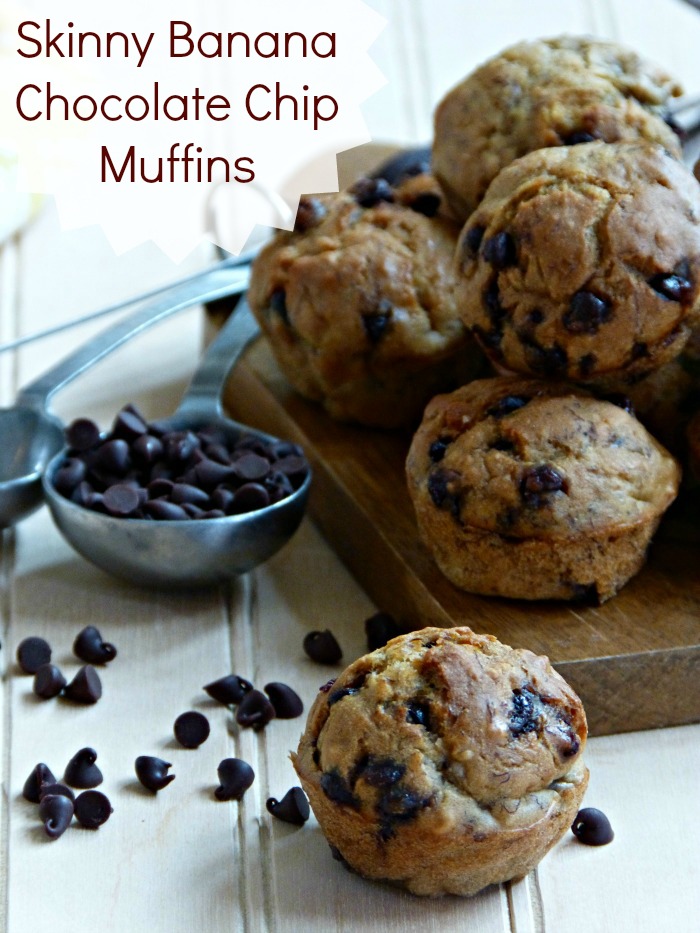 Fall baking season is upon us! While I strive to eat nutritiously, I can still enjoy a little lovin' from the oven thanks to a few healthy recipe swaps.  My recipe for Skinny Banana Chocolate Chip Muffins will satisfy any sweet tooth but without nearly as much sugar as bakery shop treats. Because these healthy muffins are sweetened with just a bit of Stevia and the natural sugars found in bananas, the only real naughtiness is in the chocolate chips. But then, who ever said chocolate is bad for you? Quite the contrary with the company I keep.  Also, to keep these muffins light, I omitted oil for Greek yogurt (extra protein) and unsweetened applesauce.
Tips, I like to use "mini" chocolate chips because they spread out better in the batter and also allow fewer to be used with still the same indulgent effect.  Also, you'll want your bananas to be as ripe as possible – I'm talking so ripe that the banana peel is black. When the bananas on my counter get to this state of super sweetness, I just peel them and toss them in the freezer for future baking and smoothie recipes. Another tip, if you're using paper liners, set the liner in the muffin tins and then spray the paper with a mist of baking spray – the muffins will fall out effortlessly when ready to eat.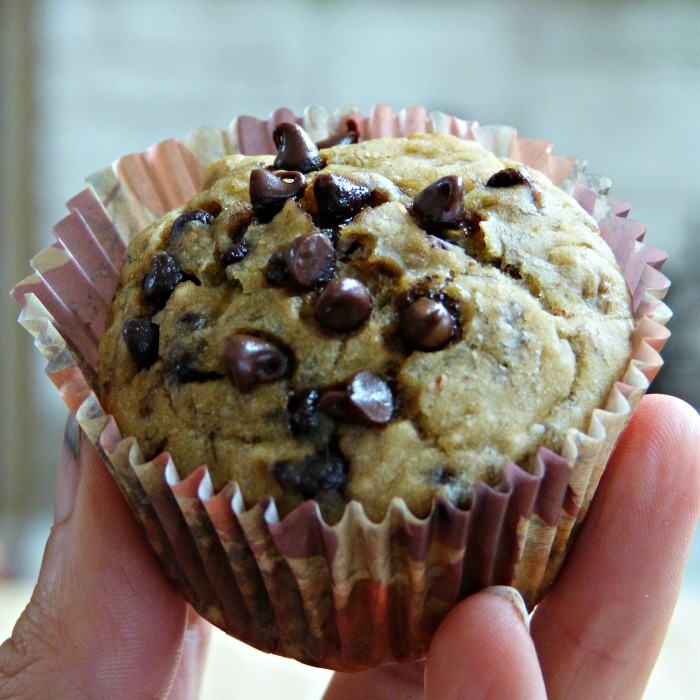 Skinny Banana Chocolate Chip Muffin Recipe
4 very ripe bananas, mashed
¾ cup unsweetened applesauce
¾ cup plain Greek yogurt (6-oz carton)
¼ cup milk of choice
10 packets Stevia (or 1 tsp. liquid Stevia)
 1 teaspoon vanilla
½ cup egg whites
1 teaspoon salt
2 teaspoons baking soda
1 teaspoon baking powder
1 ½ cups all-purpose flour
1 ½ cups whole wheat flour
1 cup mini chocolate chips*
*Save extra chocolate chips in bag to sprinkle on top before baking, if desired.
Preheat oven to 350F degrees.
In large bowl, mash together bananas. Mix in applesauce, Greek yogurt, milk, stevia vanilla and egg whites until combined.
In separate bowl, stir together salt, baking soda, baking powder, all-purpose flour, and whole wheat flour.
Beat dry ingredients into wet ingredients a little at a time.  Once combined, pour in chocolate chips and stir in by hand.
Spay muffin tins with baking spray or use paper liners. Fill muffin cups 2/3s the way up and sprinkle top of batter with a few extra mini chocolate chips, if desired.
Bake for 20 – 25 minutes or until tops are turning lightly golden brown and center is set with prodded with a toothpick. If using mini muffin pans, reduce baking time 5 – 7 minutes.
Makes 2 dozen.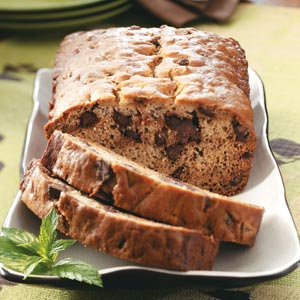 If this recipe appeals to you, you'll probably like my "Better For You" Chocolate Chip Banana Bread, a delicious take on everyone's favorite quick bread.  I had this one published a while back in Country Woman magazine.