Just for full disclosure, I was provided the  Designer Whey and Smari products talked about in this post as part of a campaign for #fitfluential. Of course, the recipe and opinions are all my own!
What SUPER things are you doing today? I'm eating a homemade granola made with some powerhouse SUPERFOOD ingredients. SUPER things are going to happen today, like maybe some more partner headstands!  Anyway, after you laugh at the picture, read on to find out the scoop on my breakfast (and get the recipe).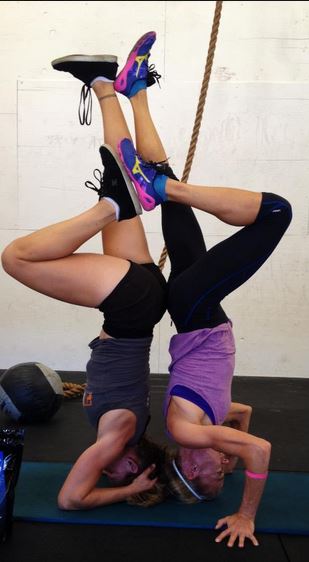 'Tis the season for pumpkin and I'm posting my last creation for the month using this big orange gourd . . . maybe!  Actually, October 26th is National Pumpkin Day, so my timing couldn't be better to bring you this recipe for Smashing Pumpkin Protein Granola.  By the way, if you want to see my smashing of pumpkin recipes, just hop down to the bottom of the post.
I have to admit, I've never made granola before but it was the easiest thing ever! And, the way my husband and kids scarf it down, I am super excited that I'll be saving a bit of money making it myself and can have more control over the ingredients.  Rather than leaving it up to the cereal-making industry, I can decide the type and how much sweetener to use (like honey, agave or maple syrup) and exactly what types of mix-ins will fuel my body best. Since I like more protein with my breakfast than most store-bought granolas offer, incorporating a protein powder into the mix was my number one goal with this great granola experiment.
Designer Whey recently sent me a box packed with their awesome whey-based products to test out and the Almond Vanilla 100% Whey Premium Protein Powder seemed like a deliciously complementary flavor for my granola undertaking! You know, protein powder like Designer Whey isn't just for making smoothies (although, it's a darn good use)!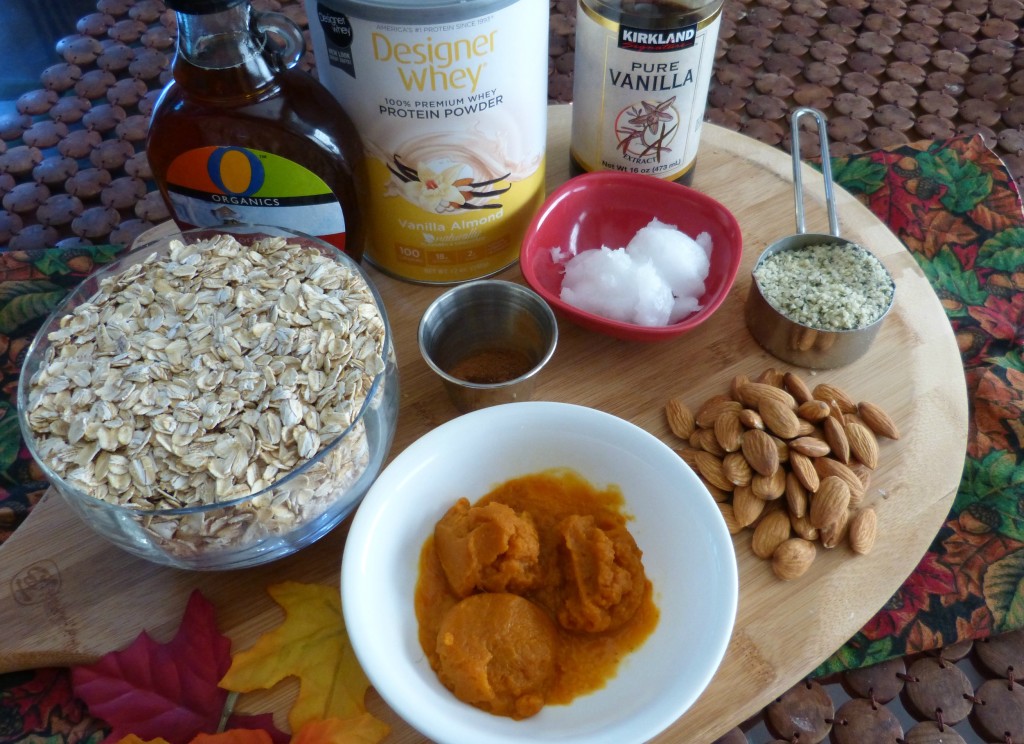 For my granola, I added a generous amount of nutritionally dense mix-ins including golden raisins (love 'em), chopped almonds, pumpkin puree and shelled hemp seeds.I don't think I've ever explained much about hemp seed on the blog. Shelled hemp seed is a superfood that contains all of the essential amino acids – this makes it a complete protein source and good option for vegetarians.  Shelled hemp seed is comprised of 33% protein; in addition, hemp is also a good source of essential fatty acids (EFAs), magnesium, iron, potassium, fiber, and loads of antioxidants. Hemp adds a nice nutty flavor to your food; some liken it to pine nuts. Experts suggest that when cooking with hemp; keep the temperature at 325 F degrees or below to preserve the integrity of the EFAs.
So, back to the Smashing Pumpkin Protein Granola.  It turned out fabulous and adding the protein powder into the recipe didn't change the texture at all. I was swatting away hands all day until I could take the photos, and when I finally gave the go-ahead to munch – I kid you not – the batch was polished off on the spot.
I had to make a second batch to pair with Smari Icelandic Yogurt, a really super product that Designer Whey introduced me to. It sounded elusive, exotic and hard-to-find, but you can get at any Whole Foods Market.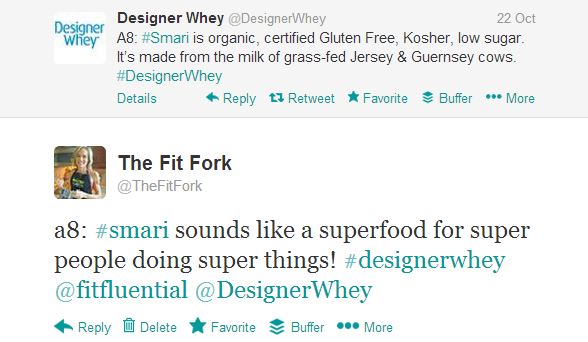 Smari, is a thick and creamy, organic Icelandic-style yogurt available in four flavors – pure (nothing plain about it), vanilla, blueberry and strawberry. As a protein lover, what caught my eye about this yogurt is that it has more protein than most Greek yogurts. I inquired how this could be and was told that it takes 4 cups of milk to make 1 cup of yogurt versus Greek yogurt which uses 2 to 3 cups.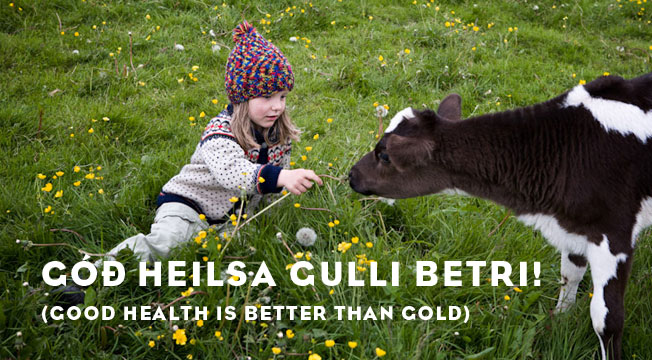 If you are a label reader, other good things to know – Smari uses organic cane sugar, uses Oregon fruit with no preservatives, is made with milk from grass-fed cows that live on small family farms, and uses natural tapioca starch as a thickening agent. It's also gluten free and kosher and has 20 grams of protein, 0% fat and provides 20% DV of calcium per 6-ounce serving (pure flavor). Oh, and it has a very recycle-friendly carton.  Whoot, thumbs up!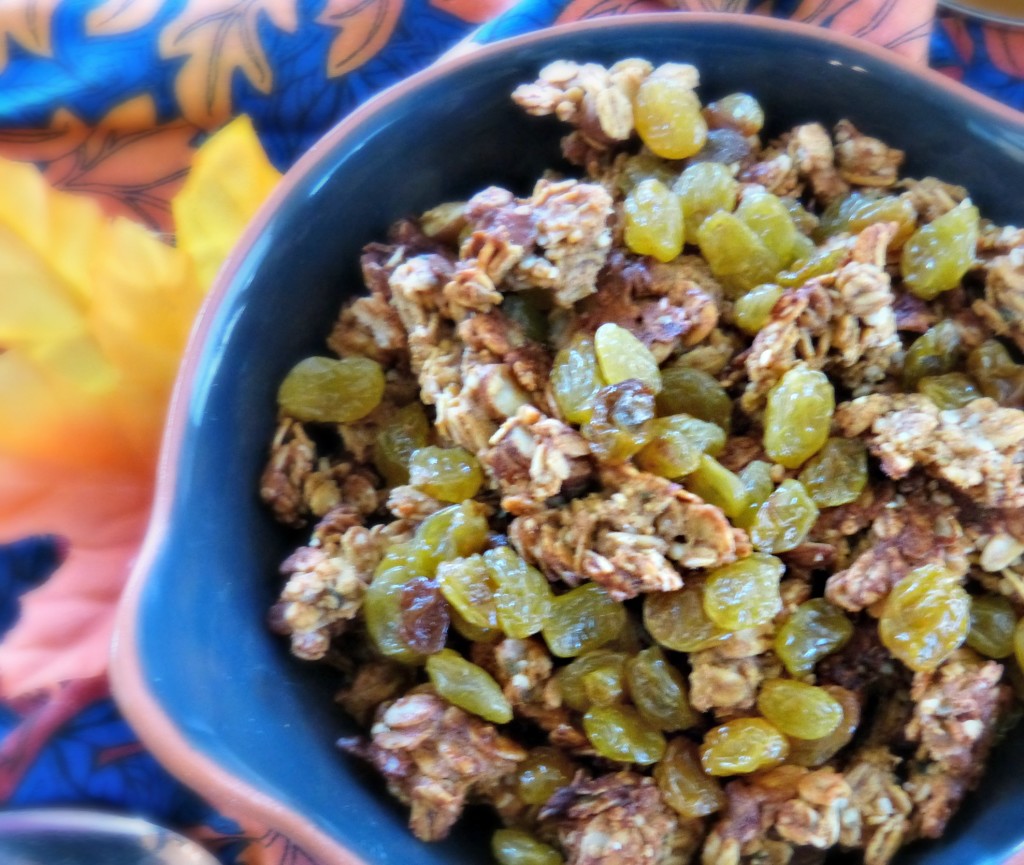 Smashing Pumpkin Protein Granola Recipe
3 cups old-fashioned rolled oats (Gluten-Free, if needed)
1/2 cup natural almonds, chopped
1/3 cup shelled hemp seed
2 teaspoons ground cinnamon
1/2 teaspoon ground nutmeg
½ teaspoon ground cloves
3 tablespoons coconut oil
1/3 cup pure maple syrup
½ cup pumpkin puree
2 tablespoons water
2/3 cup protein powder ( I used Designer Whey Vanilla Almond )
2 teaspoons vanilla extract
½ cup golden raisins
Preheat oven to 325F. Line a large baking sheet with parchment paper.
Place oats, almonds, hemp seed, cinnamon, nutmeg and cloves in a large bowl; mix together.
Place the coconut oil, syrup, pumpkin, water and protein powder in a medium saucepan. Turn heat to medium and whisk until mixture is smooth, thick and creamy and just beginning to bubble. Remove from heat and whisk in vanilla.
Pour oat mixture into pot, stirring to combine and coat. Pour mixture out evenly on baking sheet lined with parchment paper or silpat.
Bake in preheated oven for approximately  45 minutes, stirring once or twice. If granola still seems moist, keep baking in 5 minute increments until dry. Remove from oven and let cool completely on sheet. Crumble up in bowl and stir in raisins.
Store cooled granola in an airtight container for up to 2 weeks, or freeze for up to 2 months.
 More Pumpkin Recipes (in case you missed them!):