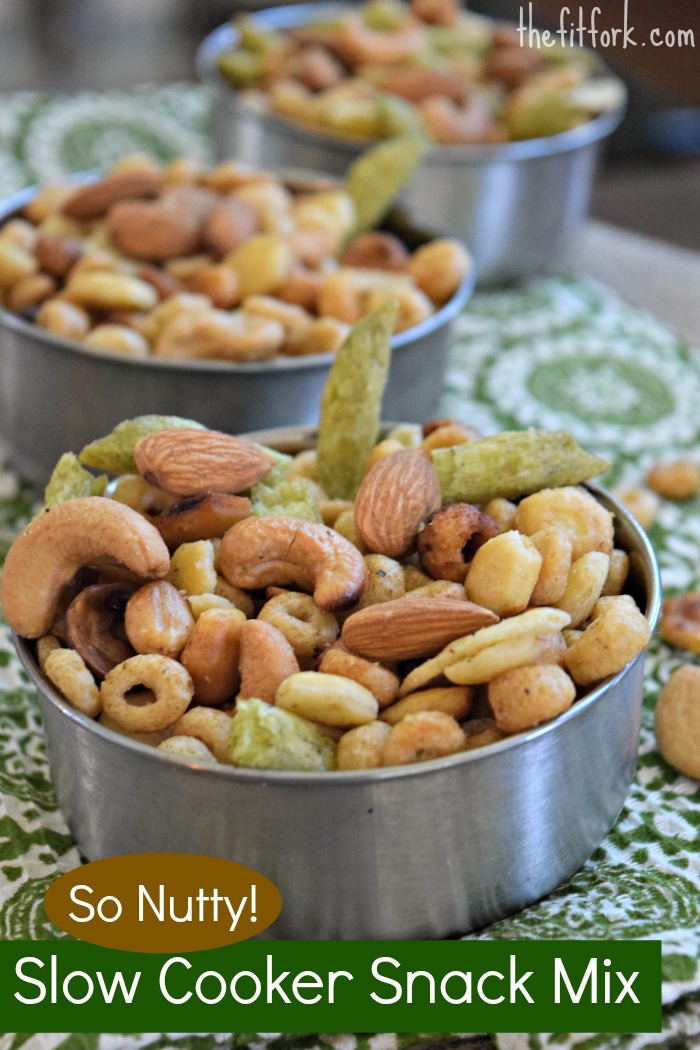 Road tripping it today, needed something yummy for the eldest teenage son and his grandfather to nibble on as we drive off to a college visit. Snack mix, Chex mix, party mix . . . .or, whatever you like to call it is always a big hit with the guys at my house. If seen entire bags of these crunchy munchies devoured for after school snacks, late night study breaks and during football games.
Making this perennial party mix at home is always better, in my opinion, because the ingredients can be controlled. For example, I believe butter is better for you than the vegetable oils in the name brand mix. And, I like to add a lot of nuts – the more the better, it adds that protein you need for longer-lasting energy. Butter, nuts, salt and such – remember, this isn't a "diet" food, but you can enjoy it in moderation.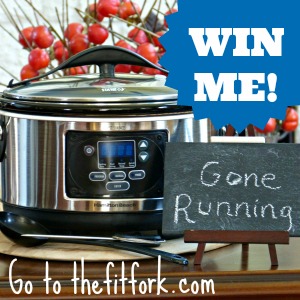 Imagine my surprise to find out that you can make snack mix in the slow cooker?! Initially I didn't believe it would, but I whipped up my own recipe for "So Nutty" Slow Cooker Snack Mix and it worked, it totally worked!  This is a good time to remind you that I'm giving away a slow cooker —  check out the giveaway post and the recipe for Honey Balsamic Slow Cooker Chicken!
Okay, so a few comments on the snack mix recipe – the biggest "must tell" is that you can really swap out any ingredient for your favorite cereal, nut or other mix-in. It's just important to get the ratios right for the butter mixture to be enough  – you'll need about 8 cups of total volume made up of dry crunchy things and nuts. I used loads of nuts AND  Love Grown Food's Power Os – that cereal is made partially out of a bean blend (navy, lentil and garbanzo), so you get even more protein! And, I also tossed in some Harvest Snaps Snapea Crisps!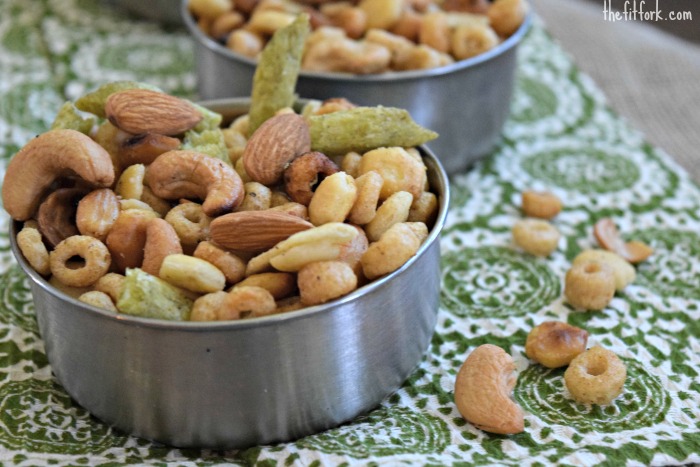 "So Nutty" Slow Cooker Snack Mix Recipe
3 cups cereal (I used Love Grown Food's Power Os)
2 cups small crackers like oyster, Goldfish, Mini Ritz, or pretzels
3 cups mixed nuts (the more types, the better!)
½ cup butter (or oil of choice)
1 tablespoon Worcestershire sauce
1 teaspoon Cavender's All-Purpose Greek Seasoning (or your favorite)
Mix together cereal, crackers and mixed nuts in 4-qt or larger slow cooker.
Melt butter in small saucepan over medium heat. Whisk in Worcestershire sauce and seasoning.
Pour butter mixture over cereal; stir well to evenly coat.
Cook uncovered on high setting for about 60 minutes, stirring frequently. Turn slow cooker to low setting and cook, stirring frequently, for an additional 30 – 45 minutes or until cereal is crisping. Remember to stir!
Remove party mix from slow cooker and cool on baking sheet. Store in zip-top bag.
Makes 16 one-half cup servings.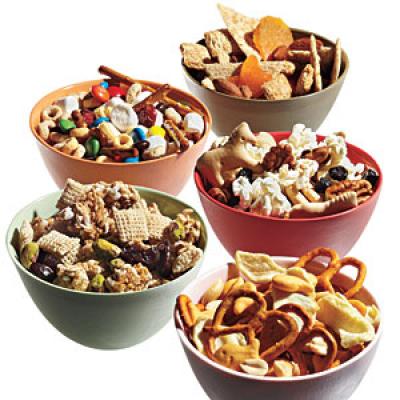 If you are looking for more snack mix recipes, Cooking Light has a selection of both sweet and savory snack mixes that are big in taste, low in calories and high in fiber.
What is your favorite ingredient to put into a snack mix?