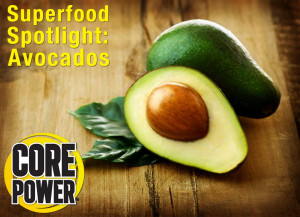 Head over to Core Power to check out my post on Guacasuperfood! Five Reasons Avocados are a Super-Fuel for Athletes.  Of course, I adore guacamole, but this nutrient-dense fruit also makes a rich and creamy addition to smoothies or spread on sammies – it's also a heart-healthy swap for some of the fats used in baking!   Avocados are also a good source of fiber and protein and pack an array of vitamins, minerals and antioxidants – find out exactly how they can help you as a runner, triathlete, CrossFitter, mountain climber, yogi, gymnast or other active person at CorePower.com.
Meanwhile, dig into my recipe for these super easy, super yummy Southwestern Shrimp & Avocado Starters –they are "starters" because once you start eating, you won't be able to stop. That's okay – they're good for you!  These amazing appetizers will be the hit of your holiday party spread — you could also present them in disposable condiment cups if you don't have enough tiny bowls or would prefer to avoid clean-up.
Southwestern Shrimp & Avocado Starters Recipe
 1 large avocado
1 tablespoon fresh lime juice
1 ½ teaspoons garlic salt
1/3 cup mixture of roasted corn with red peppers*
18 roasted or grilled shrimp*
18 unbroken tortilla chips
Garnish: cilantro sprigs
In small bowl, mash together avocado, lime juice and garlic salt. Spoon about 1 heaping tablespoon of this guacamole mash into 1 ounce condiment cups. Sprinkle a bit of the corn mixture to top of avocado and then top with one shrimp, tail side up. Set a single tortilla chip behind this for scooping out the remaining guacamole once the shrimp is eaten. Repeat steps for remaining appetizers. Makes 18 appetizers.
*I used thawed Green Giant Honey Roasted Corn in the steamer bag and grilled shrimp from the take-away food section of the market for convenience.  
If you're looking for other small bites for your soiree, these Holiday Appetizers from Cooking Light make a statement and are sure to keep the conversation going!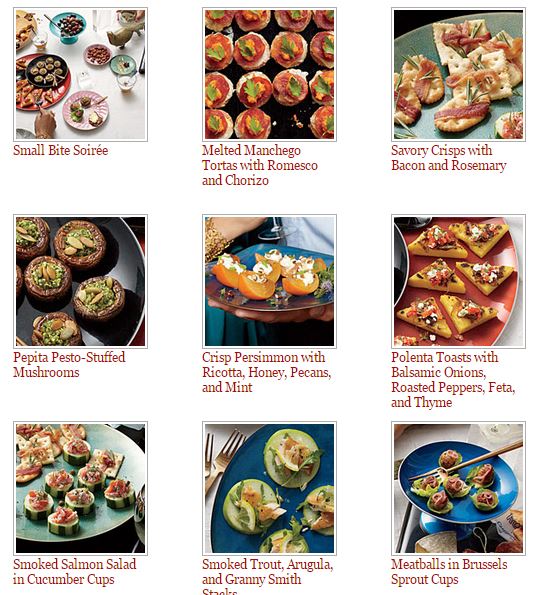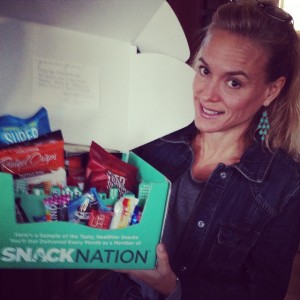 I also want to let you know about a great service that delivers healthy snacks to your home or office – Snack Nation.  My box couldn't have arrived at a more perfect time, as I was about to gnaw my arm off in hunger desperation. I tore into the box and it was brimming with sensible snacks including long-time loves (Quest Bars, Krave Jerky and Pirate Booty) and some new favorites (Bare Fruit and Rip Van Waffles).  Perhaps what I appreciated more than the snacks, was the fact that this company gives back to end world hunger through their HUMAN donation program – each delivery is matched by a one month's supply of nutrient packs delivered globally to people facing malnutrition.  If you're looking for a unique holiday gift (and one that's also healthy, tasteful and socially conscious), you really need to check out this fantastic home snack delivery service – plans start out at just under $30 a month and you can sign up for a free trial.
So, tell me, how many AVOCADOS do you eat per week?
What is your favorite healthy packaged snack food?