Burpees.   People love to hate them, although I personally don't think they're all that bad. Except maybe I don't love them so much the middle of an obstacle race when my arms and legs are already wobbly, stickers are piercing my palms and I'm coming face to face with cow patties.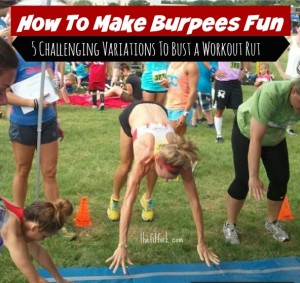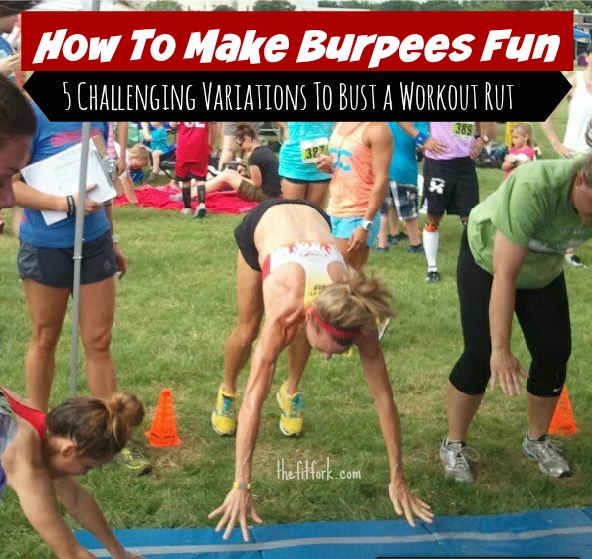 But, in a pristine situation, burpees have been a pretty good fitness friend to me, they are a simple, no-equipment needed way to get a full-body workout plus a little cardio (okay, mabye a lot of cardio).
Plus, there are a million variations as I rounded up last year on my post on How to Make Burpees More Fun – Did I Really Just Say That?
But in the Spartan Race, they don't want to see the variations. And that's good, because who has any bounce left for fancy stuff?!  In fact, I've been revisiting the rules on Spartan Race burpees (30 burpees required as a punishment for failing an obstacle) because, at my last race, I (gasp) received a 3-minute penalty added to my finish line time. Now, if you're running in the open, you don't have anyone judging your burpees, it's honor system. But, the elite heat is suffering under the scrutiny of video cameras and clipboard bearing field officials.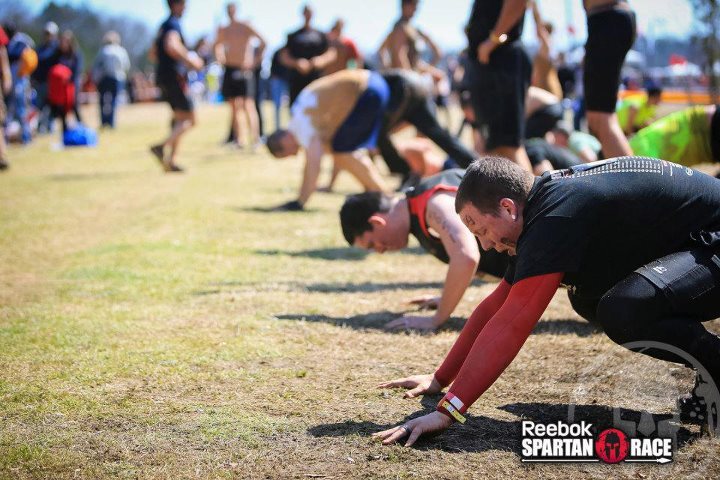 Before my last Spartan Sprint, I breezed through the burpee details in the Standard Obstacle Specific Instructions:
Obstacles may have a "Burpee Zone or Burpee Area". Athletes are required to complete their penalty burpees within the designated zone or area, as burpees are monitored by Course Officials and/ or video cameras. Course officials will review video to ensure proper form is used and the athlete has completed the burpee penalty. . . .Camera review can change the outcome of the race, and results are not final until camera review and field officials have approved the results and assessed penalties
Penalty for Obstacle Failure: – 30 Burpees (chest must hit the ground, feet must leave the ground)
So, I do remember a few times when I though "hmmm, this manual says nowhere hands must be thrown in the air when feet leave the ground." But, at one burpee zone, I decided to omit the overhead hand throw to conserve energy. This omission caused a field official to reprimand me . . .  who argues in a situation like this, so I just started back to throwing hands overhead and doing the hokey-pokey from hell.
If I'd had anything left to give, I'da busted out "Put Your Hands Up, Put Your Mother Effin' Hands Up" covered by a gazillion different rappers.
So, when the initial finish line results and final results were exactly 3 minutes apart, I knew something was up. It was too late to challenge, I was already home . . . plus, I want to be completely legit, flawless and clean, if I messed up, then I deserved the penalty. I know I did ENOUGH burpees, I can count. I just wish I would have known EXACTLY what was expected so this would have never happened in the first place. When you know better, you do better. I did burpees as described in the obstacle manual  (which is Chest to Ground – Feet Leave Ground). Search the web, so much controversy on the topic, even on the Spartan Race site (see the Great Burpee Debate)!
I should have watched this video which shows the hands going in the air, although he doesn't mention this step as every other is noted.
And found this after searching the Spartan Race site for "burpees," I found this article called THE PENALTY AND THE PAIN: BUCK FURPEES. It describes burpees with the hands overhead. This should be in the Standard Obstacle Specific Instructions, please – thank you very much.
Chest to deck.  When you drop to the ground, you must execute a full push up with your chest touching the ground.
Press out of the push-up jumping your legs underneath your body so that you are in a squatted position.
Stand up, extending the hips, and jump off the ground with hands overhead.
Then after more searching around, I found additional information that elite racers may be penalized 30 seconds per incorrect burpee, up to 10. Then disqualification. It's subjective still, in my opinion, and you have obviously are on someone's radar if they are scrutinizing your burpees.
So, my takeaway for the next race. Don't fail an obstacle, don't get stuck with burpees.  And, if that's not possible, do a bonus burpee on top of the 30 reps just to show trustworthy toughness! Aroo!
No sour grapes with Spartan Race in ANY WAY whatsoever. In fact, I love them for challenging me so significantly at this stage of my life. However, I just wanted to clarify some of this burpee stuff and keep any of you from suffering the wrath of not knowing.
Other timely Spartan Race stuff you need to know: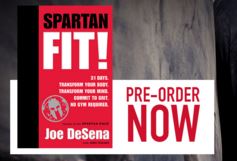 I also wanted to remind you about Spartan Race founder and best-selling author, Joe DeSena's new book, Spartan Fit. It's the go-to tome of training for newbies and veterans alike or just help on how to get super fit in 31 days, without a gym or weights. You also learn how to build your fitness from one race to the next, get nutrition advice and will be motivated by stories of inspiring Spartans. Pre-order now, it ships August 30, 2016.
And, don't forget your spear throwing practice – I've got the tutorial on How to Make Your Own Spartan Spear in 10 minutes, for $10.
Register for a Spartan Race, from Sprint, Super or Beast to one of the more team-worky endurance events like Hurricane Heat or Agog and save 10% at checkout with the code SPARTANBLOGGER.
Enter my giveaway for a FREE SPARTAN REGISTRATION. Winner will receive one-time use code good for any Open Heat (non-confirmed start time) in any Spartan Race in the Continental US. Just follow the Rafflecopter instructions below.
This post and giveaway were sponsored by Spartan Race, all opinions, advice and enthusiasm are all my own.