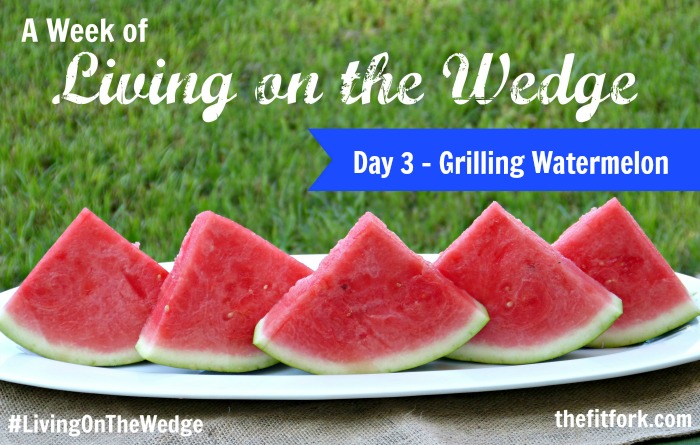 During the summer, don't knock on my front door during the dinner hour – just come on through the back gate! If you were an actual neighbor, the amazing aromas wafting over the fence would serve as your not-so-formal invitation to come join me for some fantastic food ready to be pulled off a sizzling grill. Tonight I'm making a mouthwatering meal that is as healthy as it is vibrantly hued – Grilled Watermelon Shrimp Kebabs with Sweet Spicy Glaze.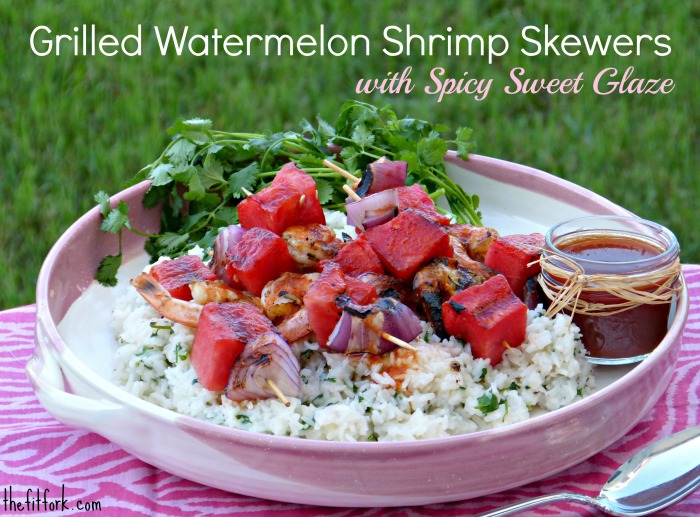 Grilling is my go-to way to prepare healthy recipes for my family and friends. The focus on lean proteins and fresh produce eliminates any need for buttery sauces, breadings and other diet-busters. You'd be surprised at how many foods are great on the grates – fruit is one of my favorite foods to grill! A good sear from the grill caramelizes the natural sugars found in fruit, taking the flavor experience to a "whole-nutha" level. Trust me, the watermelon chunks are insanely good on these fire-kissed kebabs! Yes, you CAN grill watermelon!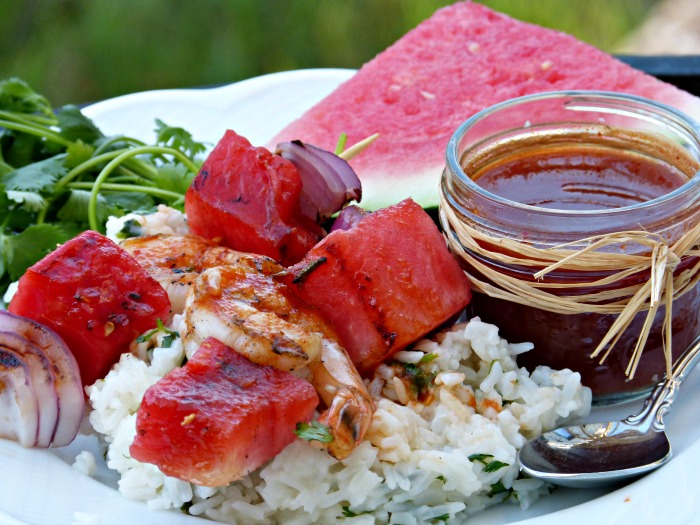 Grilled Watermelon Shrimp Kebabs with Sweet Spicy Glaze Recipe
6 cups 1" watermelon cubes (divided)
1 tablespoon red chili sauce (like Sriracha)
1 tablespoon honey
1 tablespoon soy sauce
1 teaspoon minced garlic
1 pound peeled and deveined jumbo shrimp, tails intact
1 large red onion, cut into 1" chunks
Sea salt & coarse black pepper, to taste
Garnish: fresh cilantro
In a blender, add 2 cups watermelon, honey, soy sauce, minced garlic and any watermelon juice that has pooled in the bowl of your watermelon prep bowl (or substitute a tablespoon of water to get blender going). Puree ingredients until smooth.
Transfer watermelon mixture to small sauce pan and bring to a boil. Reduce heat and simmer on low for approximately 15 minutes, or until mixture has reduced to about ½ remaining. Set aside.
Meanwhile, thread raw shrimp, onion pieces and remaining watermelon cubes onto four 12" metal or soaked bamboo skewers, alternating ingredients (may substitute eight 6" skewers). Season with salt and pepper.
Heat grill or stove-top grill pan to 400 F degrees. Place skewers on grill and cook for approximately 3 – 4 minutes per side, flipping once. Near the end of grilling, use a silicon brush to glaze skewers with the sauce. Remove from grill once shrimp is cooked through and no longer translucent. Watermelon and onions should also have some nice grate marks.
Drizzle with reserved sauce and serve alone, over cilantro rice (pictured) a salad or your choice of side. Serves 4.
Cooks tip:  Double the sauce recipe and save the leftovers in the refrigerator (up to a week) for a salad dressing or to jazz up a milder fish like tilapia.
If this grilled watermelon recipe appeals to you, you'll also love my Spicy Sesame Salmon on Seared Watermelon.
I also love this idea for Flash Grilled Watermelon Cheddar Burgers from Watermelon.org that replaces a juicy grilled watermelon wedge for the tomato slice. It's a wonderful way to load up on lycopene. Although tomatoes are famous for having an abundance of this powerful antioxidant, bet you didn't know that watermelon actually has the most concentrated levels of any fruit or veggie!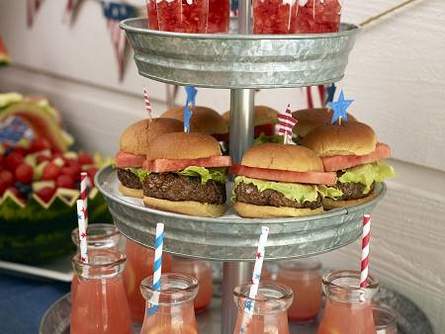 If you have a watermelon recipe or tip to share, please post it in the comments. Or, better yet, join my #LivingOnTheWedge Pinterest board.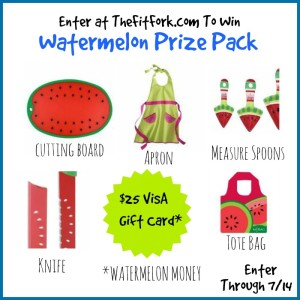 Please come back to visit EVERY DAY this week as I talk about all things deliciously and nutritiously watermelon and don't forget to enter the giveaway for a great Watermelon Prize Pack. 
The National Watermelon Promotion Board is providing me with compensation to share my love of watermelon. However, the opinions and content (unless otherwise noted) shared are my own and NWPB did not tell me what to say or how to say it.
.