Everything seems to finally be coming up spring! Gardens are growing and offering up the first bounties of the season. I plan to be down at the local farmer's market every weekend decked out in my sandals and sun hat – yes, you guessed it, I'm a warm weather-loving girl. Oh my goodness, the fruits and vegetables of this time of year take my breath away – the amazingly sweet berries, the mild spring onions, crunchy cucumbers and delicate baby greens. Ahhhh!
Usually, I'm pretty creative about pulling together a meal out of what I already have on hand in the fridge and pantry. But somehow, when I see the abundance of fresh fruits and vegetables at the market, I sometimes get overwhelmed by the unlimited possibilities for my dinner table. That's why I love Foodie Recipes; it's a virtual cookbook full of recipes that I can take on the go. When my head starts spinning and I don't know where to start, I can open up this app on my iPhone or iPad to find the perfect healthy recipe complete with gorgeous photos, clear instructions, and preparation and cook times. Yes, I'm the fly-by-the-seat of her pants home chef who plans her menu while pushing a cart or finishing a workout at the gym – thank goodness I now have "an app for that!"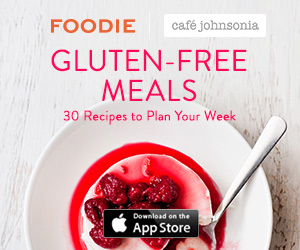 It's really neat how the format of the Foodie Recipes app reads just like a traditional cookbook, but with much more convenience. Every month, a new batch of food-editor curated recipes are uploaded in "editions" that fit the season or a theme – for example, past editions have included "Easy as Pie," "Dinners for Two," and "Holiday Sweets."  One of my favorite editions is "Gluten-Free Meals;" it features a seven day meal plan for folks who have allergies, are intolerant or just want to avoid foods with gluten. All 30 recipes in this "Gluten-Free Meals" edition were created by Café Johnsonia and organized so your every sense will be delighted from Meatless Monday through Sunday Supper (with Traditional Tuesday, Western Wednesday, Thai Thursday, Friday Favorites and Sunrise Saturday in between).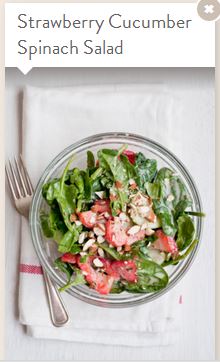 So, yesterday, as I toggled my way through the Foodie Recipes app, I found this lovely Strawberry Cucumber & Spinach Salad and it just reminded me of all the things I love about spring. I knew my mom and friends would love the gluten-free recipe too, so I shared through email and my social media outlets to spread this tasteful message of the season.  You could serve this healthy recipe as a side dish or top with your favorite lean protein for an amazing entrée salad.
Enjoy! And, don't forget to check out the FREE Foodie Recipes app for the iOS platform (iPhone, iPad, iTouch) – available for free download in the iTunes Store.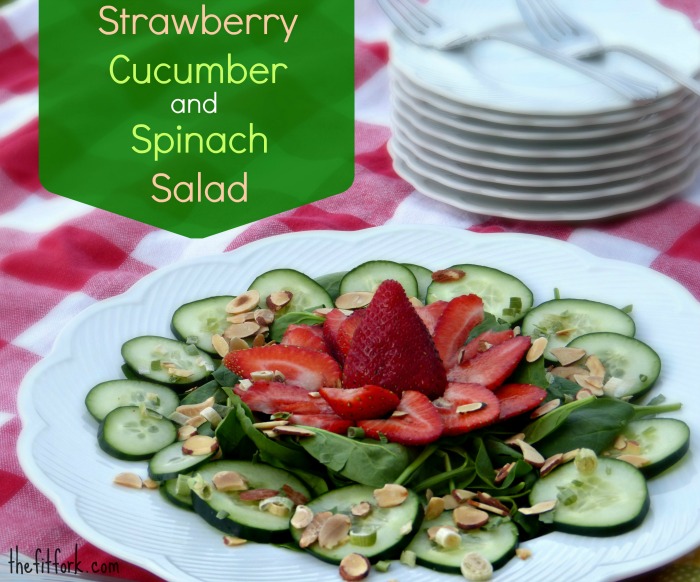 Strawberry Cucumber & Spinach Salad Recipe
For salad:
8 oz. strawberries, sliced
1 small or ½ large cucumber, peeled if desired, cut in half lengthwise, thinly sliced
5 oz. fresh baby spinach
2-3 green onions, white and green parts, thinly sliced
½ cup raw almonds, roughly chopped
For dressing:
2 Tbsp. Greek yogurt
2 Tbsp. fresh lemon juice
1 Tbsp. extra virgin olive oil
1 Tbsp. fresh basil, finely chopped
1-2 tsp. honey, to taste
salt and pepper, to taste
Instructions
For salad: Place all ingredients into a large serving bowl. Add some of the dressing and toss gently to coat. Add more if needed. Serve immediately. Yield: 4 servings.
For dressing: Whisk the yogurt, lemon juice and olive oil together. Add the honey, salt and pepper. Adjust seasonings as necessary, to taste. Chill until ready to use. Yield: ⅓ cup dressing
Serves: 2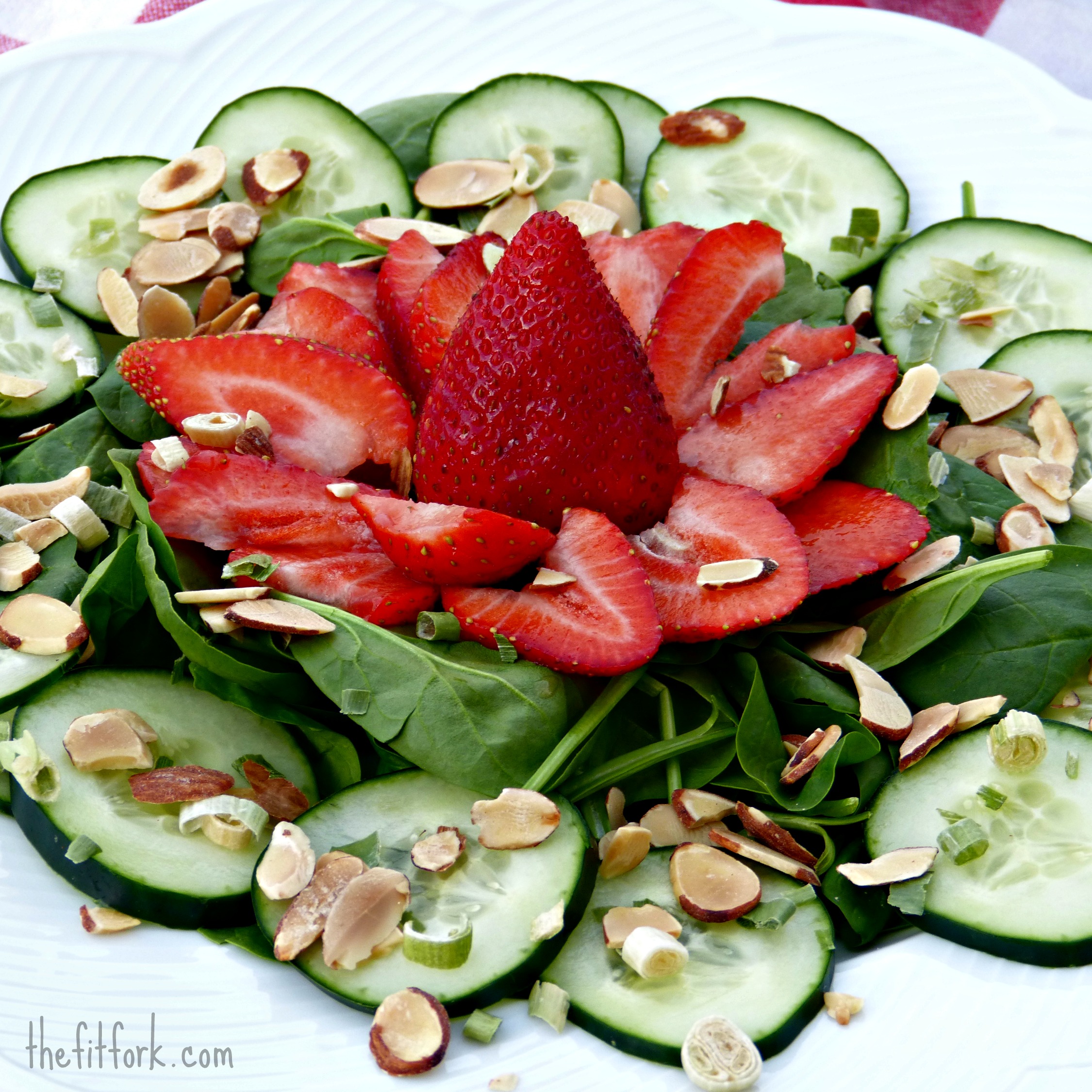 This post sponsored by Foodie.com and the Glam Network. However, all opinions are my own.