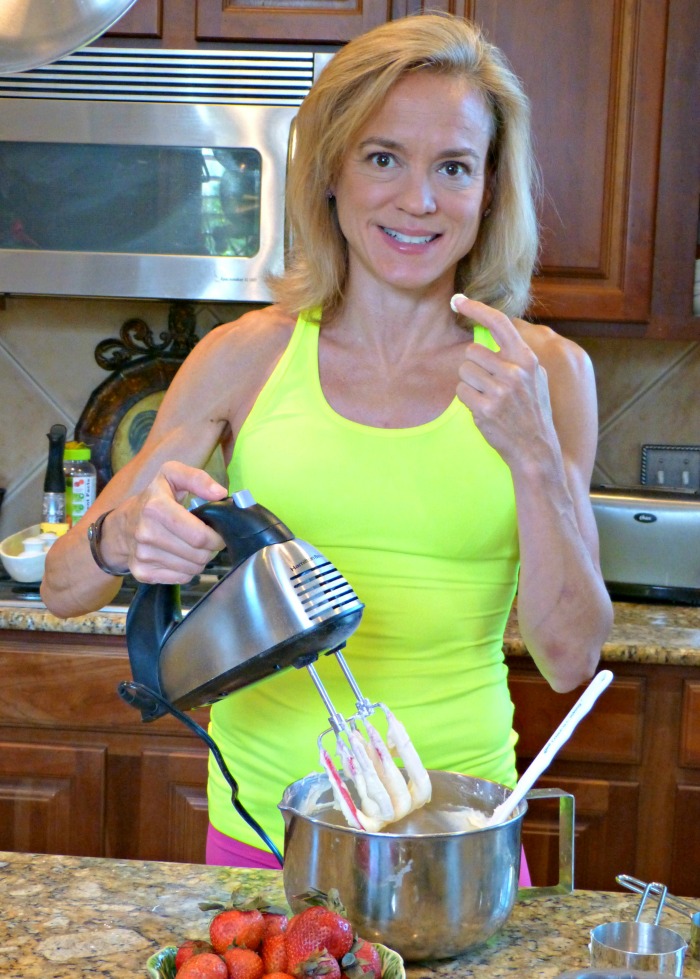 I have a lot of love for kitchen gear . . . it ranks right up there with my passion for fitness gear. On birthdays, Mother's Day, Christmas and special occasions, I will be over-the-moon giddy with excitement if you gift me with the latest in running shoe technology or a shiny, new kitchen gadget that I "absolutely must have" and will probably only use once. But the great thing about being a food and fitness blogger is that I can rationalize all these frivolities in the name of workout research and recipe development – it's a tough job, but someone has to suffer losing toenails because she wore the wrong compression socks during an endurance event or got "too cold" in the winter because she insisted on making smoothie after smoothie in search of perfection.
A couple pieces of kitchen gear I never grow tired of are my mixers. Hamilton Beach recently sent me two of their mixer models to try out – the 6 Speed Stand Mixer (Model 3326) and the SoftScrape™ 6 Speed Hand Mixer with Case (62637) (and another pair of these mixers are available in my giveaway at the bottom of this post).  Whoohoo, I was so excited because I have had some pretty traumatic mixer distress over the last year. First, my cheapie hand mixer received as a wedding gift bit the dust in the middle of party preparations. To be fair, I had used this mixer quite a lot in the 20+ years of its life. Although, it was very convenient to have a hand mixer available for quick baking projects, I never replaced it since I had the highly-coveted Kitchenaid stand mixer begging to be put into use. But, let me tell you what happened next –  the horror!  One day, I was mixing the ingredients for a (I can't believe I'm admitting this) Paula Deen-esque Truffle Pie, I turned my back on the machine while the machine did its thing. Then all of a sudden, a "clank" followed by a hideous, grinding noise and then total silence fell over the room.   Apparently, the Kitchenaid logo metal piece-a-part (where the big attachments screw in) had become loose and the continued vibrations from the beating shook the entire thing loose. The big screw thing, fell into the bowl, got jammed between the beaters and broke a mechanism in the engine. I was so upset, I cried.
I'm over it, especially now that I have these two new mixers! The big stand mixer is awesome and does pretty much everything the brand-that-shall-not-be-mentioned does, from what I can tell. It features that same single paddle of the "other guys" that spins while rotating around the entire perimeter of the 3.5 quart stainless steel bowl. There are three attachments for a variety of recipe needs (the paddle, the whisk and the dough hook). There are also six speeds as well as a special, slower folding setting. I could go on and on, but you can read more for yourself about this reasonably priced ($129) yet powerful Hamilton Beach Stand Mixer.
I also got to test a really cool hand mixer, the SoftScrape™ 6 Speed Hand Mixer.  Love, love, love this easy-to-use mixer that retails for just $39. It has 6 speeds, so it can tackle a range of different tasks.  It comes with regular beaters, a whisk attachment and also (drumroll) these really genius "SoftScrape" beaters that are coated in silicone (like a flexible spatula) to promote thorough mixing while keeping bowls and nonstick pots from getting scratched up. Another super practical feature of this hand mixer is that it comes with a storage case that attaches to the bottom and accommodates all the attachments and power cord.  It also props up really nice on the counter when between tasks too, without toppling over and leaving a sticky mess.
If you'd like a chance to win one of these fantastic Hamilton Beach mixers, head down to the bottom of this post and complete the instructions in the Rafflecopter app. Meanwhile, let me tempt you with the recipe I made while I tested my new kitchen gear out – "Lightened-Up" Strawberry Margarita Baby Bundt Cakes. I used a sugar substitute baking blend and no-fat milk to take some of the guilt out of this fun dessert – oh and the strawberry sauce isn't much more than pureed berries and lime juice with a little splash of tequila!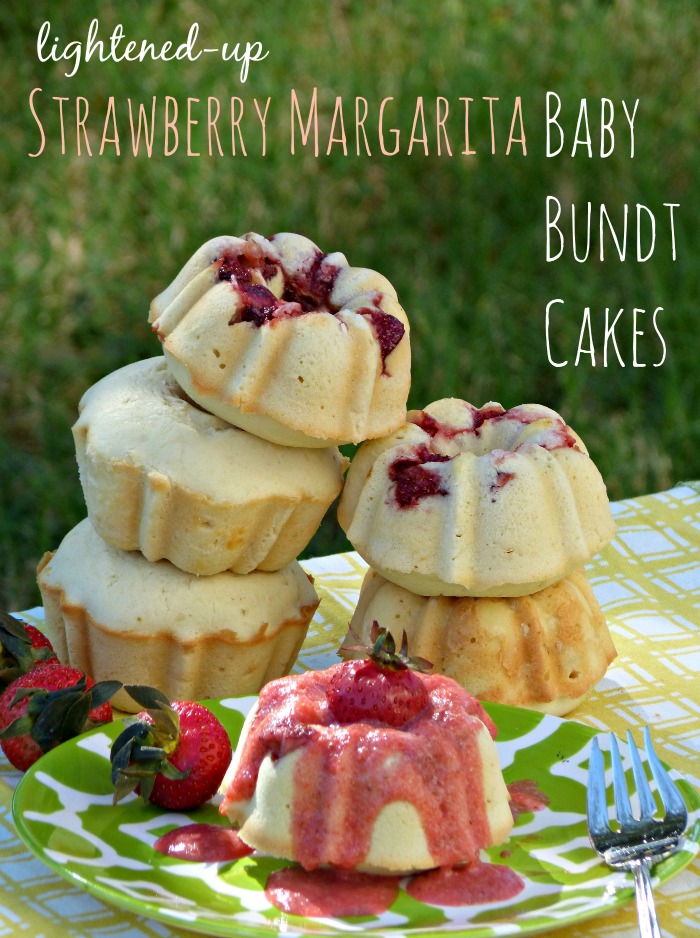 "Lightened-Up" Strawberry Margarita Baby Bundt Cakes Recipe
1/2 -cup butter, softened
2/3 cup sugar substitute baking blend with 1:2 replacement ratio*
2 tablespoons fresh lime juice
1 tablespoon lemon zest
3 eggs
2 1/3  cups cake flour
1 1/2 teaspoons baking powder
3/4 cup skim milk
1 teaspoon coarse sea salt
½ cup chopped fresh strawberries
* if using regular sugar, double the amount to 1 1/3 cups
For the Sauce:
 1 1/2 cups chopped fresh strawberries
3 tablespoons lime juice
1 tablespoon honey
1 tablespoon tequila
Preheat oven to 350 degrees. Grease and lightly flour 6-count mini-Bundt pan. In a large bowl cream the butter and sugar substitute until fluffy.
Beat in the lime juice, lime zest, and eggs until well combined.
In a separate bowl stir together the cake flour and baking powder. Add alternately with the milk to the egg mixture. Beating just until combined after each addition.
Sprinkle scant amount of coarse sea salt into to bottom of each mini Bundt pan, distributing the 1 teaspoon equally across Bundts. Next divide approximately ½ cup chopped strawberries equally among the bottoms of each cake (about 2 teaspoons each). Add the batter to prepared pan and bake for approximately 25 minutes or until a toothpick inserted comes out clean.
Remove from oven and let the cakes sit in the pan for 5 minutes. Run a knife between the cakes and the pan, if needed, and remove to a baking rack to cool completely.
Meanwhile, make sauce by blending remaining 1 ½ cups chopped strawberries with 3 tablespoons lime juice, 1 tablespoon honey and 1 tablespoon tequila in blender until pureed. Transfer mixture to small saucepan and bring to a boil over medium-high heat. Reduce heat and let simmer for 5 minutes, stirring occasionally.
Serve sauce over cakes and garnish with fresh strawberry, if desired.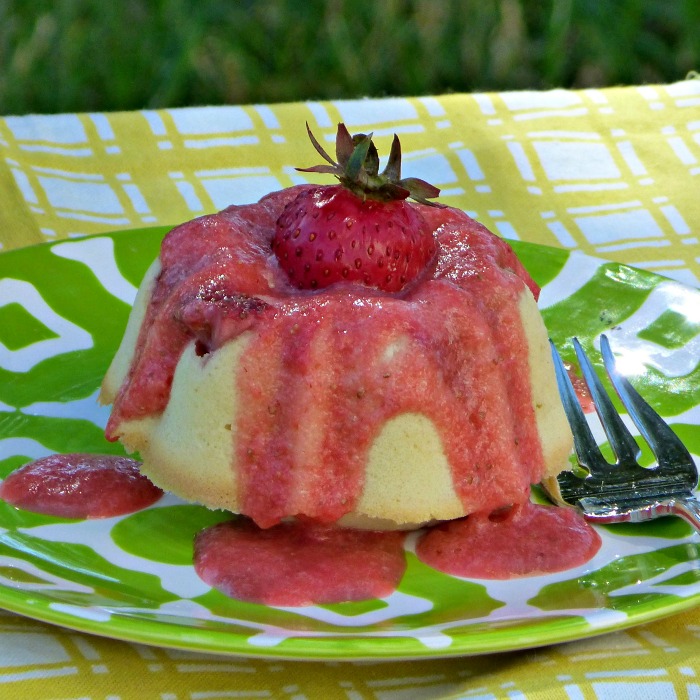 Disclosure: Hamilton Beach has provided me with product to review and giveaway. However, all opinions, recipes and commentary are my own.