Blogging about healthy food has its perks; pretty tasty perks. I'm talking about the opportunity to eat at an endless buffet only limited by my imagination. But it also has a downside; really just little nuisances like cleaning up a mountain of dirty pots and pans and getting critiqued by my kids who can't fathom wanting to substitute sugar or certain fats in a recipe for something more nutritious. But, today my blogging bothers were multiplied 100x due thanks to my basically skipping a decent lunch.
Although I had pre-prepared most of the night's meal in the morning before I tackled a day filled with gym-going (training for my Under Armour #WhatsBeautiful Campaign Goal), errands and (gasp) other writing work, I could scarcely contain myself until it was my turn to eat. So, while everyone else was digging into this delicious recipe for Green Chile & Pork Stuffed Zucchini, I was out in the backyard beating the sunset so I could take all the requisite food shots. At one point, I really thought about ditching this post so I could just go ahead and eat.
Glad I didn't though; the recipe turned out fantastic and offers a practical way to take advantage of a zucchini squash surplus this time of year. I'm also thinking it would be damn good with Calabacita squash, zucchini's south-of-the-border cousin.  If you are craving enchiladas and want to go a little healthier, this recipe ditches the tortillas and most of the cheese.  It's hard to believe, but one medium-sized squash only has 33 calories. I think you'd probably go into a calorie deficit just eating and digesting it. All you like-minded vitamin and mineral nerds will be glad to know that zucchini is also a great source of potassium, vitamin C, vitamin B-6 and magnesium.
Green Chile & Pork Stuffed Zucchini Recipe
4 to 5 zucchini squash (about 1.25 lbs)
1 cup chopped fire roasted green chiles – peeled,seeded and divided in half*
1 tablespoon olive oil
2 teaspoons cumin
2 teaspoons minced garlic
½ cup chopped red onion
1 teaspoon salt
1 teaspoon pepper
¾ pound shredded pork roast, pre-cooked
1 15-ounce can green chile enchilada sauce
4 ounces Monterrey jack cheese, shredded
16 grape tomatoes, sliced lengthwise
Chop stem end off of each zucchini, discard. Cut zucchini in half lengthwise. Scoop out seeds and pulp with a grapefruit knife; reserve for use later.
Bring large pot of water to a boil. Par-boil zucchini for 2 minutes or slightly tender. Drain and place, scooped side up, in a 13" x 9" glass baking dish.
Add olive oil to skillet; bring heat up to medium-high. Add cumin and garlic and sauté for 1 minute, or until fragrant. Add chopped red onion and sauté for 2 minutes, add reserved zucchini pulp, and ½ cup of green chilies and continue to sauté for 2 -3 more minutes. Salt and pepper to taste.
Stir shredded pork into vegetable mixture. Top zucchinis with even portion of mixture, leftover may be place around the sides of dish.
Add enchilada sauce and remaining ½ cup green chilies to blender; pulse on and off a few times to coarsely break up green chills. Pour over top of stuffed zucchinis. Top with shredded cheese and rows of grape tomatoes to indicate where each stuffed zucchini is buried.
Serves 4 – 5.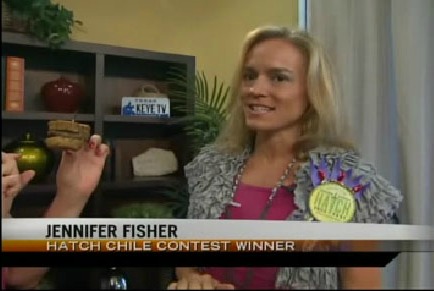 *By the way, I broke into my stash of fire-roasted Hatch green chiles for the making of this recipe! I have 75 pounds in the freezer, seriously! The recipe is best with fresh, fire-roasted (Hatch season is still a couple months away) — but substituting an 8-ounce can of green chiles will do in a pinch!